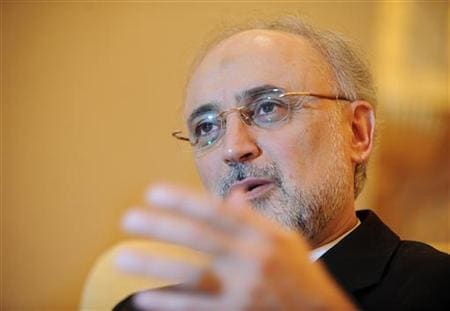 DUBAI (Reuters) - Iran is ready to host talks between the Syrian government and opposition groups, Iranian Foreign Minister Ali Akbar Salehi was quoted as saying on Sunday, in an effort to bring an end to the conflict in the country.
The statement would appear to indicate a shift in the Iranian leadership's approach. Iran has consistently supported Syrian President Bashar al-Assad's efforts to suppress a 17-month-long uprising.
Iran has repeatedly accused Western and regional powers of meddling in Syria's internal affairs, and Salehi told Reuters last week that a "a good portion" of the Syrian rebels were from extremist militant groups.
"The Islamic Republic of Iran is ready to sit down with the Syrian opposition and invite them to Iran," the Iranian Students' News Agency quoted Salehi as saying. "We are ready to facilitate and provide the conditions for talks between the opposition and the government."
International mediator Kofi Annan said last week that Iran and Iraq supported a plan for a political transition in Damascus led by Syria.
Annan has emphasised the importance of Iran's involvement in finding a solution to the Syrian crisis, though Western powers have firmly rejected the suggestion.
(Reporting by Yeganeh Torbati; Editing by Louise Ireland)
Updated Date: Jul 15, 2012 18:31 PM