Iran nuclear deal: Donald Trump's withdrawal poses a set of challenges but there's no need for India to lose sleep
The US withdrawal from JCPOA does not mean India will be forced to stop importing oil from Iran, besides in terms of energy security, New Delhi's dependence on Tehran is diminishing.
Donald Trump's decision to walk out of the Iran nuclear deal and re-impose sanctions will obviously pose a set of economic and strategic challenges for India. However, the impact of these challenges in terms of our energy needs, trade relations, connectivity projects and regional diplomacy perhaps won't be as debilitating as is being feared in the immediate aftermath. Such fears do not take into account the ground realities, India's geopolitical clout, strategic autonomy and the altered global order where the US is struggling to retain its primacy.
There is no point arguing over the merits of Trump's decision, his motivations and whether or not he made a mistake. That debate is not central to India's interests. As far as a "renegotiated" deal is concerned, that bridge may be crossed when it comes. Of immediate concern to India is the state of the Joint Comprehensive Plan of Action (JCPOA)—official name of the deal—post US withdrawal, the likely shift in balance of India's energy needs, connectivity projects as US sanctions snap back into place and the crimping of India's strategic space in a volatile geopolitical setting.
US walkout doesn't kill the deal
To begin, it is not axiomatic that JCPOA is dead just because its most influential member has walked out. Trump's withdrawal and re-imposition of sanctions may severely alter the nature of the deal but it doesn't necessarily mean that the multilateral contract between Iran and five other countries (ratified by the UN) ceases to exist. Leave alone China and Russia who may act out of strategic reasons to oppose Trump, America's European allies, too, are opposed to the scrapping of the deal. They have gone to great lengths to salvage JCPOA even at the eleventh hour.
Iran president Hassan Rouhani, who played poker with his political fate by putting it all in to seal the nuclear deal led by the Barack Obama administration in exchange for sanctions relief, has struck a note of defiance by vowing to remain "committed to the deal" to achieve his objectives. Under fire from hardliners at home, Rouhani has little choice.
"I have ordered the foreign ministry to negotiate with the European countries, China and Russia in coming weeks. If at the end of this short period we conclude that we can fully benefit from the JCPOA with the cooperation of all countries, the deal would remain," he said in a televised address.
We will work collectively on a broader framework, covering nuclear activity, the post-2025 period, ballistic activity, and stability in the Middle-East, notably Syria, Yemen, and Iraq.

— Emmanuel Macron (@EmmanuelMacron) May 8, 2018
France, Germany, and the UK regret the U.S. decision to leave the JCPOA. The nuclear non-proliferation regime is at stake.

— Emmanuel Macron (@EmmanuelMacron) May 8, 2018
Trump's European allies—for whom this is a bitter pill to swallow—have all reiterated their commitment to the deal. We may see a push towards a "broader framework" that also brings the deal's sunset clauses, Iran's ballistic missile development programme and its support for terrorist proxies within the ambit. A move is already afoot to "save the deal" as France, Germany, the UK and EU have sent their representatives to meet Iran's deputy foreign minister Abbas Araghchi in Brussels, according to a report in London-based Financial Times.
The newspaper quoted Federica Mogherini, EU's foreign policy chief, as saying that the group was "determined to preserve" the deal as long as Iran remained compliant. While expressing concern about the potential impact of sanctions, the EU functionary reiterated that "the nuclear deal is not a bilateral agreement… And it's not in the hands of any single country to terminate it unilaterally."
Russia has expressed its "deep disappointment" with Trump's decision and has indicated that it is ready to coordinate with other members, while British, French and German leaders have issued a joint statement to "emphasize a continuing commitment to the JCPOA" because "this agreement remains important for our shared security."
Still, the size and influence of the US economy make it difficult for other players to ignore US sanctions. Despite policy differences, therefore, the EU may eventually fall in line instead of risking a rift with the US. Most multinational companies, for instance, won't risk antagonizing the US and losing access to the world's biggest market. This is where China is slated to play a crucial part.
The world's second-largest economy has taken a clear position against Trump and unlike the EU, it's policies aren't hampered by any strategic considerations when it comes to the US. The looming trade war may serve to make Beijing's position vis-à-vis the Trump administration even sharper.
China's foreign ministry spokesman Geng Shuang said on Wednesday that Beijing "regrets US withdrawal" and would "carry on the normal and transparent pragmatic cooperation with Iran on the basis of not violating our international obligation."
Since China—the world's largest fuel importer—is the biggest buyer of Iranian crude, its behaviour will have a deep impact on the global oil market and on the effectiveness of US sanctions. If China decides to ignore Trump and continues to source major part of its energy needs from Iran, that would blunt Trump's weapon and give Beijing crucial geopolitical influence in a key Middle East nation.
There's no reason for China to comply with the US as it had "regularly purchased crude oil from Iran, even when the country was still under sanctions", as CNN points out in a report quoting ClipperData. "China imported an average of 420,000 barrels per day in 2014 and then 481,000 barrels per day in 2015… Iran delivered 766,000 barrels per day to China in March and nearly 700,000 barrels per day in April," according to ClipperData.
If China refuses to play ball, that would help Iran alleviate the pain of US sanctions (even if partially) and also provide a template for India to follow.
India's energy needs are not wholly Iran-reliant
A lot has already been written about India's dependence on Iran but there has not been adequate discussion over two important aspects of this relationship. One, US withdrawal from JCPOA does not mean India will be forced to stop importing oil from Iran. Two, in terms of energy security, New Delhi's dependence on Tehran is diminishing.
India is the world's third-largest fuel importer and Iran is its third biggest supplier. That makes Trump's withdrawal 'bad news' because the decision is likely to result in Iran cutting its output leading to hardening of international crude prices. That may hike India's fuel bill widening current account deficit and put inflationary pressure on the rupee. While of this is true, here's the catch:
India has been reducing its energy needs from Iran. Quoting data from shipping and industry sources, Reuters reported that India imported 15.7 percent less oil from Iran during the 2017/18 fiscal from a year ago due to strategic reasons. India's oil imports from Iran were 430,000 bpd in March, down 34.4% from the previous month and 18.2 percent from a year ago, according to the report.
"Immediately there will be no impact but we have to wait and watch how other nations particularly the European block, react," an Indian Oil Corp official was quoted, as saying by Reuters.
The Narendra Modi factor
Even if JCPOA was to be terminated (which isn't a given), India is likely to have enough breathing space given its diplomatic clout. There isn't enough appreciation of the way Narendra Modi government has broken geopolitical taboos (such as persuading Saudi Arabia to open its airspace for an Air India flight to Israel) and navigated choppy waters of international relations.
As Uzair Younus writes in The Diplomat, "Led by Modi, in recent years India has successfully enhanced its ties with the United States, Israel, and Saudi Arabia, countries that view Iran as a strategic threat in the region. That New Delhi has managed to draw closer with Iran's strategic rivals while continuing to enhance its ties with Tehran is no small achievement."
The US sanctions are meant to curb Iran's oil from reaching the world market but due to the unique strategic space that it enjoys, New Delhi may secure for itself some waivers from the US or move to alternate payment mechanisms. The sanctions also present some opportunities for India as it might be in a better bargaining position to secure a discounted price from Iran. Considering that Tehran's market will squeeze, it may be compelled to do so.
Being a natural strategic partner of the US has its advantages. US defence secretary James Mattis recently made a case before the US Congress that "allies and partners" such as India be exempted from the ambit of US sanctions even if they purchase military equipment from Russia. Mattis's appeal to spare India from CAATSA (Countering America's Adversaries Through Sanctions Act) came even as India expressed intent to buy S-400 missile system from Russia.
"We only need to look at India, Vietnam and some others to recognize that eventually, we're going to paralyze ourselves," Mattis said recently at a Senate Armed Services Committee hearing.
American Shale oil
Finally, the bargaining power of OPEC countries to regulate global oil prices has reduced to some extent due to increased production from US oil fields. India has stepped up its oil imports from the US. This not only made it possible for New Delhi to diversify its market, get access to cheaper oil but also curry geopolitical favour with a transactional US president.
According to a release by the Paris-based International Energy Agency (IEA), oil prices have not hardened to the extent of reduction in output by leading oil producers because "having cut costs dramatically, US producers are enjoying a second wave of growth so extraordinary that in 2018 their increase in liquids production could equal global demand growth."
If the trend holds, India may get the chance to meet its energy requirements from the US to a large extent. While the comparative volumes are still too small, the direction is promising. Shale oil is not only cheaper but it also gives the "best yield for the most lucrative middle distillates. In other words, the gross refining margins (GRM) of refineries will improve if the shale oil is used," as moneycontrol points out in a report.
Geopolitical repercussions
It is here that India is likely to be impacted the most by Trump's decision because sanctions also cover Iran port operations. India has already "committed more than $500 million to develop the strategically located Iranian port of Chabahar" and its route to Afghanistan, central Asia and beyond to Europe will remain curtailed unless it manages to make the port operational.
Thwarted by Pakistan, India sees Iran as an important strategic partner in its quest to build connectivity projects in central Asia and bring Europe within the ambit of its trade corridor. As a report in Hindustan Times points out, "India is committed to laying a 600-kilometre railroad from Chabahar port to Zahedan" within the next three years that is expected to help India export goods and humanitarian assistance to "Afghanistan via the Zalranj-Delaram axis without interference from Pakistan."
It has reacted cautiously to the JCPOA development, with the Ministry of External Affairs releasing a non-committal statement.
"India has always maintained that the Iranian nuclear issue should be resolved peacefully through dialogue and diplomacy by respecting Iran's right to peaceful uses of nuclear energy as also the international community's strong interest in the exclusively peaceful nature of Iran's nuclear program. All parties should engage constructively to address and resolve issues that have arises with respect to the JCPOA."
However, the strategic logic that compels the US to keep India out of sanctions orbit may apply here as well. India would remember that during an appearance in New Delhi last October, US Secretary of State Tillerson had said that the "US would not block 'legitimate' business activities with Iran by India or any other ally. He also said that he saw 'no contradiction' with US-Iran sanctions and India's bilateral port development deal in Chabahar."
US stance wasn't an aberration but in keeping with its Indo-Pacific policy where it wants to promote India as a key player in the region to balance China's rising influence. Between these compulsions, there is enough space for India to manoeuvre. Trump's withdrawal is no cause for insomnia.
Find latest and upcoming tech gadgets online on Tech2 Gadgets. Get technology news, gadgets reviews & ratings. Popular gadgets including laptop, tablet and mobile specifications, features, prices, comparison.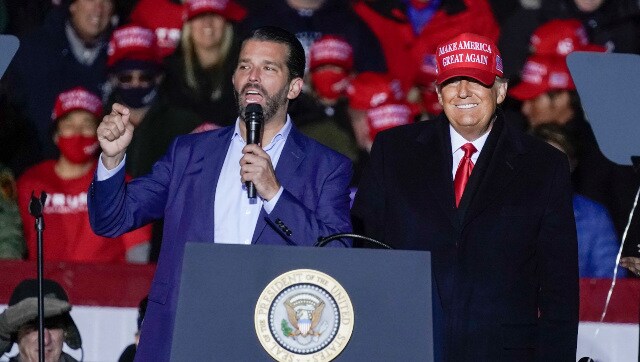 World
The eldest son of Donald Trump is the latest member of the president's family to become infected with the coronavirus that has killed more than 250,000 Americans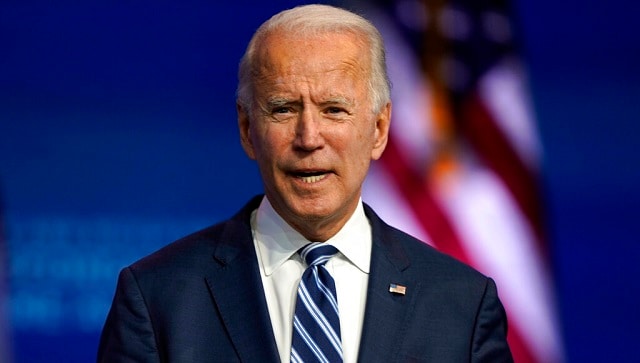 World
The delayed handoff to the next administration is especially problematic during a public health crisis, said Dr Anthony Fauci, the government's top infectious disease expert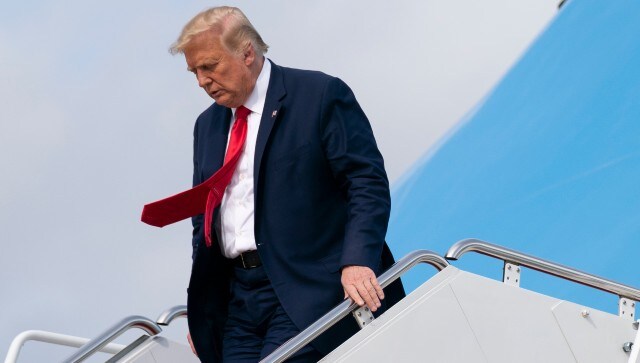 World
This just two hours after Trump seemingly admitted for the first time publicly that Joe Biden won the US presidential election though he continued to insist that the contest "was rigged" and offered no evidence