Iran, major countries meet at UN to discuss ways to salvage nuclear deal without the US
Iran has ample reason to stay in the 2015 nuclear deal despite the US withdrawal and the remaining parties on Monday will discuss ways to blunt the effect.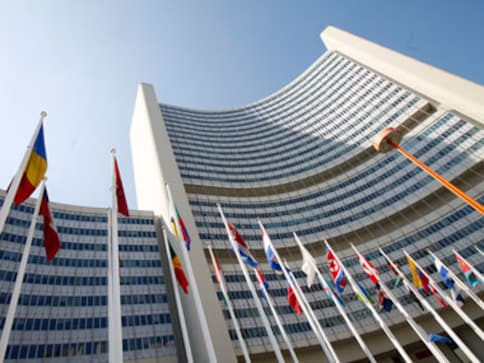 United Nations: Iran has ample reason to stay in the 2015 nuclear deal despite the US withdrawal and the remaining parties on Monday will discuss ways to blunt the effect of impending US sanctions on Tehran, the European Union's foreign policy chief said.
Speaking before a gathering of senior officials from Britain, China, Germany, Russia and Iran, the EU's Federica Mogherini made the case for Iran remaining in the deal that US president Donald Trump abandoned on 8 May.
"An essential part of the agreement and its implementation regards Iran having the possibility of benefiting from the lifting of sanctions, and this is exactly why we are discussing tonight, operational concrete steps that we can put in place," Mogherini told reporters before the talks at the United Nations.
"Iran has good arguments and good reasons to remain in the agreement...the more operational decisions we will manage to take and...implement, I believe the more Iran will have reasons to do," she added.
The European Union, however, has so far failed to devise a workable legal framework to shield its companies from US sanctions that go into effect in November and that, among other things, seek to choke off Iran's oil sales, diplomats said.
Highlighting just how difficult it will be for the Europeans to come up with concrete solutions, French state-owned bank Bpifrance on Monday abandoned its plan to set up a financial mechanism to aid French companies trading with Iran.
The crux of the deal, negotiated over almost two years by the administration of former US president Barack Obama, was that Iran would restrain its nuclear program in return for the relaxation of sanctions that had crippled its economy.
Trump considered it flawed because it did not include curbs on Iran's ballistic missiles program or its support for proxies in Syria, Yemen, Lebanon and Iraq.
The United States began reimposing economic sanctions this summer and the most draconian measures, which seek to force Iran's major customers to stop buying its oil, resume from 5 November.
Their impending return has contributed to a slide in Iran's currency. The rial has lost about two-thirds of its value this year, hitting a record low against the US dollar this month.
There are limits to what the EU can do to counter the oil sanctions, under which Washington can cut off from the US financial system any bank that facilitates an oil transaction with Iran.
World
Several large fires have ravaged the western United States in recent days — notably in California, Nevada and Oregon, where the dangerous Bootleg Fire is still raging, even though the fire season has only just begun
World
The 62-year-old pastor, unknown in Haitian political circles, suggest he was duped by those responsible for the death of Jovenel Moïse
World
Over nearly two hours on Saturday, Trump revisited his touchstones of grievance, leveling allegations of fraud that election officials and judges have systematically refuted or brushed aside.