Iran denies Pompeo's assertion it has ties with al Qaeda
(Reuters) - Iranian Foreign Minister Mohammad Javad Zarif on Tuesday rejected as 'warmongering lies' an assertion by U.S.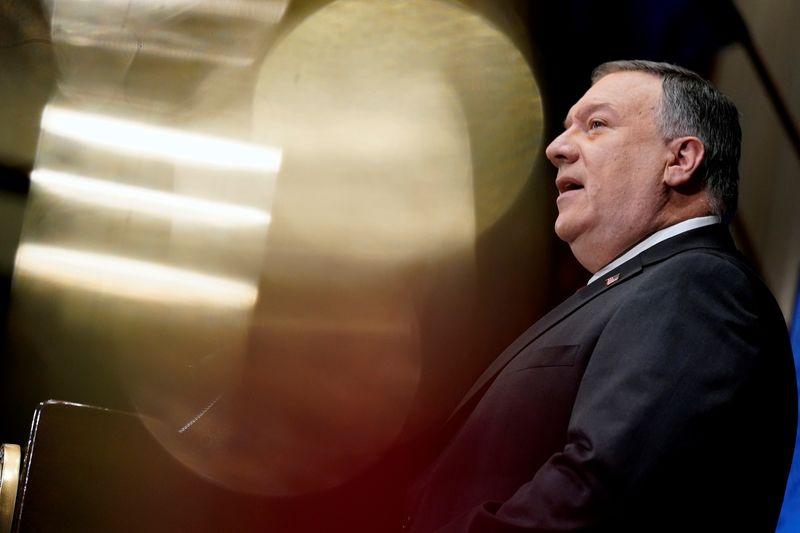 (Reuters) - Iranian Foreign Minister Mohammad Javad Zarif on Tuesday rejected as "warmongering lies" an assertion by U.S. Secretary of State Mike Pompeo that Iran has ties to the Islamist militant group al Qaeda.
"(With) fictitious Iran 'declassifications' and AQ (al Qaeda) claims, (Pompeo) is pathetically ending his disastrous career with more warmongering lies," Zarif tweeted.
"No one is fooled. All 9/11 terrorists came from @SecPompeo's favourite ME destinations; NONE from Iran," Zarif said.
U.S. Secretary of State Mike Pompeo said on Tuesday that al Qaeda had established a new home base in Iran and the United States had fewer options in dealing with the group now it was "burrowed inside" that country. (Full Story)
Iranian foreign ministry spokesman Saeed Khatibzadeh said: "Iran has been a victim of U.S. state terrorism and affiliated groups for years and has had a clear ...record in the fight against al Qaeda and Islamic State," state media reported.
Iran's state religion is Shi'ite Islam, and the country views itself as a sworn enemy of Sunni Islamist militant groups such as Islamic State and al Qaeda. However, U.S. officials have accused it in the past of providing shelter to some al Qaeda figures.
The New York Times reported in November that al Qaeda's Abu Muhammad al-Masri, accused of helping mastermind the 1998 bombings of two U.S. embassies in Africa, was gunned down by Israeli operatives in Iran. Iran denied the report, saying there were no al Qaeda "terrorists" on its soil.
(Reporting by Dubai newsroom; Editing by Kevin Liffey)
This story has not been edited by Firstpost staff and is generated by auto-feed.
Find latest and upcoming tech gadgets online on Tech2 Gadgets. Get technology news, gadgets reviews & ratings. Popular gadgets including laptop, tablet and mobile specifications, features, prices, comparison.
Business
By Aditya Kalra NEW DELHI (Reuters) - India's tobacco industry will object to a proposal to ban smoking zones in hotels and prohibit advertising at cigarette kiosks as the government steps up anti-smoking efforts, two executives said on Wednesday. India has over the years introduced tobacco controls and launched campaigns to deter its use, but enforcement of the law has been a challenge.
World
HONG KONG (Reuters) - Over 50 pro-democratic activists in Hong Kong were arrested on Wednesday for breaking the city's contentious national security law, local media reported, in the biggest crackdown yet against the democratic opposition under the new law. The arrests in the Asian financial hub included well known democratic figures and former lawmakers James To, Lam Cheuk Ting and Lester Shum, according to the Democratic Party's Facebook page and public broadcaster RTHK. Police did not immediately respond to requests for comment.
World
BRASILIA (Reuters) - Brazil's syringe manufacturers said on Tuesday they will supply 30 million syringes and needles for the country's COVID-19 vaccination program after the government said it would requisition surplus supplies. Executives of the three main manufacturers met with President Jair Bolsonaro at the Health Ministry and it was agreed that each would supply 10 million syringes to cover the initial stages of the vaccination plan.