Iran asks U.N. chief to intervene with U.S. after court ruling | Reuters
UNITED NATIONS Iran asked U.N. chief Ban Ki-moon on Thursday to convince the United States to stop violating state immunity after the top U.S
UNITED NATIONS Iran asked U.N. chief Ban Ki-moon on Thursday to convince the United States to stop violating state immunity after the top U.S. court ruled that $2 billion in frozen Iranian assets must be paid to American victims of attacks blamed on Tehran.
Iran's Foreign Minister Javid Zarif wrote to Ban a week after the U.S. Supreme Court ruling, calling on the Secretary-General to use his "good offices in order to induce the U.S. Government to adhere to its international obligations."
Zarif's appeal comes amid increasing Iranian frustration at what they say is the failure of the United States to keep its promises regarding sanctions relief agreed under an historic nuclear deal struck last year by Tehran and six world powers.
In the letter, released by the Iranian U.N. mission, Zarif asked Ban to help secure the release of frozen Iranian assets in U.S. banks and persuade Washington to stop interfering with Iran's international commercial and financial transactions.
"The U.S Executive branch illegally freezes Iranian national assets; the U.S Legislative branch legislates to pave the ground for their illicit seizures; and the U.S Judicial branch issues rulings to confiscate Iranian assets without any base in law or fact," Zarif said.
Ban's spokesman and the U.S. mission to the United Nations did not immediately respond to requests for comment on the letter or the accusations made against the United States.
Zarif told Ban he wanted to "alert you and through you the U.N. general membership about the catastrophic implications of the U.S. blatant disrespect for state immunity, which will cause systematic erosion of this fundamental principle."
The U.S. Supreme Court found that the U.S. Congress did not usurp the authority of American courts by passing a 2012 law stating that Iran's frozen funds should go towards satisfying a $2.65 billion judgment won by the U.S. families against Iran in U.S. federal court in 2007.
"It is in fact the United States that must pay long overdue reparations to the Iranian people for its persistent hostile policies," Zarif wrote, citing incidents including the shooting of an Iranian civil airliner in 1988.
Last week Zarif met several times with U.S. Secretary of State John Kerry in New York to discuss Iranian problems accessing international financial markets.
Tehran has called on the United States to do more to remove obstacles to the banking sector so that businesses feel comfortable investing in Iran without fear of penalties.
(Editing by James Dalgleish)
This story has not been edited by Firstpost staff and is generated by auto-feed.
Find latest and upcoming tech gadgets online on Tech2 Gadgets. Get technology news, gadgets reviews & ratings. Popular gadgets including laptop, tablet and mobile specifications, features, prices, comparison.
Business
SHANGHAI (Reuters) - Tesla is planning to export Model 3 vehicles made in China to Asian and European markets, two sources familiar with the matter told Reuters on Friday. The U.S.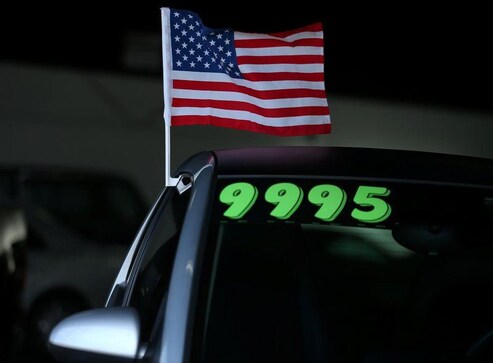 Business
By Lucia Mutikani WASHINGTON (Reuters) - U.S. consumer prices rose solidly in August, with the cost of used cars and trucks accelerating by the most in more than 51 years likely as Americans shunned public transportation because of fears of contracting COVID-19
Business
By Tanishaa Nadkar and Pushkala Aripaka (Reuters) - Life and general insurer Aviva is offloading its Singapore business to a consortium led by Singapore Life, for S$2.7 billion ($1.98 billion), as the London-listed firm sharpens its focus on Britain, Ireland and Canada.