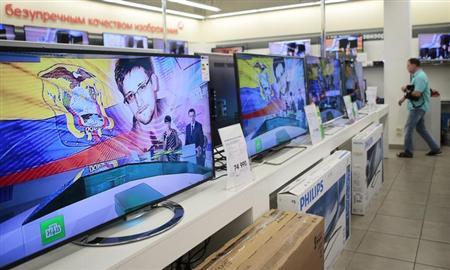 PORTOVIEJO, Ecuador (Reuters) - Ecuadorean President Rafael Correa said on Sunday the fate of former U.S. intelligence contractor Edward Snowden is in the hands of the authorities in Russia, where he is holed up in hope of obtaining asylum in the South American nation.
Correa said his government cannot begin considering asylum for Snowden, wanted by Washington for leaking confidential information about a surveillance program, until he reaches Ecuador or an Ecuadorean embassy.
The 30-year-old former National Security Agency contractor has not been able to leave the Moscow international airport.
"It's up to the Russian authorities if he can leave the Moscow airport for an Ecuadorean embassy," Correa said in an interview with Reuters in the coastal city of Portoviejo.
"He will be treated just like any other citizen even though he does not have a passport. We are clear that this is a special situation."
Correa said WikiLeaks founder Julian Assange, granted asylum last year in Ecuador's London embassy, has not lost the country's support despite contributing to confusion over a travel document issued to Snowden by Ecuador's government.
"In these crises when there is need to respond with urgency, it's also possible to make mistakes, but Mr. Assange continues to enjoy our support, respect and appreciation," he said.
Correa said he sent his best regards to Snowden and told him to "keep his spirits high" as he seeks to escape his limbo.
(Writing by Brian Ellsworth; Editing by Daniel Wallis and Bill Trott)
Updated Date: Jun 30, 2013 22:45 PM