Internet provider groups sue Vermont over net neutrality law
By David Shepardson WASHINGTON (Reuters) - Four industry groups representing major internet providers and cable companies filed suit on Thursday seeking to block Vermont's law barring companies that do not abide by net neutrality rules from receiving state contracts. The lawsuit was filed in U.S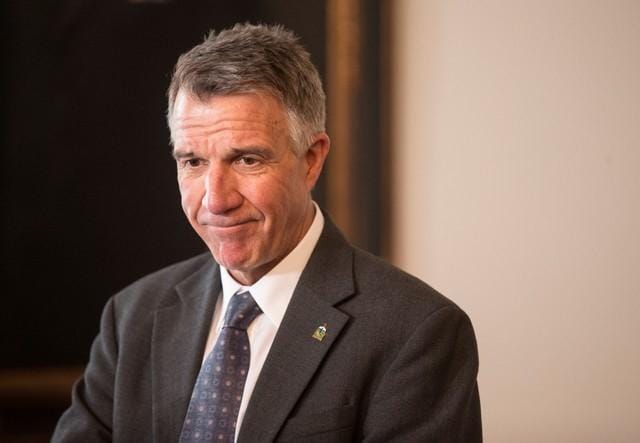 By David Shepardson
WASHINGTON (Reuters) - Four industry groups representing major internet providers and cable companies filed suit on Thursday seeking to block Vermont's law barring companies that do not abide by net neutrality rules from receiving state contracts.
The lawsuit was filed in U.S. District Court in Vermont by groups representing major providers like AT&T Inc, Comcast Corp and Verizon Communications Inc and follow a suit from the four groups earlier this month challenging a much broader California law mandating providers abide by net neutrality rules.
The groups are also challenging an executive order on the issue signed by Vermont Governor Phil Scott. Other states, including New York, New Jersey, Rhode Island, Montana and Hawaii, have also adopted similar rules to bar state contracts from companies not complying with net neutrality protections.
Scott said he was disappointed in the suit against the state "for taking action to protect our citizens and our economy." He said he believes Vermont residents "have a right to free and open access to information on the internet. In the absence of a national standard to protect that right, states must act."
The Vermont lawsuit was filed by the American Cable Association; CTIA - The Wireless Association; NCTA - The Internet & Television Association; and USTelecom - The Broadband Association.
The groups said in a joint statement that "states cannot use their spending and procurement authority to bypass federal laws they do not like."
The U.S. Justice Department in late September filed its own lawsuit to block California's law. The Trump administration rules were a win for internet providers but opposed by companies like Facebook Inc, Amazon.com Inc and Alphabet Inc.
Under President Donald Trump, the Federal Communications commission voted 3-2 along party lines to reverse the 2015 net neutrality rules that barred internet service providers from blocking or throttling traffic or offering paid fast lanes, also known as paid prioritisation.
It also said in repealing the Obama-era rules that it was pre-empting states from setting their own rules governing internet access.
(Reporting by David Shepardson; Editing by Dan Grebler)
This story has not been edited by Firstpost staff and is generated by auto-feed.
Find latest and upcoming tech gadgets online on Tech2 Gadgets. Get technology news, gadgets reviews & ratings. Popular gadgets including laptop, tablet and mobile specifications, features, prices, comparison.
Business
By Howard Schneider WASHINGTON (Reuters) - A rebounding stock market and massive federal aid payments pushed the net worth of U.S. households back to pre-coronavirus levels in the second quarter, the Federal Reserve reported on Monday, with savings accounts and equity portfolios both rising sharply despite the pandemic
Business
By Rodrigo Campos NEW YORK (Reuters) - Stocks across the world hit their lowest in seven weeks and other risk assets sold off on Monday on concerns over renewed lockdown measures in Europe and Britain, as well as the United States' inability to agree on fiscal stimulus that would support millions of unemployed. Oil prices fell nearly 5%, the dollar rallied and an index of emerging market currencies fell by the most in six months. The MSCI world equity index , which tracks shares in 49 countries, touched its lowest since Aug.
Business
By Rodrigo Campos NEW YORK (Reuters) - Stocks across the world hit their lowest in seven weeks and other risk assets also sold off on Monday on concerns over renewed lockdown measures in Europe and Britain, as well as the United States' inability to agree on fiscal stimulus that would support millions of unemployed. Oil prices fell more than 3%, the dollar rose against a basket of peers and an index of emerging market currencies fell by the most in six months. The MSCI world equity index , which tracks shares in 49 countries, ended at its lowest since Aug