International court sentences Congo politician Bemba for witness tampering
AMSTERDAM (Reuters) - The International Criminal Court on Monday fined Congolese politician Jean-Pierre Bemba 300,000 euros ($350,730) and sentenced him to 12 months for witness tampering, but his jail term was reduced to zero due to time already served. Bemba was acquitted of war crimes on appeal in June but had already been convicted on the lesser charge of witness tampering during his trial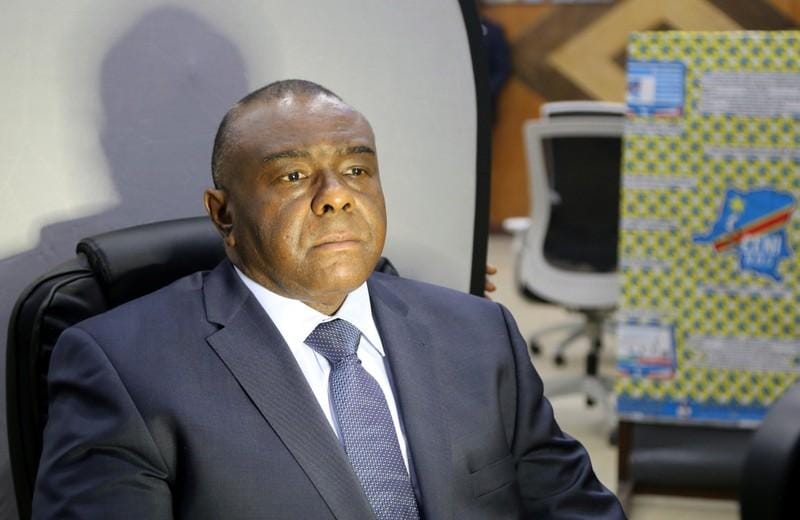 AMSTERDAM (Reuters) - The International Criminal Court on Monday fined Congolese politician Jean-Pierre Bemba 300,000 euros ($350,730) and sentenced him to 12 months for witness tampering, but his jail term was reduced to zero due to time already served.
Bemba was acquitted of war crimes on appeal in June but had already been convicted on the lesser charge of witness tampering during his trial.
Bemba has been barred from standing in December's presidential election in Democratic Republic of Congo, in which he would have been one of the frontrunners challenging the ruling coalition, because of the conviction.
"Future accused persons can look at Mr. Bemba's conviction as a cautionary example as to what consequences obstructing the administration of justice can have," Judge Bertram Schmitt said.
"Mr. Bemba's acquittal in the main case should have been the end of his exposure to the court, yet he continues to have the spectre of this institution hanging over him."
A senior figure in Bemba's Movement for the Liberation of Congo (MLC) party, told Reuters the MLC was in the process of analysing the implications of the decision.
"But what is positive in this ruling is that MLC president, senator Jean Pierre Bemba moves from the status of being provisionally freed to become 100 percent free in terms of movement, action and expression," the party's deputy secretary-general Fidele Babala said.
Bemba's surprise acquittal on war crimes charges in June raised the prospect he could return to Congo and re-enter politics. A final decision on whether the witness tampering conviction makes him ineligible to stand is expected on Wednesday in Congo.
Bemba headed the MLC and its affiliated militia. After he lost an election to Laurent Kabila in 2006 he was sent to The Hague to stand trial for atrocities committed by his troops in neighbouring Central African Republic in 2002 and 2003.
His initial conviction was reversed on appeal in June, with judges saying prosecutors had failed to show he had enough control over troops to bear responsibility for their wrongdoing and he could not be convicted beyond a reasonable doubt.
Bemba, who has family in both Belgium and Congo, did not attend Monday's ruling.
($1 = 0.8554 euros)
(Reporting by Stephanie van den Berg; Additional reporting by Stanis Bujakera in Kinshasa; Writing by Toby Sterling and Alessandra Prentice; Editing by William Maclean and Alison Williams)
This story has not been edited by Firstpost staff and is generated by auto-feed.
India
The Pulitzer prize winner, who was in Kandahar covering operations against Taliban, was killed when he was riding along with the Afghan Special Forces
India
Danish's photographs were not just documentation, but the work of someone who went down to eye-level, as they say in photographic parlance.
World
ATHENS (Reuters) - Greek police used teargas and water cannon to disperse people who had gathered in central Athens on Saturday to protest against mandatory COVID-19 vaccinations. More than 4,000 people rallied outside the Greek parliament for a third time this month to oppose mandatory inoculations for some workers, such as healthcare and nursing staff.