Indonesia's 'silver people' perform to make ends meet
By Heru Asprihanto DEPOK, Indonesia (Reuters) - Indonesian single mother Puryanti bows stiffly like a robot, as she and her five-year-old son, their bodies gleaming in silver paint, appeal to passersby for an occasional coin at a busy intersection outside the capital Jakarta. They are among a group of people dubbed 'manusia silver', or 'silver people' who use the strategy to draw attention, while struggling to make ends meet after the coronavirus pushed Southeast Asia's largest economy into recession last year. 'Some give, some don't,' said Puryanti, 29, after three months of such daily performances, accompanied by her nephew Raffi, 15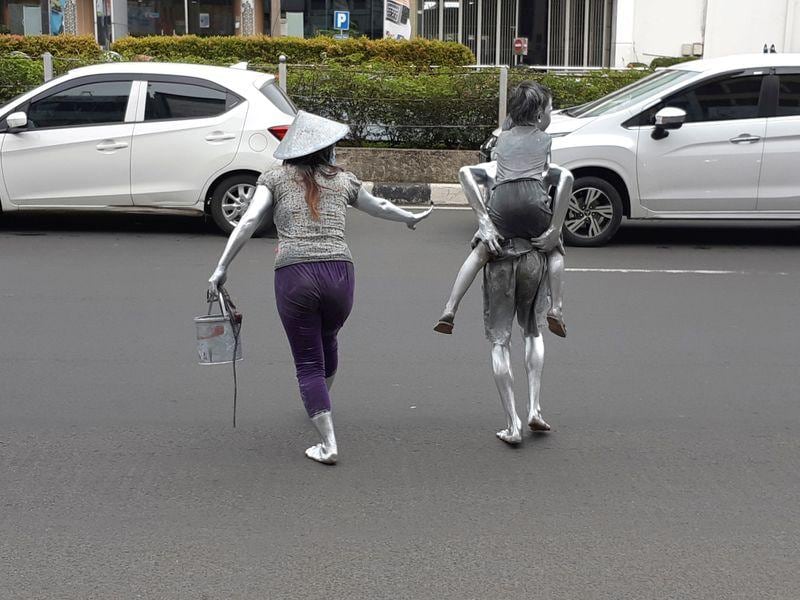 By Heru Asprihanto
DEPOK, Indonesia (Reuters) - Indonesian single mother Puryanti bows stiffly like a robot, as she and her five-year-old son, their bodies gleaming in silver paint, appeal to passersby for an occasional coin at a busy intersection outside the capital Jakarta.
They are among a group of people dubbed "manusia silver", or "silver people" who use the strategy to draw attention, while struggling to make ends meet after the coronavirus
pushed Southeast Asia's largest economy into recession last year.
"Some give, some don't," said Puryanti, 29, after three months of such daily performances, accompanied by her nephew Raffi, 15. "Sometimes someone gives enough."
On good days, the Javanese, who was a housewife before her divorce, can earn about 70,000 rupiah ($5), enough to scrape by and pay the rent.
Puryanti uses a homemade paint, a mixture of screen-printing powder and cooking oil, to coat their bodies and add dramatic effect to the robot act. She says the silver paint causes no ill-effects.
"I am not ashamed to work like this," she added. "The important thing is this is all for my children."
The pandemic, which brought Indonesia's first recession in more than two decades, with the economy shrinking almost 2.2% in the fourth quarter, has been tough for millions in the informal sector who need to leave their homes to make a living.
Indonesia's poor account for 26.42 million of a population of over 270 million, government statistics show, a number that grew by 1.63 million over the period from September 2019 to the March 2020 onset of the pandemic.
Puryanti has checked with the police that she can continue to work as a "silver person" for now, as long as she follows coronavirus
measures such as wearing a mask, but she has higher ambitions.
"I want to have my own business," she added. "I want to open a small shop but I don't have money for that."
(Writing by Kate Lamb; Editing by Karishma Singh and Clarence Fernandez)
This story has not been edited by Firstpost staff and is generated by auto-feed.
Subscribe to Moneycontrol Pro at ₹499 for the first year. Use code PRO499. Limited period offer. *T&C apply
News & Analysis
By Raphael Satter and Christopher Bing WASHINGTON (Reuters) - A China-linked cyberespionage group has been remotely plundering email inboxes using freshly discovered flaws in Microsoft mail server software, the company and outside researchers said on Tuesday - an example of how commonly used programs can be exploited to cast a wide net online. In a blog post, Microsoft said the hacking campaign made use of four previously undetected vulnerabilities in different versions of the software and was the work of a group it dubs HAFNIUM, which it described as a state-sponsored entity operating out of China
Business
MELBOURNE (Reuters) - Rio Tinto Ltd said on Wednesday its chair and a board director would step down, bowing to investor pressure over the destruction of two ancient Aboriginal rock shelters for an iron ore mine last year in Western Australia. Simon Thompson will step down as chairman following next year's annual general meetings, while non-executive director Michael L'Estrange will also retire from the board after this year's meetings, Rio said in a statement. "I am ultimately accountable for the failings that led to this tragic event," Thompson said in the statement on Wednesday.
Business
By William Schomberg LONDON (Reuters) - Finance minister Rishi Sunak will promise on Wednesday to do "whatever it takes", including a five-month extension of Britain's huge jobs rescue plan, to steer the economy through what he hopes will be the final months of COVID restrictions. Sunak has already racked up Britain's highest borrowing since World War Two and will turn to the bond markets again in his budget speech, saying the task of fixing the public finances will only begin once a recovery is in sight