Indian-origin US Senator Kamala Harris doesn't rule out 2020 White House bid: A look at lawmaker's meteoric rise
Kamala Harris became San Francisco's first female district attorney in 2003 and the state's first black – and nation's first Indian American – district attorney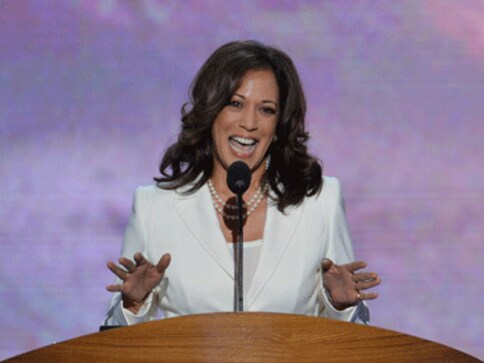 Known for her 'infectious' personality and nicknamed the "joyful warrior", Indian-origin US Senator Kamala Devi Harris' meteoric rise as a lawmaker will catapult her to new heights if she decides on a potential presidential bid to take on President Donald Trump in 2020. Harris became San Francisco's first woman district attorney in 2003 and the state's first black — and nation's first Indian-American — district attorney.
She was California's attorney-general for more than five years before becoming the a Senator in California in 2016. She made history as the first African-American woman to represent California in the Senate and as the first Indian-American Senator in the country. Known for regularly speaking on social issues such as gun control laws, gender equality and immigration, Harris has strong support among Asian-Americans in the country.
Harris was recently ranked fifth in a November poll of Democratic voters' preferred nominee in a recent survey conducted by the Politico News. On Saturday, the 54-year-old lawmaker, in an interview to MSNBC's Morning Joe program, had said that she will decide whether to run for a potential presidential bid during the upcoming holiday season. She also added that "the choice would be a family decision".
India connect
Born in Oakland, California, she is the daughter of an Indian mother who migrated to the US from Chennai in 1960 and a Jamaican-American father. Her father Donald Harris came to the US in 1961 and was an economics professor at Stanford. Her mother Shymala Gopalan is from Tamil Nadu and emigrated from Chennai in 1960. She was also a well-known researcher for breast cancer and she passed on in 2009. Harris' parents separated when she was five. She has a younger sister, Maya, also a lawyer.
Harris was married in an Indian and Jewish ceremony in 2014 to Douglas Emhoff, who is a partner with her at law firm Venable LLP's Los Angeles office.
Contender for presidential race?
A year in the Senate and Harris had propelled her career by espousing causes closest to middle-class America such as bills to pay, children to educate, immigrants to protect, jobs to find and vets to be cared for. "Unless you are a native American or were kidnapped and brought here on a slave ship," said the eloquent woman, "You are an immigrant." Hence, the nation founded on immigrants cannot separate families and pull children away from their parents through a toxic anti-immigration policy, Harris had remarked earlier.
Considered close former president Barack Obama, the first black American president, she was fondly called the "female Obama" during the former president's governance.
Harris' appeal is similar in several ways to Obama, cited media reports, who also said that she is a "product of today's multi-racial, mobile America". They say that her "compelling life story and trails innovative ideas the way some women do perfume." Obama had created a stir by saying, "Kamala is the best looking attorney-general of the United States."
In fact, months before the Politico survey, Harris was introduced most seriously by Ellen Degeneres as the next President of the United States. The Politico survey also former US vice-president Joe Biden, Independent senator Bernie Sanders, Beto O'Rourke, Elizabeth Warren and Cory Booker in the race for presidency. Around 26 percent voters in the poll say Biden is their first choice to be the Democratic nominee. Harris, meanwhile, secured four percent of the votes.
With inputs from PTI
World
Tesla CEO Elon Musk in a tweet today said that he voted for Democrats in the past 'because they were (mostly) the kindness party'
World
A senior US official, who requested anonymity, said American forces already in the region would be repositioned
World
Tesla CEO Elon Musk's remarks come after he said Twitter would reverse its ban of former US president Donald Trump if his purchase of the social media company went through