Indian farmers squat on railway tracks to mark four months of protests
By Devjyot Ghoshal and Adnan Abidi NEW DELHI (Reuters) - Dozens of farmers squatted on railway tracks in northern India on Friday, disrupting traffic to mark four months of a campaign against the opening up of agriculture produce markets to private players. Tens of thousands of farmers have been camped on the outskirts of the capital New Delhi since last year, saying new farm laws enacted by Prime Minister Narendra Modi's government will leave them at the mercy of big corporations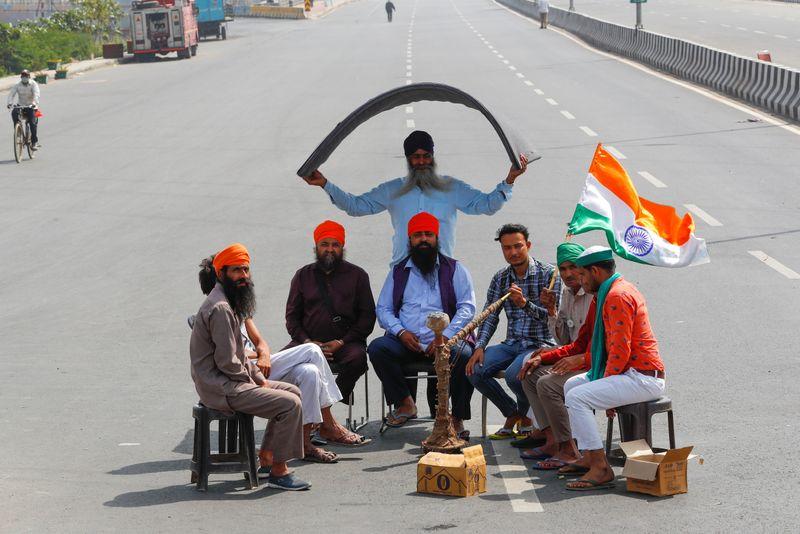 By Devjyot Ghoshal and Adnan Abidi
NEW DELHI (Reuters) - Dozens of farmers squatted on railway tracks in northern India on Friday, disrupting traffic to mark four months of a campaign against the opening up of agriculture produce markets to private players.
Tens of thousands of farmers have been camped on the outskirts of the capital New Delhi since last year, saying new farm laws enacted by Prime Minister Narendra Modi's government will leave them at the mercy of big corporations.
Farm unions called for a 12-hour nationwide shutdown to keep up the pressure on the Modi government which says the reforms will help farmers realise better prices for their produce and bring investment.
"Four months ago, this day, farmers came to the borders of Delhi with their demands. But this government isn't listening to the farmers," said union leader Gurinder Singh Pannu
"This protest will continue," he added.
Across the northern states of Haryana and Punjab, protesters blocked railway tracks at 32 locations, leading to the cancellation of at least four passenger trains.
"Around 30 trains are held up," Deepak Kumar, an Indian railways spokesman, told Reuters.
Freight movement had also been affected, with around 20 goods trains currently stalled, Kumar said.
At a major protest camp in Delhi's Ghazipur, protesters blocked a highway connecting the capital city with neighbouring Uttar Pradesh state.
Police also erected additional barricades, topped by concertina wire, and hundreds of personnel had been deployed.
Of around a thousand protesters at the site, some danced and sang on Friday. "Take back the black laws," they chanted in Hindi.
Several rounds of talks between the government and the farm leaders have failed and there are no new meetings planned for now.
(Reporting by Devjyot Ghoshal and Adnan Abidi; Editing by Sanjeev Miglani and Michael Perry)
This story has not been edited by Firstpost staff and is generated by auto-feed.
Business
(In first paragraph, fixes hyperlink to story) By Katanga Johnson WASHINGTON (Reuters) -U.S.
Business
By Ben Klayman DETROIT (Reuters) - General Motors Co's marketing and promotional spending will return to normal levels after the COVID-19 pandemic caused that budget to drop last year, the U.S. automaker's top marketing officer said on Monday. "What we went through in the pandemic was certainly severe and we should be moving back up to our normalized levels," GM Chief Marketing Officer Deborah Wahl said in an online appearance at a Reuters Events conference.
Business
By Nandita Bose WASHINGTON (Reuters) - U.S. President Joe Biden will urge Congress to invest $50 billion in semiconductor manufacturing and research when he meets with top executives from nearly 20 major companies on Monday about the global chips shortage that has roiled the automotive industry and technology firms. The push is part of his broader focus on rebuilding U.S