Indian Americans ring in Obama inauguration, signal big plans
It was a great "coming out" party for Indian Americans, who at 3 million strong, are slowly coalescing into a political force in US politics.
Washington: It was yet another desi stamp on the American firmament — the first ever presidential inaugural ball organised by Indian Americans to welcome Barack Obama's second coming and loudly register the community's presence.
The Indiaspora 2013 last weekend was a success, no doubt, complete with just the right mixture of kitsch and culture, high-powered guests and regular folk and good food and better fun. Tens of VIPs glided along the red carpet to walk the walk and talk the talk into waiting microphones. Even the semi important had their minute of fame under the bright lights. It was a great "coming out" party for Indian Americans, who at 3 million strong, are slowly coalescing into a political force in US politics.
The President didn't attend — he attends two "official balls" and none other for fear of favouring one group over another — but his half sister, Maya Soetoro-Ng, did. As did Senator Mark Warner, chairman of the Senate India Caucus and Congressman Joseph Crowley, head of a similar grouping in the House of Representatives. There was Ami Bera, newly elected congressman from California, only the third Indian American to earn that distinction.
Saris mingled easily with off-shoulder gowns, Sikh turbans with hipster pants and black ties with shiny kurtas, all celebrating the coming together in one giant, boisterous hug. That the Indian beat is truly mainstream was evident -- white men and women were moving effortlessly to the music of "Red Baraat." The swanky hotel located mid-way between the White House and Capitol Hill was a good location and measure of where the Indian Americans are and where they want to be. Indian Americans from all streams were represented – technology, politics, government, academia, business and the plain old rich.
The man behind it all is MR Rangaswami, a San Francisco-based technology entrepreneur, who founded Indiaspora last year under his non-profit SHG Foundation and delivered the ball in just 60 days with more than a thousand attendees and adequate buzz. No mean feat even in a country where things may move more smoothly than in India. The idea apparently originated in New Delhi at a brain storming session with Tarun Das, former director general of Confederation of Indian Industries, and a long-time mentor of Indo-US relations.
Now that the celebration is over with yet another "first," it is time to assess the agenda for moving forward and exploit the momentum. Rangaswami told me there is a broad five-point plan that about a 100 important Indian Americans produced last year at a meeting in New York. It includes:
• Helping more Indian Americans get political office
• Taking care of the roughly 200,000 Indian Americans who live below the poverty line
• Bolstering the US-India strategic partnership
• Encouraging political and financial reforms in India
• Putting more money and might in philanthropy
It is heartening to note the plan acknowledges the presence of the less fortunate Indian Americans who are also competing for the American dream. Hyper talk about being the richest, most successful community often ignores Indians living below the poverty line. Putting arms around the taxi drivers, nurses and 7-11 workers will only strengthen the community further.
Rangaswami says the idea is go back to the community for feedback on this framework, create working groups and get with the program. One thing he wants to avoid is replication of effort. "We don't want to reinvent the wheel. We could just be a catalyst," he says.
Perhaps. But what's also needed is a permanent national organization funded by the community with salaried employees who work on translating these aspirations and ambition into reality. Indian Americans often look longingly at the organizational abilities of Jewish Americans and their ability to move and shake the system. They talk about emulating the "good practices" and replicating the model. But surely they know that behind the influence are national organizations with full-fledged offices in the capital working on issues all year around.
Find latest and upcoming tech gadgets online on Tech2 Gadgets. Get technology news, gadgets reviews & ratings. Popular gadgets including laptop, tablet and mobile specifications, features, prices, comparison.
World
Playing up his local, middle-class roots, Biden focussed on Trump's stewardship of the coronavirus, casting the president as a callous leader who cannot empathise with the concerns of most Americans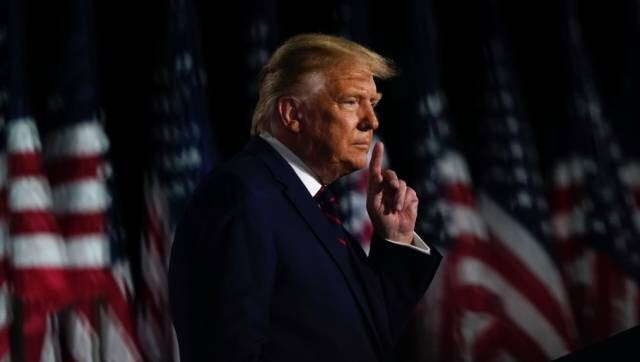 World
It is a catchphrase for creating an emotional and psychological gateway to help disenchanted voters feel comfortable voting for the president
World
At a congressional hearing on Wednesday, Democrats on the House Foreign Affairs Committee accused the state department's top lawyer and the assistant secretary overseeing weapons sales of negligence on civilian deaths and of covering up the legal risks.