Indian-American Vivek Murthy becomes USA's youngest Surgeon General
Vivek Murthy was sworn in as USA's youngest Surgeon General, becoming the highest ranking Indian-American in the Obama Administration.
Fort Myer: 37-year-old Indian-American Vivek Murthy was sworn-in as the US Surgeon General by Vice President Joe Biden at ceremony at Fort Myer on Thursday, becoming the youngest-ever in-charge of the country's public health.
Murthy, who took the oath on the Gita, is now the highest ranking Indian-American in the Obama Administration.
"To have the opportunity to serve as Surgeon General is an extraordinary honour and a profound responsibility, and I want to thank President Obama for entrusting me with the stewardship of this office," he said in his address on the occasion at Fort Myer military base.
Murthy is the country's 19th Surgeon General. According to the surgeon general's website, Murthy received his bachelor's degree from Harvard. From there, he earned his medical degree and master's in business adminisration at Yale University.
In addition to practicing internal medicine at Brigham and Women's Hospital, he in 2009 started a nonprofit, Doctors for America, composed of thousands of doctors supporting President Barack Obama's healthcare initiatives.
As the US Surgeon General, Murthy carries the rank of Vice Admiral. The Health Secretary Sylvia Burwell also participated in the event.
"He is eminently qualified for the job," Biden said on the occasion and described his family as an "incredible" in particular his grandmother who was also present.
"I am who I am because of my grandmother's faith, my father's strength, my mother's love, my sister's support and my fiancée's unyielding belief in me. I am blessed to have all of them here with me today. I will always be grateful to them for the sacrifices they have made," he said, with his parents and family members seated in the audience.
"My family was never supposed to have left our ancestral village. My father is the son of a farmer in rural India. He was supposed to have been a farmer, as was I. But for my grandfather's insistence that his son get an education – even if that meant going into debt – we might have never left that village to go out in the world and – as my grandfather also insisted – start fixing what needed fixing," he said.
"We were not supposed to have become Americans. My parents stopped in three other countries – including a brutal dictatorship – on their journey to get here. They saved up money and scrounged for information about job opportunities, always knowing that America was the destination," Murthy said.
In his first major policy speech, Murthy vowed to improve the public health of the country. "Public health does not exist in a vacuum. It is intrinsically linked to education, employment, the environment and our economy. There is a whole world beyond hospital corridors and clinic waiting rooms where people are struggling with issues of transportation, housing and development," he said.
Thank you @VP for officiating. Humbled to have you here. Your leadership & support for good health are not taken for granted #SGLaunch

— U.S. Surgeon General (@Surgeon_General) April 22, 2015
"To put it simply, health equity is a civil rights issue." - VM #SGLaunch

— U.S. Surgeon General (@Surgeon_General) April 22, 2015
Full of pride & gratitude to have my family with me on this day. It's an honor to be America's 19th #SurgeonGeneral. #SGLaunch

— U.S. Surgeon General (@Surgeon_General) April 22, 2015
PTI
Sports
Brazilian national side criticised CONMEBOL's decision to switch Copa America to Brazil from Argentina amid a surge in COVID-19 infections.
Sports
Copa America organisers are battling the odds to pull off the world's oldest running international football tournament this year despite the COVID-19 pandemic.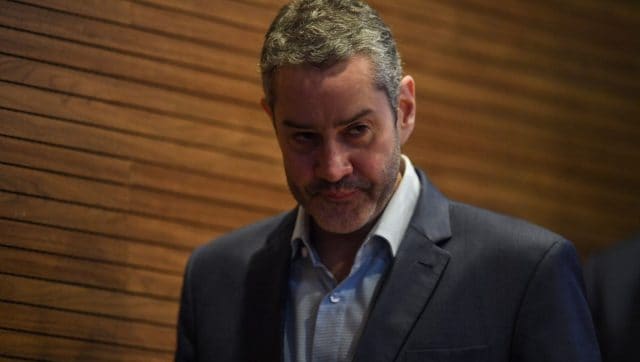 Sports
A Brazilian football federation employee has accused Rogerio Caboclo of several episodes of sexual and moral harassment in recent months