Indian American lasik pioneer wins top inventor award from Obama
Srinivasan is one of eleven extraordinary inventors who will receive the award at a White House ceremony in early 2013.
New York: Rangaswamy Srinivasan, who earned the moniker "Doc Srini" at IBM where he worked for thirty years, has been nominated by President Barack Obama for the National Medal of Technology and Innovation.
Srinivasan is famous for his work on excimer lasers that led to the now-common lasik eye surgery. In 1981, Rangaswamy discovered that an ultraviolet excimer laser could be used to etch a living tissue without causing any thermal damage to surrounding areas.
He named the phenomenon Ablative Photodecomposition (APD). Three years later, Rangaswamy collaborated with an ophthalmic surgeon to use a 193nm pulsed laser to reshape the cornea, to arrive at Lasik surgery, which has helped millions of people.
"The only way for a scientist to become famous is continue living long enough," Srinivasan told The Times of India after learning of the nomination last Friday.
"You know they don't award Nobel Prizes to dead people," chuckled 83-year-old Srinivasan, who lives in New York.
This is not the Nobel, but the National Medal of Technology and Innovation, is the highest honor bestowed by the US government on scientists, engineers and inventors. Srinivasan is one of eleven extraordinary inventors who will receive the award at a White House ceremony in early 2013.
James J Wynne and Samuel Blum, who were Srinivasan's team mates at the IBM TJ Watson Research Center in Yorktown Heights, were also on the White House honours list. They worked together to explore ways to use the excimer laser that had been recently acquired by their laser physics and chemistry group. Srinivasan was a photochemist with 21 patents to his name, Blum was an expert in materials science and Wynne was a physicist, who was the manager of the group at IBM.
"Sri brought his Thanksgiving turkey leftovers into the lab the day after Thanksgiving in 1981. He used the excimer laser at 193nm to etch a pattern in whatever bone, cartilage or meat was on the tissue sample… I had this moment of eureka, we have a new form of surgery! By using the ultraviolet light of the excimer laser, we were getting an extremely clean cut, with no evidence of damage to the surrounding tissue," Wynne reminisced on the IBM website
It produced clean, neat incisions and no collateral damage; with the result that it had a dramatic effect on medical technology relating to eye surgery and dental procedures.
"I am proud to honor these inspiring American innovators," President Obama said. "They represent the ingenuity and imagination that has long made this nation great and they remind us of the enormous impact a few good ideas can have when these creative qualities are unleashed in an entrepreneurial environment."
After Srinivasan fine-tuned the process of using an excimer laser on organic matter, he handed over the technology to IBM's research center, for a financial reward he recalls was roughly $10,000. IBM in turn sold the patents for $15 million.
"That was pretty much how we worked those days," Srinivasan told TOI. "Between money and recognition, it was always the recognition."
Fortunately, Srinivasan has been adequately recognized. He was elected to the National Academy of Engineering in 1999 and is the only person of Indian origin to be inducted in the National Inventors Hall of Fame, in Akron, Ohio. He has won prestigious prizes for the discovery of APD from both the American Chemical Society and the American Physical Society.
Srinivasan got his B.Sc degree in Chemistry and his MS in Physical Chemistry from the University of Madras. He then received his Ph.D at the University of Southern California and did post-doctoral work at the California Institute of Technology and the University of Rochester.
The National Medal of Technology and Innovation was created by statute in 1980 and is administered for the White House by the US Department of Commerce's Patent and Trademark Office. The award recognizes people who have made lasting contributions to America's competitiveness and quality of life.
Find latest and upcoming tech gadgets online on Tech2 Gadgets. Get technology news, gadgets reviews & ratings. Popular gadgets including laptop, tablet and mobile specifications, features, prices, comparison.
World
In the civil lawsuit filed in Washington DC on Tuesday, Hatice Cengiz, Khashoggi's fiancee, claims personal injury and financial losses over his death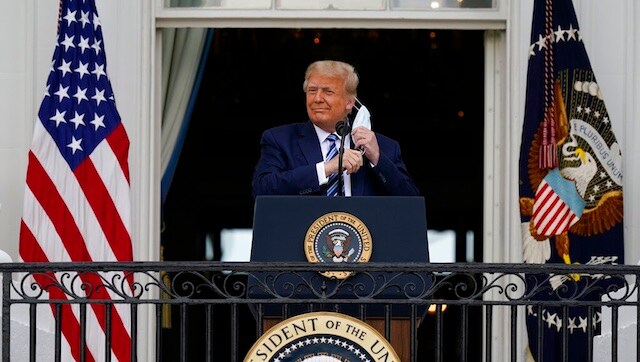 World
The job of the American president is not to entertain the world; he is not meant to be a clown. Similarly, and at a far smaller level of impact, it is not the job of TV news channels to keep viewers engrossed in the drama of what are essentially reality TV shows.
World
Donald Trump used his son's quick recovery as a pitch to reopen schools, downplaying the infection's severity by saying that Barron didn't realise he had contracted COVID