Indian-American Kamala Harris, running for US president in 2020, is being hailed as top candidate: All you need to know
Kamala Harris, a first-term senator and former California attorney general known for her rigorous questioning of President Donald Trump's nominees, entered the Democratic presidential race on Monday. Harris would be the first woman to hold the presidency and the second African-American.
New York: There was never much doubt that Indian-American Kamala Harris, 54, a first-term senator and former California attorney general, would enter the US presidential race as she did early Monday; the big question politicos are asking is whether she has the dexterity to pull off a win. Multiple pundits are saying Harris comes out looking stronger than any other potential candidate based on her broad appeal across the handful of constituencies that will decide fortunes in the primaries that will begin next Spring.
Harris is being instantly hailed as a top-tier candidate. A Wall Street Journal opinion piece says Harris' biggest weapon is her identity as a "prosecutor" at a time when that label has become a chartbuster in American politics. "And consider the left's attitude toward Robert Mueller, who has used hardball prosecutorial tactics to secure criminal convictions against Mike Flynn, Paul Manafort and other associates of President Trump. Former federal prosecutors like Preet Bharara have become cable-news anti-Trump heroes for their on-air speculation about the Trump-Russia investigation. As a result, the identity "prosecutor" has rarely enjoyed greater prestige and admiration in blue America than today", writes Jason Willick of the WSJ.
If elected, Harris would be the first woman to hold the presidency, the second African-American and the first Indian-American ever. Harris becomes the fourth woman currently serving in Congress to announce her presidential ambitions. Other high profile women who have entered the race include Elizabeth Warren of Massachusetts, Kirsten Gillibrand of New York and Rep. Tulsi Gabbard of Hawaii. A relative newcomer to 'national' politics, Kamala Harris' has her fight cut out - name recognition beyond California and Washington. Harris is the second woman of colour to announce her candidacy in the 2020 presidential election; Gabbard, who is of Samoan descent, is the other one.
FiveThirtyEight's data-led evaluations on the Democratic side weighs how political candidates perform among five key cohorts:
- Older voters and lifelong Democrats who care about experience.
- The "left".
- Millennials, the young and social-media-savvy.
- Black voters.
- Hispanic voters, often grouped with Asian voters.
"The candidate who looks best according to the coalition-building model is probably not O'Rourke, however. Instead, it's California Sen. Kamala Harris, who potentially has strength with all five groups", writes Nate Silver.
If the post-Obama Democratic Party is the party of women, especially after the results of the most recent midterms in November 2018, Harris aligns with what the party has come to represent. In 2010, Harris was the first American of South Asian descent to become California's Attorney General.
"The American people deserve to have somebody who is going to fight for them, who is going to see them, who will hear them, who will care about them, who will be concerned about their experience and will put them in front of self-interest," Harris said as she made her announcement on ABC's "Good Morning America."
Harris, 54, who grew up in Oakland, California, made her long anticipated announcement on ABC's "Good Morning America." Harris grew up mostly in the care of her mother, Shyamala, a breast-cancer researcher. Her sister Maya was a senior adviser to Hillary Clinton during the 2016 campaign.
"I am running for president of the United States. And I'm very excited about it", Harris said. Harris launches her campaign fresh off of a tour to promote her latest memoir, "The Truths We Hold," which was widely seen as a stage-setter for a presidential bid.
Dozens of Democrats, including Obama's deputy Joe Biden are weighing presidential bids. The first four candidates to declare are all women.
Harris's campaign team is already taking shape and includes several veterans of Democratic politics. Juan Rodriguez, who ran her 2016 Senate campaign, will manage her presidential bid. Her sister, Maya Harris, will be the campaign chair. The veteran campaign finance lawyer Marc Elias will serve as the campaign's general counsel, and Angelique Cannon, who worked for Clinton's 2016 campaign, will serve as national finance director. David Huynh, who was Clinton's director of delegate operations in 2016, will serve as a senior adviser. Lily Adams, a Clinton campaign alum who has worked as Harris's spokeswoman, will be communications director.
Harris' announcement on Martin Luther King day, steeped in symbolism, makes it clear that the heart of her campaign is to win big among voters of colour. If politics is all about momentum, Harris has it. For now.
World
Dhillon, a former California Republican Party co-chair, contested against incumbent McDaniel, whom former US president Donald Trump tapped as RNC chair in 2016. McDaniel, was comfortably re-elected in a secret ballot on Friday for the second consecutive term
World
The twice-impeached Republican, whose party lost the White House and both chambers of Congress during his term, makes his case for another four years with appearances in New Hampshire and South Carolina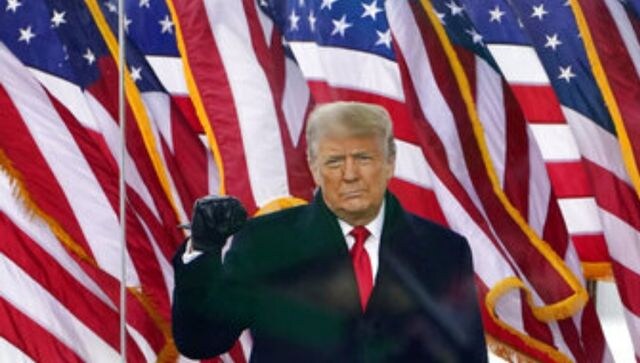 World
Throughout Trump's tenure as president,his use of social media posed a significant challenge to major social media platforms trying to balance the public's need to hear from their elected leaders with worries about misinformation, harassment and incitement of violence