India talks tough with China on Azhar, objects to double standards on terror
Swaraj said India, China and Russia have been bearing the brunt of terror networks.
Moscow: India on Monday did some plain-speaking with China over its blocking of the Indian bid to get JeM chief Masood Azhar banned by the UN and warned the global community of "serious consequences" if it continues to adopt "double standards" in dealing with terrorism.
During a bilateral meeting with her Chinese counterpart Wang Yi, External Affairs Minister Sushma Swaraj also asked for a "review" of the Chinese action at the UN.
"I told him (Wang) that if we were to fulfil our intention of fighting terrorism together, then China should review the stand it had taken at the UN 1267 Committee," Swaraj told a joint press conference with Wang and Russian Foreign Minister Sergey Lavrov.
The three ministers had earlier jointly chaired a Russia-India-China (RIC) foreign ministers meet here.
In her meeting with Wang, Swaraj emphasised the need for bilateral cooperation to combat the challenge of terrorism.
If India and China were to combat terrorism unitedly, then Beijing should change its position of opposing India's bid against Pathankot terror attack mastermind Azhar at the UN Sanctions Committee, Swaraj told Wang.
It was agreed during the Swaraj-Wang meeting that the two sides would remain in touch on the matter, external affairs ministry spokesperson Vikas Swarup said.
Last month, China had vetoed India's bid to get Azhar designated as terrorist by the UN Sanctions Committee, maintaining that the case "did not meet the requirements" of the Security Council. The Chinese action evoked a strong reaction in India which said that it was "incomprehensible" that while Jaish-e-Mohammad (JeM) was banned by the UN, its chief was not.
This is not the first time China has blocked India's bid to get Pakistan-based militant groups and leaders proscribed by the UN.
The UN had banned the JeM in 2001 but India's efforts for slapping of sanctions on Azhar after the 2008 Mumbai terror attack also did not fructify as China, that has veto powers, did not allow it apparently at the behest of Pakistan.
Earlier addressing RIC meet, Swaraj warned the international community of "serious consequences" if it continues to adopt "double standards" in dealing with terrorism.
"India believes that the foremost challenge to international security continues to be posed by international terrorism. The RIC countries must lead the way in getting the international community together to counter terrorism through joint action, including at the UN," Swaraj said.
"We must not fail in this regard. If we continue to adopt double standards in dealing with terrorism it will have serious consequences not just for our own countries, but the international community as a whole," she said.
Later, addressing a press conference along with Wang and her Russian counterpart Sergey Lavrov, Swaraj said there was a need to craft an effective global strategy to counter terrorism, including at the UN.
While talking about the roadmap for the RIC to tackle the issue of terrorism, Swaraj said there cannot be any difference between good terrorists and bad terrorists.
"It is important that we give up the distinction between 'good' and 'bad' terrorists. We will also need to give up the tendency to differentiate between 'my terrorists' and 'your terrorists'. A terrorist is a terrorist, one who commits crimes against humanity and not against any nation," she said.
Swaraj said India, China and Russia have been bearing the brunt of terror networks and that time has come for the three countries to play a leadership role in combating terror globally.
On the Swaraj-Wang meeting, Swarup said they assessed the implementation of decisions taken during Prime Minister Narendra Modi's visit to China last May.
"They noted the significance of high level exchanges contemplated this year, including the ongoing visit of Raksha Mantri (Defence Minister Manohar Parrikar)," he said.
"The Ministers appreciated the expanding trade and investment ties between India and China. They underscored the importance of strengthening people to people ties. In this context, Foreign Minister Wang Yi apprised External Affairs Minister of China's decision to increase the number of Indian pilgrims for the Kailash Mansarovar Yatra via Nathu La," Swarup said.
In her opening remarks during the meeting, Swaraj said the relations have seen significant improvement in the last one year and favoured frequent meetings between the two sides to step up engagement.
"We are meeting after a long gap and I think we should meet quite frequently. Because things are moving very fast in the world and if we meet frequently, we will be able to deliberate on those," Swaraj said.
Swaraj also met with her Russian counterpart counterpart Lavrov on the sidelines of the RIC meet here and raised issues of killing of an Indian and the death of two Indian girl students in a fire tragedy in this country besides discussing key bilateral matters.
"EAM (External Affairs Minister) raised the cases of Indian nationals Yasir Jawed (who was killed in Kazan) and Puja Kallur and Karishma Udai Bhosle (who died during a fire at the Smolensk State Medical Academy). FM Lavrov briefed on the progress of the investigations," Swarup said.
Later, she also had a meeting with Russia's Deputy Prime Minister Dmitryi Rogozin.
The meeting provided opportunity for in depth review of the strategic partnership. Both sides discussed the progress in implementing the decisions taken during the summit-level meeting between Prime Minister Modi and President Putin, in particular Russian participation in the defence sector under Make in India, officials said.
They also discussed the energy partnership between India and Russia and ways to strengthen it. Both sides looked forward to the next meeting of the India Russia Inter-Governmental Commission (IRIGC) in India.
PTI
World
This time, on contentious issues such as Xinjiang, Hong Kong, Taiwan, Covid-19 and East and South China Seas, the G7 communique ticks all the boxes and manages to sound tough, signalling common ground between Europe and the US despite policy differences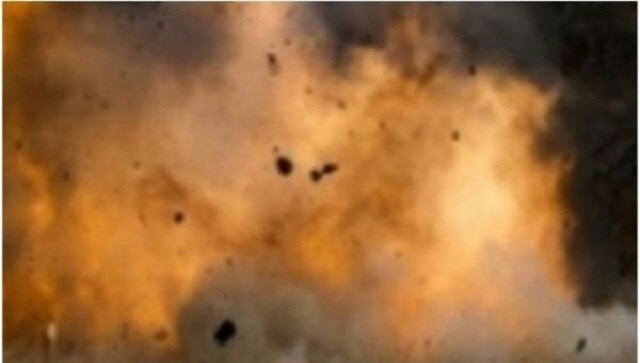 World
The explosion took place at the Yanhu market in Shiyan when many residents were having breakfast or buying vegetables, South China Morning Post reported
World
From elementary school essay competitions to patriotic films to an unending parade of speeches, banners, and news headlines, China is in the midst of celebrating the CCP's 100-year anniversary