India-Germany can be 'made for each other' if Narendra Modi manages to iron out trade wrinkles
The importance lies in the fact as Europe struggles to cope with a wave of protectionism sweeping across the West, it must look elsewhere to keep the flags of 'free trade' and 'climate change' flying.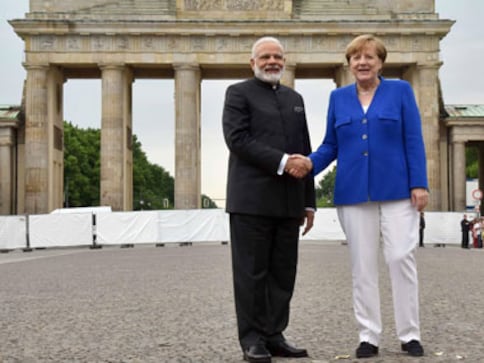 There is an opportunity for India to tap amid the shifting sands of trans-Atlantic partnerships. Prime Minister Narendra Modi couldn't have timed his Europe sojourn better. To understand how rapidly ties are being made and unmade, we need only to recall last week's events during the NATO Summit in Brussels.
The optics were telling and the significance not to be missed. As NATO leaders walked up towards Emmanuel Macron to greet him, the newly elected French president swerved at the very last moment to avoid Donald Trump's outstretched hands and embraced German Chancellor Angela Merkel instead. He kept ignoring Trump till the US president's hands were left awkwardly hanging, mirroring accurately Europe's current relationship with Washington.
The video of the greeting, which has since gone viral, was tweeted by Macron himself. The French president later shared a bone-shattering, fist-clenching, white-knuckled handshake with his US counterpart that left both alpha males grimacing in pain.
Macron's gesture should not be seen in isolation. At the end of that three-day trans-Atlantic meet, Merkel, clearly unhappy with Trump's positions on Paris Climate Accord, NATO's defence spending, free trade and Russia, announced that Europe should chart its own future and take its fate into own hands instead of relying on old partnerships. The comments were made inside a beer tent during her campaign trail in Munich but has since reverberated around the world with pundits straining to define it as a seismic shift in global politics. Merkel is widely favoured for a fourth term as Chancellor in September elections.
To a certain extent the comments could be related to Merkel's domestic compulsions. Trump's rhetoric on NATO has upset America's trans-Atlantic partners and Merkel has consistently been accused by rivals at home of not being critical enough of Trump's policies. This may be seen as a tactical move to deny her Opposition the political space.
Yet, taken together, Macron's gesture and Merkel's comments are clear indications of a more assertive Europe that feels shortchanged by a retreating US and UK and increasingly feels the need to develop a stronger bond and share more responsibilities. The departure of UK, Europe's second-largest economy, will put even more pressure on Germany to drive the Europe engine and in Macron, Merkel feels she has found the right partner. A strong Franco-German relationship is slowly taking shape, at least that's how German media is interpreting the latest turn of events.
In a piece titled, 'What Was Merkel Thinking?, Spiegel Online writes: "Merkel has (already) sharpened her focus on France, saying that she and President Emmanuel Macron have agreed on a "new push" in Franco-German cooperation and that the two countries intend to present a "roadmap" for desired reforms. Foreign minster Gabriel, for his part, has presented a more concrete plan. In addition to strengthening the eurozone, it sketches out possible joint German-French investments, a joint defense fund and more intense cooperation on foreign policy. Efforts at strengthening Europe, in other words, are on the way — and Merkel's comments are an expression of that."
The question is, how does a recalibration of US-EU partnership align with India's interest? The importance lies in the fact as Europe struggles to cope with a wave of protectionism sweeping across the West, it must look elsewhere to keep the flags of 'free trade' and 'climate change' flying. India and China present the most obvious choices. Both Modi and China's President Xi Jinping have reaffirmed their faith in climate accord. Chinese Premier Li Keqiang's visit to Germany soon after Modi's departure cannot therefore be a mere coincidence.
German newspaper Handelsblatt wrote on its front page on Monday that "after the disappointing G7 summit, the German chancellor is turning her hopes for free trade and climate protection to India and China", reports Economic Times.
Chinese trade ties with Germany run deeper but of late has been subjected to, as Indira Bagchi writes in Times of India, "predatory trading practices. Although Germany sent an official-level delegation to the OBOR summit, it has asked for the OBOR process to be made more transparent, in accordance with WTO."
Fearing that Chinese companies may bag the lucrative infrastructure projects, Germany refused to sign a trade deal, citing lack of transparency. China's repeated flouting of WTO norms and protectionism have largely been ignored by the West so far which remained fixated on the size of Chinese market but as India takes rapid strides in simplifying the tax structure and enhancing ease of doing business, it is fast becoming a profitable alternative. For the West, India's shared democratic values provide a further ideological cushion.
If things so far seem rosy for India, in reality they aren't. In fact, one of Modi's significant challenges during the trip to Berlin is to convince the Germans that investment in India won't be subjected to the vagaries of retrospective taxation, land reforms and steep tariffs. Germany, consequently, has been pushing for investor protection under a Free Trade Agreement (FTA) and also the resumption of the old Bilateral Investment Treaty (BIT) which lapsed in March this year.
The BIT with Germany was among the 23 agreements India had allowed to lapse because they were perceived to be disadvantageous for India. The new model BIT that India is trying to push through makes it difficult for multinational companies to go for international arbitration in case of a dispute before it has exhausted all domestic legal options.
As Indivjal Dhasmana writes in Business Standard, "European Commission Vice-President Jyrki Katainen had earlier expressed concern about the lack of any legal protection for investors from EU nations. The letter had termed the move by India 'unilateral' and pointed to rising capital costs and legal uncertainty as concerns that will keep away investors."
This has also hampered negotiations on FTA and the entire Indo-German relationship has been taken hostage. The potential for improving the relationship is huge in terms of both economy and geopolitics. The prime minister had said in his Facebook post on Monday that he will try to "chart out a future roadmap of cooperation with focus on trade and investment, security and counter-terrorism, innovation and science and technology, skill development, urban infrastructure, railways and civil aviation, clean energy, development cooperation, health and alternative medicine."
He would know that economy would be the fulcrum on which Indo-German ties will rest and India must show to Berlin that it is ready to walk the talk on free trade. As PTI states in a report, trade between the two countries stands at €17.42 billion in 2016, up only marginally from €17.33 billion the previous year. Germany is the seventh largest foreign direct investor (FDI) in India and the total FDI from April 2000 until December 2016 amounted to $9.54 billion. A total of 1,800 German companies are operating in India.
This is just a fraction of the economic potential the two nations can unleash. In his intergovernmental talks, Modi could point to the education sector where Germany and India have grown closer despite the areas of differences.
Germany, as a provider of higher education with a fraction of the fees required to pursue studies in the US or UK, has become a favourite destination for Indian students. As Indian Express writes in a report quoting German government data, "5,998 Indian students went to Germany for higher education in 2011-12. The number grew to 13,740 in 2015-16." The report also quotes Stephan Lanzinger, Counsellor at the German Embassy's Science and Technology section, as saying: "In Germany, there are virtually no tuition fees, yet the quality of higher education is excellent. The cost of living is relatively low and the standard of living is high."
In the geopolitical arena, India provides Germany the pivot it needs in Asia if Merkel is serious about expanding Europe's sphere of influence beyond the Atlantic. For India, middle power Germany provides the stability it seeks in a world where one major power is looking inward and the challenger, to borrow from Samir Saran, "is undertaking an unabashed, confrontational and neo-colonial smash and grab in South Asia."
World
The search marks a dramatic escalation in law enforcement scrutiny of Trump and comes amid a separate but intensifying probe into efforts to overturn the results of the 2020 US presidential election
World
The French president took to Twitter to declare his solidarity with the British author, who was attacked during a literary event in New York on Friday. He said, 'Rushdie's battle is ours, a universal one. More than ever today, we stand by his side'
World
The fall of the three-term congresswoman, who has declared it her mission to ensure Donald Trump never returns to the Oval Office, was vividly foreshadowed earlier this year, on the first anniversary of the 6 January attack on the Capitol