India following tricky two-sided China policy to maximise gains: Chinese media
Chinese media accused India of following a 'tricky two-sided' China policy to 'maximise gains at minimum costs'.
Beijing: Accusing India of following a "tricky two-sided" China policy to "maximise gains at minimum costs", an article in the state media in Beijing said India's stand on a negotiated settlement in the disputed South China Sea is aimed at securing membership of the China-led SCO grouping.
"Indian diplomacy rests on engagement with major world powers instead of clinging to a particular country. By adopting an ambiguous strategy, India places itself in a position that all the major powers woo it, but it never explicitly promises anything regarding the policies of other nations," the article in the state-run Global Times said.
"This makes these countries hope about wooing India while not willing to break ties with it due to its ambiguous stance. India has been trying to maximise its interests with minimum costs, which so far has achieved satisfying results," the article 'New Delhi may get dragged into tussles' said.
Referring to the joint statement issued after the 18 April meeting of foreign ministers of Russia, India and China (RIC), it said India struck a common stance toward the simmering tensions in the South China Sea (SCS) backing a negotiated settlement to solve territorial disputes.
China opposes the Philippines' arbitration under the UN Convention on Law of Seas (UNCLOS) on the SCS but is open for a negotiated settlement.
"Having established a comprehensive strategic partnership of coordination, China-Russia relations have warmed up in the past two years and Russia has expressed understanding and support for China's stance in the South China Sea. But India's attitude is tricky," it said.
"For years, India has remained a prudent yet ambiguous stance over the SCS issue. At a sensitive moment such as now, India expressed the same attitude as China and Russia, indicating a changing state of mind of India," it said.
"One possible reason is that India has been striving for full-fledged membership of the Shanghai Cooperation Organisation (SCO). In July 2015, SCO Ufa summit launched the process of accession for India and Pakistan.
"But India's inclusion into the SCO has not been completed. India needs to prove that its accession can play a constructive role for the unity of SCO members and the international effect of the SCO," it said.
"In addition, what rights India will be entitled to after it enters the SCO will be determined by the existing members. Against this backdrop, India taking a consistent stance with China and Russia in diplomatic matters will facilitate its accession to the SCO and help it better play its role within this regional framework.
"This may be part of India's consideration," the article said adding that India at the same time agreed to share military logistics with the US.
"By joining the communique in support of China's stance on the South China Sea, India seemingly tries to strike a diplomatic balance at a high level. Yet it doesn't connote any change in India's diplomatic intentions to seek a balance between powers," it said.
"India's moves to substantively bolster the US in military cooperation and meanwhile disappoint the latter right before the South China Sea arbitration outcome is released indicates the duality of India's policy. They show that India also takes a two-sided stance in dealing with China," it said.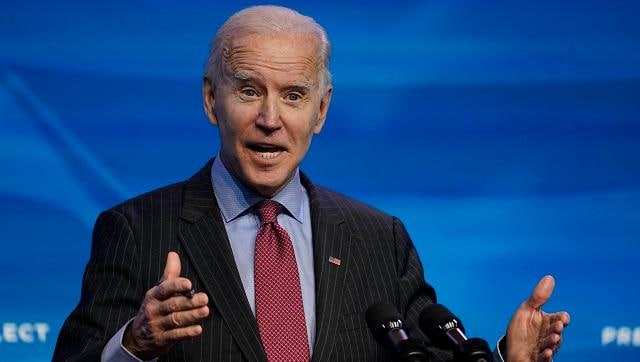 World
The new security alliance is likely to be seen as a provocative move by China, which has repeatedly lashed out at Joe Biden as he's sought to refocus US foreign policy on the Pacific
World
Johnson is expected to hold bilateral talks with Biden during his four-day trip to the US for the UNGA, and the prime minister will try to mend relations with Washington
World
The comment comes in the wake of France's foreign minister Jean-Yves Le Drian accusing the country of "constant opportunism"