India turns 'major defence partner' for US; Modi scoops billions in investment
Prime Minister Narendra Modi's visit to Washington yielded tangible results on Tuesday with India entering the Missile Technology Control Regime and locking in progress on energy, climate change and defence.
Washington:  Prime Minister Narendra Modi's visit to Washington yielded tangible results on Tuesday with India entering the elite missile technology group and locking in progress on energy, climate change and defense. The visit also yielded a bonanza of big-ticket investments from Amazon and Star.
The two countries finalised a deal that allows their militaries to help each other with crucial supplies, and Washington formally recognised India as a 'major defence partner'. This will make it easy for India to access sophisticated US weaponry and technology to modernise its army and defence-manufacturing sector.
India joins technology-denial regime
Modi's meeting with Obama began on a propitious note as the two sides disclosed that India had cleared all hurdles to become a member of the 34-member Missile Technology Control Regime(MTCR), a non-proliferation regime of which China is not a member.
This will give India access to high-end missile technology from across the world and will allow India to purchase top-of-the-line missile systems.The MTCR will also pave the way for India to sell its supersonic BrahMos cruise missiles, which it developed jointly with Russia to third countries. It's a feather in Modi's cap that the development will make India a significant arms exporter for the first time.
"I want to thank my close friend Barack," said Modi while acknowledging his "deep personal commitment" to their friendship.
The Obama administration has strongly backed India's membership into MTCR and three other export control regimes — the Australia Group, Nuclear Suppliers Group and the Wassenaar Arrangement.
Rome had earlier objected to admitting India into the missile control group because of its spat with India over an Italian marine. However, Salvatore Girone, who was held in custody at the Italian embassy in New Delhi for four years over the killing of two Indian fishermen in an anti-piracy operation in 2012, was recently allowed to return to Italy. With the matter now resolved, Italy did not object within a 10-day deadline after the group's chair, the Netherlands, wrote to members suggesting India be welcomed.
With the coveted MTCR membership in the bag, India and the US are now expected to fast-track their discussions on the sale of predator drones to the Indian military.The Predator can fly 770 miles — less than half the range of an F-16. But that's far enough to make the drone a valuable surveillance asset — and armed with two laser-guided AGM-114 Hellfire missiles, the Predator can shoot, as well as search.
With India's entry into the MTCR, China will be under pressure to look more favorably on India's bid to be admitted to the Nuclear Suppliers Group (NSG).
"If your credentials are good to join in one group then there is a carryover," said Vikas Swarup, spokesman for the Ministry of External Affairs.
The two sides also announced that they intended to complete a deal in which India will buy six nuclear reactors from Westinghouse. India hopes to increase the share of electricity generated from nuclear sources from four percent to 25 percent by 2050.
"The leaders welcomed the start of preparatory work on site in India for six AP 1000 reactors to be built by Westinghouse and noted the intention of India and the US Export-Import Bank to work together toward a competitive financing package for the project," said the joint statement.
A clear signal to China
The joint statement issued after Modi's working lunch at the White House with President Barack Obama resolved that the US and India would "look to each other as priority partners in the Asia Pacific and the Indian Ocean region".
In other words, Beijing that has been flexing its muscle, will have to live with the presence of the US, India, and American allies in the South China Sea and Indian Ocean region. Recent patrols by Chinese submarines in the Bay of Bengal have naturally perturbed New Delhi. The Obama-Modi meeting came against the backdrop of rising tensions in the South China Sea, which featured in simultaneous talks between US Secretary of State John Kerry and his Chinese counterpart.
Paris climate deal
The Paris climate deal is perhaps Obama's biggest accomplishment and he received crucial support on Tuesday from India to seal his legacy to mitigate climate change.
"For the Americans, the most important part of Modi's visit was his announced intention to formally join the Paris climate change agreement by the end of this year," noted The New York Times.
The US and India are cooperating on key issues to support Modi's goal to deploy 175 gigawatts of renewable energy by 2022. The White House announced that American renewable companies were seizing the opportunity to pursue a four-gigawatt solar photovoltaic project pipeline in India to help meet India's renewable energy goals.
"The US and India announced the creation of two innovative new initiatives that together are expected to mobilise up to $1.4 billion in climate finance for Indian solar projects," said the White House.
US investments pour in
Modi got a standing ovation from American business leaders as he strode into the glamorous neoclassical Andrew Mellon Auditorium in Washington DC.
Modi pitched the high-octane Indian economy as a more attractive investment destination over China, in the current economic downturn.
"I am speaking to you at a time when the global economy continues to be weak. The world needs new engines of growth. It would be nice if the new engines are democratic engines,"said Modi with tongue firmlyincheek.
Amazon founder and CEO Jeff Bezos said that the American online retail giant would invest an additional $3 billion in India, boosting the company's committed investment in the country to $5 billion.
Amazon's investment decision was a vote of confidence for Modi who presented the USIBC's global leadership awards to Bezos and Sun Pharmaceuticals founder Dilip Shanghvi.
"This award is a recognition of the fact that we have already created some 45,000 jobs in India and continue to see huge potential in the Indian economy," said Bezos.
"Our Amazon.in team is surpassing even our most ambitious planned milestones, and I'm pleased to announce today that we'll invest an additional US $3 billion on top of the US $2 billion that we announced in 2014, bringing our total investment in India to over US $5 billion."
Bezos said the investments would help start-ups in India and accelerate the country's role as a hub for innovation and digital entrepreneurship.Bezos also said Amazon would open a Web Services Cloud Region in India this year and Hyderabad would soon become home to the firm's largest software engineering and development center outside of the US.
Star India, a subsidiary of 21st Century Fox, announced at the summit that it will invest an additional $5 billion over the next three years.
"We see huge potential in the Indian market and have been one of the largest foreign investors in India and the largest in the media and entertainment sector," said Uday Shankar, Chairman and CEO of Star India.
At USIBC's CEO roundtable, Modi met John Chambers, executive chairman of Cisco, Robert Ford of Abbott, James Taiclet of American Tower Corp, Marc Allen of Boeing, David Cordani of Cigna, Marillyn Hewson of Lockheed Martin, Ajay Banga of MasterCard and Indra Nooyi of PepsiCo.
The USIBC said that its members are bullish on India and will be investing much more than the $41 billion investment they had planned during Modi's first visit to the US after assuming office.
Find latest and upcoming tech gadgets online on Tech2 Gadgets. Get technology news, gadgets reviews & ratings. Popular gadgets including laptop, tablet and mobile specifications, features, prices, comparison.
World
Armenians and Azerbaijanis lived side by side when both countries were part of the Soviet Union, but century-old ethnic enmity reignited when communism collapsed
World
Barack Obama's new memoir, 'A Promised Land', goes on sale on Tuesday, 17 November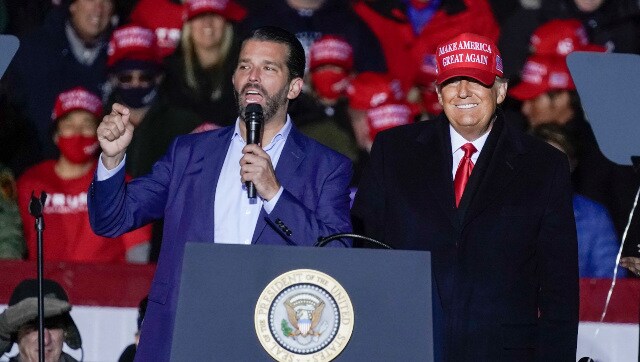 World
The eldest son of Donald Trump is the latest member of the president's family to become infected with the coronavirus that has killed more than 250,000 Americans