India-China border talks: There's not much to expect from the NSA level talks
The China-Pakistan Economic Corridor, which stretched to Gilgit-Baltistan region, which India claims in its entirety, has not helped matters.
National Security Advisor Ajit Doval and his Chinese counterpart Yang Jiechi held the 19th round of boundary talks in Beijing on Tuesday. The already complex border negotiations have complicated further in recent years with incidents of intrusions by the People's Liberation Army into Indian territory.
The flurry of activity, soon after the new governments in Delhi and Beijing took charge, held the promise of a fresh start. But so far nothing much has changed on the ground.
"India-China ties are in auto-mode at the moment, it's a kind of drip, drip situation nothing much has happened," says Alka Acharya, director and senior fellow at the Institute of Chinese Studies, in Delhi.
President Xi Jinping was in India in September 2014, Modi paid a return visit in 2015. For a brief while it seemed that ties would take off smoothly. But fresh concerns have cropped up.
The China-Pakistan Economic Corridor, which stretched to Gilgit-Baltistan region, which India claims in its entirety, has not helped matters. India's warming ties with the US and constant refrain about freedom of navigation in international waters, is being seen as a US-led gang-up against China. Added to this is the Chinese veto of India's bid to designate Jaish-e-Mohammed chief Masood Azhar as a terrorist at the United Nations.
But high level visits have continued. Defence minister Manohar Parrikar will be returning from China after a five day first visit and External Affairs Minister Sushma Swaraj met China's foreign minister Yang Yi in Moscow where both went for the RIC foreign ministers meet. Stung with China's refusal to back India in the UN, Swaraj raised the issue with Yang Yi.
This is the second time that China vetoed the move on technical grounds. India knows very well that raising the Masood Azhar point will get no traction from China. Beijing is unlikely to change its stand or give any detailed explanation. But New Delhi wanted China to clearly spell out why a man, who India believes is behind the Pathankot terror attack, should get kid glove treatment from China. The NSA is likely to bring up Masood Azhar, at least to playback to the domestic constituency, if not for anything else.
In fact , it was the attack on the frontline airbase in Pathankot which had delayed the border talks between the two Special Representatives (SR) appointed by the respective governmennts. Doval postponed the January talks following the terror attack. Considering the current situation, when Ajit Doval and Yang Jiechi sit down to talk, there is likely to be no major announcements.
"We can expect a few more cbms but no major thrust to take the SR process forward," says analyst Srinath Raghavan, of the Centre for Policy Research.
Soon after taking office the Modi government had wanted China to clarify its positions on the Line of Control (LAC). It was then touted as a "change" from the UPA policy. In fact, Prime Minister Narendra Modi himself spoke of it while delivering a lecture at a university in Beijing in May 2015. The thinking behind that was to clarify positions which would help determine where each side stands physically on the border. Beijing simply turned down the suggestion saying it would lead to further confusion.

For quite some years now, the boundary discussions have come to a point when both China and India need to consider the issue of exchange of territory. As far back as 2007, the roadblock in the boundary discussions was stuck on China's claims to Tawang, which has one of the oldest Buddhist monasteries in the region.
The Chinese claim to Arunachal is on the ground that the Macmohan Line, which was the border imposed by the British, overlooked Beijing's claim to territory traditionally held by them. The constant public claim that Beijing makes on Arunachal is a maximalist position to snatch the monastery town of Tawang from India in the final settlement. The Chinese also say that the sixth Dalai Lama was born in Tawang, and the monastery town had to be given back to the Buddhists of Tibet.
"It is now the question of trade-offs that China and India have to do. Whether either side is prepared to do so now remains to be seen," says Raghavan. "My hunch is neither side has given much thought to it yet."
Doval will also raise the issue of Chinese infrastructure projects being built in POK, especially in the Gilgit-Baltistan area. India claims this entire area for itself and says that China should not build on a disputed territory. China's decision to invest $46 billion in Pakistan for its one belt one road project includes this area. "The entire state of Jammu and Kashmir, which includes the regions of Gilgit and Baltistan, is an integral part of India," MEA spokesman Vikas Swarup has often repeated.
China's response to all of India's compalints are predictable. Whether any new confidence building measures (cmbs) have been announced will be known later.
Politics
His selection assumes significance as the dissension-riven Congress faces the Assembly polls in less than five months and the fact that Dalit voters comprise 32 percent of the state's electorate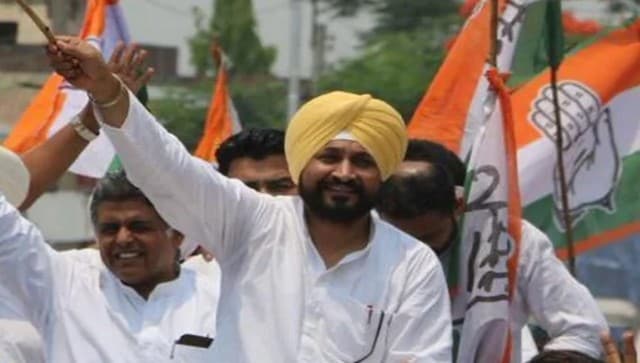 Politics
The development comes after much speculation with the names of Sunil Jakhar, Navjot Singh Sidhu, Tript Rajinder Singh Bajwa and Sukhjinder Singh Randhawa doing the rounds for the top post
World
Sources said the Taliban have no option but to wait till an inclusive government is formed though it seems unlikely in the near future