In Trump-Nixon impeachment comparison, Pelosi raises specter of resignation
WASHINGTON (Reuters) - U.S. House Speaker Nancy Pelosi amplified her unfavorable comparison of President Donald Trump to fellow Republican Richard Nixon on Sunday, saying that the disgraced president at least cared enough about the country to leave office before his impeachment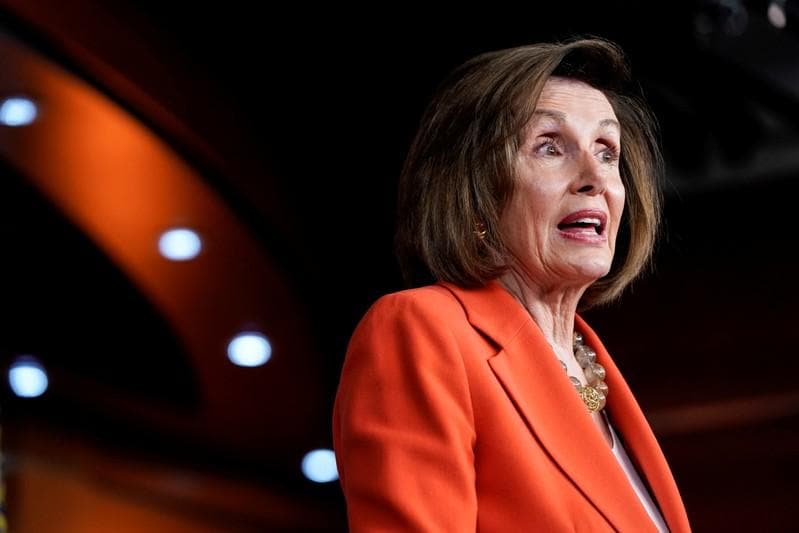 WASHINGTON (Reuters) - U.S. House Speaker Nancy Pelosi amplified her unfavorable comparison of President Donald Trump to fellow Republican Richard Nixon on Sunday, saying that the disgraced president at least cared enough about the country to leave office before his impeachment.
The top Democrat in Congress told reporters last week that Trump's pressure on Ukraine to investigate one of his potential opponents in the 2020 election "makes what Nixon did look almost small."
She alluded to Nixon's resignation after the Watergate scandal involving a break-in at Democratic Party headquarters and the subsequent cover-up in a CBS interview broadcast on Sunday.
"I mean, what the president did was so much worse than even what Richard Nixon did, that at some point Richard Nixon cared about the country enough to recognize that this could not continue," Pelosi said on CBS' "Face the Nation."
Nixon, whose name has become synonymous with scandal and ignominy for many Americans, resigned in 1974 after the House Judiciary Committee approved articles of impeachment against him but before the full House voted on the issue, and he was not impeached.
He is the only U.S. president who has resigned from office.
Pelosi for months resisted calls from her more liberal Democratic lawmakers to initiate impeachment proceedings but said Trump's call with Ukrainian President Volodymyr Zelenskiy compelled her to open an impeachment inquiry against the president.
(Reporting by Doina Chiacu; Editing by Mary Milliken and Lisa Shumaker)
This story has not been edited by Firstpost staff and is generated by auto-feed.
Find latest and upcoming tech gadgets online on Tech2 Gadgets. Get technology news, gadgets reviews & ratings. Popular gadgets including laptop, tablet and mobile specifications, features, prices, comparison.
World
ADDIS ABABA, Ethiopia/UM RAKUBA, Sudan (Reuters) - Government forces captured two towns from rebel forces in Ethiopia's northern Tigray region, the government said on Friday, and Tigrayan fighters fired rockets at an airport in a neighbouring region. The rocket attack on Bahir Dar, capital of Asmara region, raised concerns that the two-week-old conflict between the Tigrayan rebels and the central government could spiral into a wider war. The United Nations meanwhile said it was making plans for as many as 200,000 refugees fleeing into neighbouring Sudan.
World
(Reuters) - The number of coronavirus cases in Europe surpassed the 15 million mark on Friday, according to a Reuters tally, as the region sees a surge in infections with the onset of winter, reporting a million new infections about every four days. Europe has so far witnessed at least 15,046,656 reported infections and 344,401 reported deaths caused by the novel coronavirus, accounting for a quarter of global infections and deaths reported.
World
BUDAPEST (Reuters) - Hungary could receive up to one million doses of coronavirus vaccine from China in the coming months, Foreign Minister Peter Szijjarto told state news agency MTI on Friday after a phone call with his Chinese counterpart. Hungary earlier announced it also plans to import Russia's Sputnik V vaccine. The European Commission said on Thursday that Hungary's plan raises safety concerns, opening a new front in the EU's fraught relations with Budapest.