In shock move, U.S. to drop charges against ex-Mexican defense minister
MEXICO CITY (Reuters) - The United States will drop drug charges against former Mexican Defense Minister Salvador Cienfuegos and turn over the investigation of his alleged crimes to Mexico, officials said on Tuesday, after the Mexican government had chafed U.S. prosecutors' handling of the case. The surprise decision to drop U.S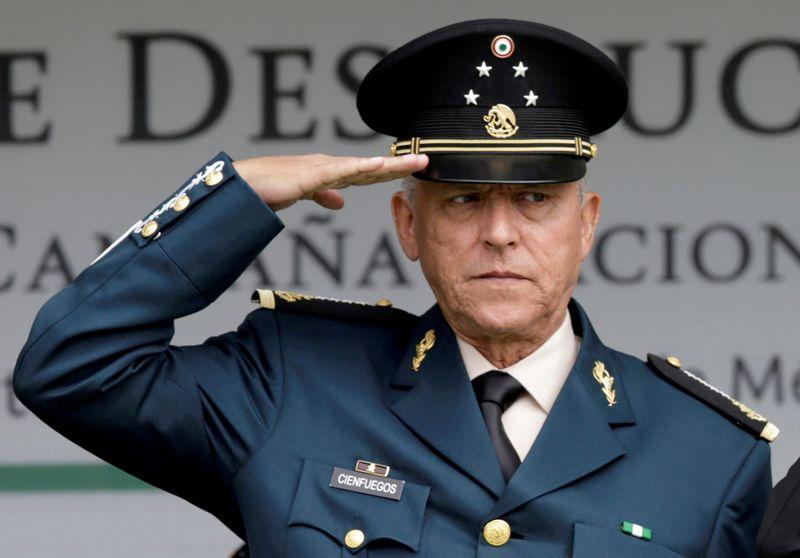 MEXICO CITY (Reuters) - The United States will drop drug charges against former Mexican Defense Minister Salvador Cienfuegos and turn over the investigation of his alleged crimes to Mexico, officials said on Tuesday, after the Mexican government had chafed U.S. prosecutors' handling of the case.
The surprise decision to drop U.S. charges in the politically charged case was announced in a joint statement on Tuesday from the U.S. Department of Justice (DOJ) and Mexico's attorney general's office.
The arrest of Cienfuegos, a retired army general who for years worked closely with U.S. counterparts on highly sensitive cross-border security cases, put a severe strain on security ties between the two countries. Mexico was not forewarned of the investigation and arrest.
In retaliation, Mexican President Andres Manuel Lopez Obrador threatened to review cooperation agreements that establish how U.S. Drug Enforcement Administration agents operate in the country.
"The U.S. Department of Justice has made the decision to seek dismissal of the U.S. criminal charges against former Secretary Cienfuegos, so that he may be investigated and, if appropriate, charged, under Mexican law." the joint statement said.
It cited the neighboring countries' "strong law enforcement partnership" as justification for the move.
The DOJ said it had provided Mexico with evidence in the case and committed to support the investigation led by Mexican authorities.
Cienfuegos, who also served as head of the military, had pleaded not guilty earlier this month to drug and money laundering conspiracy charges following his October arrest in Los Angeles.
Neither U.S. prosecutors or defense lawyers for Cienfuegos could immediately be reached for comment.
The 72-year-old Cienfuegos was former President Enrique Pena Nieto's top defense official from 2012 to 2018. His arrest shocked Mexico's security establishment given his close times to a range of current senior officials.
Prior to the news, Cienfuegos was scheduled to appear in U.S. federal court in New York on Wednesday, where he was to face narcotics conspiracy and money laundering charges.
(Reporting by Mark Hosenball; Writing by Davbid Alire Garcia; Editing by Frank Jack Daniel and Tom Brown)
This story has not been edited by Firstpost staff and is generated by auto-feed.
Find latest and upcoming tech gadgets online on Tech2 Gadgets. Get technology news, gadgets reviews & ratings. Popular gadgets including laptop, tablet and mobile specifications, features, prices, comparison.
World
ADDIS ABABA/NAIROBI (Reuters) - Ethiopia's military is fighting battle-hardened troops in the northern Tigray region, threatening stability around the Horn of Africa. Here are some facts on the forces: THE NATIONAL MILITARY: THE ENDF The Ethiopian National Defence Force (ENDF) has around 140,000 active personnel, the vast majority of them in the army, according to the Janes security data group. Its troops have been tested by Islamist militants in Somalia and rebel groups in Ethiopia's border regions, as well as a two-year border war with Eritrea followed by an 18-year standoff that only ended in 2018.
World
ISTANBUL (Reuters) - Turkey's President Tayyip Erdogan said on Tuesday that the government will impose tighter measures to fight with the coronavirus and impose partial lockdowns on weekends across the country. Speaking after the cabinet meeting, Erdogan also said all schools will remain closed until the year-end and all restaurants will only work by delivery
World
BRASILIA (Reuters) - Brazilian President Jair Bolsonaro said on Tuesday his government in coming days will name countries that are importing wood illegally extracted from the Amazon. Addressing a BRICS summit of big developing economies, Bolsonaro said Brazilian police had developed a way of tracking wood exported from the Amazon using isotopes.