In rare rebuke, US Chief Justice Roberts slams Donald Trump: 'No Obama judges or Trump judges, Bush judges or Clinton judges'
US Chief Justice John Roberts is pushing back against President Donald Trump for his description of a judge who ruled against Trump's migrant asylum policy as an 'Obama judge.'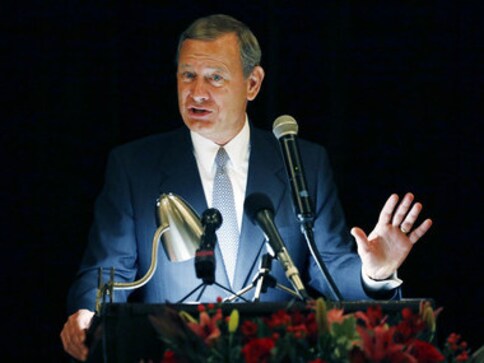 Washington: US Chief Justice John Roberts is pushing back against President Donald Trump for his description of a judge who ruled against Trump's migrant asylum policy as an "Obama judge."
It's the first time the Republican-appointed leader of the federal judiciary has offered even a hint of criticism of Trump, who has previously blasted federal judges who ruled against him.
Roberts said Wednesday the U.S. doesn't have "Obama judges or Trump judges, Bush judges or Clinton judges." He commented in a statement released by the Supreme Court after a query by The Associated Press.
Roberts said on the day before Thanksgiving that an "independent judiciary is something we should all be thankful for."
The White House had no immediate response to a request for comment on Roberts' criticism.
Last year, the president used the term a "so-called judge" after the first federal ruling against his travel ban. During the presidential campaign, Trump criticized Roberts himself for the chief justice's decisive vote in 2012 to preserve the Obama health care overhaul.
Trump also referred to a judge who was presiding over a fraud lawsuit against Trump University as a Mexican who would be unable to rule fairly because of Trump's proposal to build a wall along the U.S.-Mexican border.
The president's latest remarks come as the Supreme Court is enmeshed in controversy over his appointment of Justice Brett Kavanaugh. Several justices have spoken out about judicial independence and the danger of having the court viewed as a political institution that is divided between five conservative Republicans and four liberal Democrats. Roberts is widely seen as the justice closest to the middle and likely to determine the outcome of high-profile cases that split the court.
Trump had spoken Tuesday when a reporter asked for his reaction to a ruling by U.S. District Judge Jon Tigar in San Francisco that put the administration's asylum policy on hold.
The president complained that his opponents file lawsuits in courts that are part of the liberal-leaning 9th U.S. Circuit Court of Appeals. Before he took office, conservative groups tended to bring challenges to Obama-era policies in Texas, part of the conservative-leaning 5th U.S. Circuit Court of Appeals.
"Every case that gets filed in the 9th Circuit, we get beaten. And then we end up having to go to the Supreme Court, like the travel ban, and we won," Trump said.
The president went on to say about the asylum ruling: "This was an Obama judge. And I'll tell you what, it's not going to happen like this anymore."
But the initial travel ban ruling in 2017 was issued by U.S. District Judge James Robart, an appointee of President George W. Bush. Roberts also was appointed by Bush.
It was unclear what Trump meant when he said things would change. The 9th Circuit is by far the largest of the federal appellate courts, covering Alaska, Arizona, California, Hawaii, Idaho, Montana, Nevada, Oregon and Washington. Some Republicans in 9th Circuit states have proposed splitting the circuit in two, but legislation has not advanced.
The court has long had a majority of judges appointed by Democratic presidents, with the current breakdown at 16-7. But Trump has the opportunity to narrow that edge significantly because there are six vacancies, and he already has nominated candidates for five of them.
World
Musk reinstated Donald Trump's account on Twitter on Saturday, reversing a ban that has kept the former president off the social media site since a pro-Trump mob attacked the US Capitol on 6 January, 2021
News & Analysis
While Elon Musk blames leftist political and social activists for pressuring advertisers to not advertise on Twitter, brands have halted ad spends because of the turmoil caused by paid verification and exit of many key people.
World
At a press conference, Attorney General Merrick Garland announced the appointment of Jack Smith, until recently a chief prosecutor in The Hague charged with probing Kosovo war crimes, to take over the two ongoing federal probes into Trump