In new US hardline on Iran, Mike Pompeo lists sweeping demands
By Lesley Wroughton and Parisa Hafezi WASHINGTON/ANKARA (Reuters) - The United States told Iran on Monday to drop its nuclear ambitions and pull out of the Syrian civil war in a list of demands that marked a new hardline against Tehran and prompted an Iranian official to warn that Washington seeks regime change. Weeks after U.S. President Donald Trump pulled out of an international nuclear deal with Iran, his administration threatened to impose 'the strongest sanctions in history,' setting Washington and Tehran on a deeper course of confrontation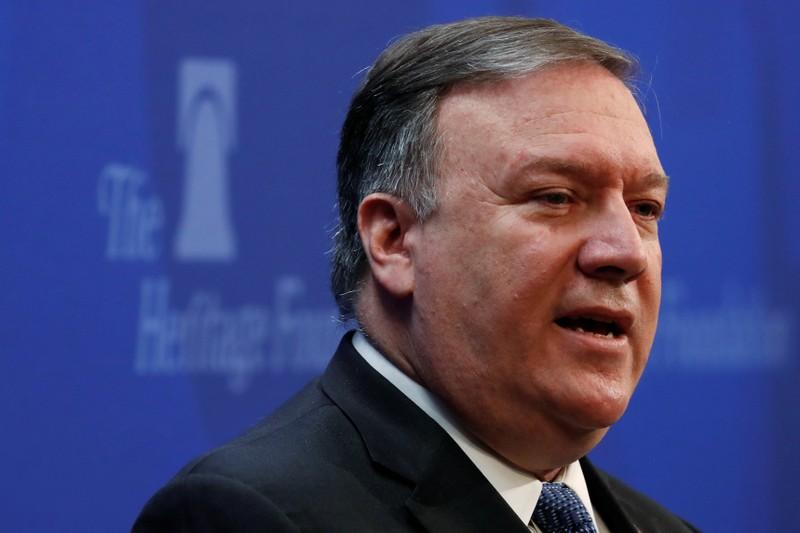 By Lesley Wroughton and Parisa Hafezi
WASHINGTON/ANKARA (Reuters) - The United States told Iran on Monday to drop its nuclear ambitions and pull out of the Syrian civil war in a list of demands that marked a new hardline against Tehran and prompted an Iranian official to warn that Washington seeks regime change.
Weeks after U.S. President Donald Trump pulled out of an international nuclear deal with Iran, his administration threatened to impose "the strongest sanctions in history," setting Washington and Tehran on a deeper course of confrontation.
U.S. Secretary of State Mike Pompeo demanded sweeping changes that would force Iran effectively to reverse years of its foreign policies.
"The sting of sanctions will only grow more painful if the regime does not change course from the unacceptable and unproductive path it has chosen for itself and the people of Iran," Pompeo said in his first major speech since becoming secretary of state.
"These will be the strongest sanctions in history by the time we are done," he added.
Pompeo took aim at Iran's policy of expanding its influence in the Middle East through support for proxy armed groups in countries such as Syria, Lebanon and Yemen.
He warned that the United States would "crush" Iranian operatives and allies abroad and told Tehran to pull out forces under its command from the Syrian civil war where they back President Bashar al-Assad.
Iran is unlikely to accede to the U.S. demands. Tension between the two countries has grown notably since U.S. President Trump this month withdrew from the 2015 nuclear agreement aimed at preventing Tehran from obtaining a nuclear weapon.
A senior Iranian official said Pompeo's remarks showed that the United States was pushing for "regime change," a charged phrase often associated with the U.S. invasion of Iraq in 2003 and the overthrow of President Saddam Hussein.
"America wants to pressure Iran to surrender and accept their illegal demands...his remarks showed that America is surely after regime change in Iran," said the official.
Pompeo warned that if Iran fully resumed its nuclear program Washington would be ready to respond and said the administration would hold companies doing prohibited business in Iran to account.
"Our demands on Iran are not unreasonable: give up your program," Pompeo said, "Should they choose to go back, should they begin to enrich, we are fully prepared to respond to that as well," he said, declining to elaborate.
IRAN LEADERS
Pompeo said if Iran made major changes, the United States was prepared to ease sanctions, re-establish full diplomatic and commercial relations and support the country's re-integration into the international economic system.
The speech did not explicitly call for regime change but Pompeo repeatedly urged the Iranian people not to put up with their leaders, specifically naming President Hassan Rouhani and Foreign Minister Mohammad Javad Zarif.
"At the end of the day the Iranian people will get to make a choice about their leadership. If they make the decision quickly, that would be wonderful, if they choose not to do so we will stay hard at this until we achieve the outcomes I set forward," said Pompeo.
Suzanne Maloney, deputy director of the Brooking Institution think tank's foreign policy program, said Pompeo's speech did indeed amount to a strategy of regime change.
"There is only one way to read it and that is that Trump administration has wedded itself to a regime-change strategy to Iran, one that is likely to alienate our allies. One with dubious prospects for success," she said.
The administration's approach "explicitly puts the onus on the Iranian people to change their leadership or face cataclysmic financial pressure," said Maloney who has advised the State Department on Iran policy in the Bush administration between 2005-2007.
Lebanese analyst Ghaleb Kandil, who has close ties to the pro-Iran Hezbollah group, said Washington's demands have previously not worked.
"These are conditions that were tested in previous phases of American pressures, before the nuclear deal, when Iran was in more difficult circumstances than it is in these days, and it did not surrender to these conditions or accept them," said Kandil.
Pompeo outlined 12 U.S. demands for Iran and said relief from economic sanctions would only come when Washington had seen tangible shifts in Iran's policies.
He called on Iran to stop uranium enrichment and never to pursue plutonium reprocessing, including closing its heavy water reactor.
It also had to declare all previous military dimensions of its nuclear program and to permanently and verifiably abandon such work, he said.
Pompeo's demand that Tehran stop uranium enrichment goes even further than the nuclear deal. Iran says its nuclear work has medical uses and will produce energy to meet domestic demand and complement its oil reserves.
European parties to the nuclear deal - France, Britain and Germany - are working to find a way to keep the nuclear pact in effect after Washington's exit.
Pompeo said Washington would be open to a new treaty and wanted the support of America's allies, not just in Europe.
"I know our allies in Europe may try to keep the old nuclear deal going with Tehran. That is their decision to make. They know where we stand," he said.
(Reporting by Lesley Wroughton; Writing by Lesley Wroughton and Yara Bayoumy; Additional reporting by Parisa Hafezi in Ankara, Jonathan Landay in Washington and Laila Bassam in Beirut; Editing by Yara Bayoumy and Alistair Bell)
This story has not been edited by Firstpost staff and is generated by auto-feed.
World
The individuals, including clerics, judges and a broadcaster, are accused of playing leading roles in Iran's brutal crackdown on anti-government protests
World
Trump would become the first former or sitting president to be charged with a crime if an indictment is filed -- a move that would send shockwaves through the 2024 White House race, in which the 76-year-old is running to regain office
World
White House National Security Council spokesman John Kirby said that China has refrained from criticizing the Russian invasion of Ukraine and has continued to buy Russian oil even as the West piles sanctions on Moscow's energy industry to starve the Kremlin of money to pay for the war