In Jammu, Rohingya refugees live in fear of deportation, even as locals perceive them as threats
Once welcomed in Jammu, Rohingya refugees are now looked at with suspicion, as many believe that they will cause an exodus of the local population
"Take me to Hindustan," Mohammad Yusuf, a Rohingya refugee, told an auto rickshaw driver outside a railway station in Jammu city when he first arrived there in 2012. "This is all Hindustan," responded the driver, after which Yusuf asked to be dropped in a nearby Muslim area.
Since then, Yusuf and his family have been living at a Rohingya camp in the city's Narwal area. They came all the way from Maungdaw in Myanmar's Rakhine state, fleeing the persecution led by the Tatmadaw – Myanmar's Buddhist-dominated military. Word of mouth and the portrayal of India in the news and television channels gave hope to refugees like Yusuf. "We saw there is equality here. When we arrived, people showered us with love and showed sympathy," said Yusuf, adding that he believed India would raise a voice for them.
After years in Jammu, however, their hopes were dashed last year when a prominent trade organisation called for a "catch and kill" agitation against the refugees, and local politicians played up fears of a "demographic change". The central government too, joined the chorus and announced it was formulating a plan to deport Rohingya refugees to Myanmar.
In December last year, the Indian government signed a memorandum of understanding (MoU) with Myanmar for the socio-economic development of Rakhine state, the Rohingya homeland, to help it "achieve its objective of restoration of normalcy there and enable the return of the displaced". The Government of India, among other things, proposed a prefabricated housing project to accommodate the "immediate needs of returning people".
India has a long history of sheltering refugees – from Afghanistan, Tibet, and Bangladesh to name a few – but as India and China compete for influence in Myanmar, the Rohingya – described as the world's most persecuted community – brace for an uncertain future. Their fears became stronger in early October as India deported seven Rohingya men – a first by any country – to Myanmar, where persecution of the ethnic minority continues. The move has "shocked" the community, said Amir Hussain, a Rohingya representative in Jammu.
Hussain said he and other representatives of the Rohingya camps across the country recently met United Nations High Commissioner for Refugees (UNHCR) officials in New Delhi, who assured them that the registered refugees would not be immediately deported. However, he said that a precedent has already been set. "The government has opened up a way for us to be sent back. It will mean the end for us. There is still oppression in Myanmar," he added.
In the camps of the Jammu region – mainly in Jammu city and the Samba district – Rohingya said they will go back "the moment the situation is better in Myanmyar". They are wary of the Buddhist majority that took an active part in their persecution. The Myanmar government hasn't also done much to instill confidence in them and assure security upon their return. They now hope that India will use its political influence over Myanmar. "Why can't the Indian government put pressure on Burma? Why can't it tell Burma to allow us to live in peace? If they deport us, it certainly means death or worse."
Din Mohammad (60), who fled from the Yanchang village in the Buthidaung district to a camp in the Kirana Talab area of Jammu city, said, "In India, everyone – Hindu or Muslim – is allowed to live together." Mohammad, like many other refugees, is unable to understand why India is then opposed to their stay here.
India's aid to the Myanmar government, he said, would be of no use until Myanmar allows the Rohingya to live with dignity and in a safe environment. "Burma's military is the most powerful in the world," he said, referring to the imprisonment of the two Reuters journalists who documented the murders of Rohingya civilians by the Tatmadaw. "Even America (the United States) could not free the two mediawallahs. Who will intervene for lakhs of Rohingya?" he asked.
Increased surveillance
Since December 2017, when India and Myanmar signed a MoU, Rohingya refugees in Jammu say they have been put under increased surveillance. The same month, a form titled 'Format for Nationality Verification' was circulated in the camps by the police's Criminal Investigation Department. The form seeks extensive details of the Rohingya, including their places of birth; educational qualifications and profession before migration; their physical features – including height, colour of their eyes and hair; names and addresses of their friends and families in India, and if they have any criminal cases against them.
A Rohingya representative said that every month, they have to submit the count of individuals staying in different camps. Police officials in Jammu said this was to keep track of the "illegal migrants". At the last count, there were at least 1,550 Rohingya families, accounting for 6,500 individuals, living in Jammu – a rise from 225 families in 2014 but a drop from more than 7,000 people in 2017.
Also read on Firstpost: Rohingya fleeing Myanmar sought refuge in Jammu; now, they're facing prejudice from locals
Camp representatives say that rather than more refugees coming to Jammu, many are now moving out, primarily to Hyderabad where a number of Rohingyas are already camping. "This year alone about 100 have left," said a camp representative.
Ineligible for jobs as they lack government documentation and even the skills, the Rohingya make ends meet by working as daily wagers. Some have opened up shops in their camps to cater to the community that largely does not speak Jammu's local languages.
The language barrier, refugees say, has often led to misunderstandings and the consistent misrepresentation by Jammu's journalists has further exacerbated an already hostile environment.
Wary of the growing hostility, a Rohingya representative said that most refugees would not venture far from the camps if it wasn't for earning their livelihood.
Refugees vulnerable to radicalisation: Police
Since 1947, Jammu city has been a melting pot of various refugee communities, but the influx of Rohingya, who are Muslims, has come at a time when the region is rife with apprehensions of a demographic change, something akin to the fears of the adjacent Kashmir Valley. Editorials in the region's reputed newspapers have regularly whipped up paranoia regarding the refugees, terming them "anti-nationals" and "criminals" who would eventually cause an exodus of the local population. Among Jammu's Hindu population, police officials said, there were fears of being "encircled by Muslims".
Police officials in Jammu, however, say there is no concrete evidence to suggest any ill-motives behind the Rohingya community choosing Jammu to settle down.
According to Din Mohammad, for many refugees the reason to come to Jammu was that it was the only state led by a Muslim chief minister. "Most of our people do not know that there are Muslims in every state in India. When we saw that this state has a Muslim chief minister, we thought this might be a better place to live in," he added. Police officials, however, believe that the refugees, having suffered religion-driven persecution and with little avenues to improve their living standards, are "vulnerable to radicalisation" as their "sufferings can be exploited".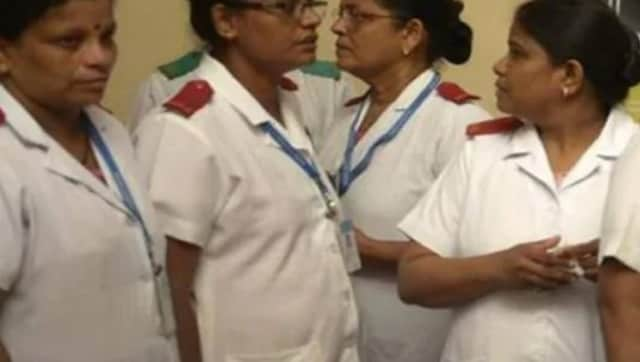 India
Candidates have to submit their application form with the required documents by 15 May
Sports
Win Htet Oo is one of Myanmar's top swimmers but in early April, the 26-year-old said he was no longer interested in going to Tokyo.
India
The application form will only be considered complete when it is filled completely, payment is done correctly and relevant documents are uploaded to the official website