In hurry to end war, Obama reduces US combat role in Afghanistan
However, Obama did not say explicitly that the accelerated transition would allow him to more quickly pull the remaining 66,000 US soldiers from Afghanistan.
New York: President Barack Obama moved toward speeding up the handover of combat operations in Afghanistan to Afghan forces, raising the prospect of an accelerated US withdrawal from Kabul before the American mission formally ends there in 2014.
Of course, Obama's hurry to hotfoot it out of Afghanistan is worrying for countries like India as Afghanistan lacks a firm state that can manage to roll back the Taliban insurgency after US soldiers pull out. Without some military support, analysts say civil war is likely to engulf Afghanistan, providing a breeding ground for Islamic extremism.
But the US public and Congress is exhausted with the $600 billion Afghan war since September 2011, which has killed more than 2,000 American soldiers, and Obama has promised to bring the troops home.
Speaking at the White House, Obama said US troops in Afghanistan will take a "support role" this spring, focusing on training while still fighting when necessary. Obama said Afghan forces would take the lead in securing the country from March, several months ahead of what had been planned at a NATO summit last year.
However, Obama did not say explicitly that the accelerated transition would allow him to more quickly pull the remaining 66,000 US soldiers from Afghanistan after nearly a dozen years of war.
"By the end of next year, 2014, the transition will be complete. Afghans will have full responsibility for their security, and this war will come to a responsible end," Obama said at a news conference in the White House with President Hamid Karzai standing at his side.
"We achieved our central goal, or have come very close to achieving our central goal, which is to de-capacitate al Qaeda, to dismantle them, to make sure that they can't attack us again," Obama said.
With a resurgent Taliban, waiting in the wings for US soldiers to leave, reporters quizzed Obama repeatedly on lack of clarity about the United States' purpose in Afghanistan that has confused Afghans and the world alike. Obama was asked if the human and financial cost of the Afghanistan war had been worth it.
"Have we achieved everything that some might have imagined us achieving in the best of scenarios? Probably not," Obama said. "This is a human enterprise, and, you know, you fall short of the ideal."
But, he continued, "Have we been able, I think, to shape a strong relationship with a responsible Afghan government that is willing to cooperate with us to make sure that it is not a launching pad for future attacks against the United States? We have achieved that goal."
Obama's meetings with Karzai came as he prepares to set the final withdrawal timeline in the coming weeks and to discuss with the Afghan leader how he intends to do so.
According to the US media, the Obama administration has been considering a residual force of between 3,000 and 9,000 troops, far fewer than the Pentagon wants, to conduct counterterrorism operations. Obama on Friday left open the possibility of a tiny US troop presence in the country after 2014. He said any US mission in Afghanistan beyond 2014 would focus solely on counterterrorism operations and training Afghan security forces.
Obama would not specify how many troops he may leave in Afghanistan to accomplish those tasks, but he said it will be "a very limited mission."
Karzai, who criticized NATO over civilian deaths, said that with Obama's agreement to transfer detention centers and the planned withdrawal of US forces from Afghan villages, "I can go to the Afghan people and argue for immunity" in a bilateral security pact being negotiated.
The US is negotiating a Status of Forces Agreement with Afghanistan over how many troops will remain in the country after 2014, and which country will have criminal jurisdiction over the remaining US personnel.
Karzai and Obama said they had discussed the Afghan president's efforts to negotiate a peace agreement with the Taliban.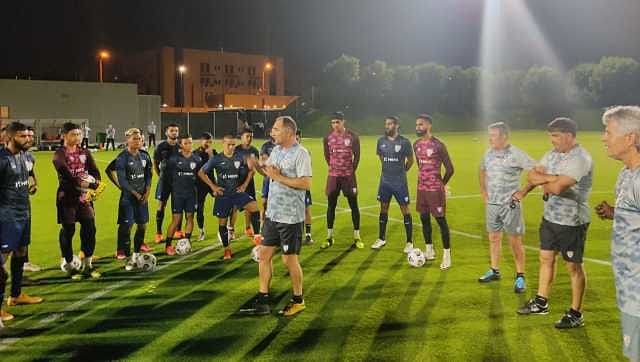 Sports
Former India captain Renedy Singh and ex-Bengaluru FC midfielder Darren Caldeira also shared their expectations from India's upcoming World Cup qualifiers.
World
A mixture of scepticism and misinformation perpetuated on social media has slowed an already under-resourced vaccination campaign in Afghanistan.
First Cricket News
With the T20 World Cup around the corner, Rashid feels he is better off focussing on what he does best.