In age of direct streaming, world's oldest video rental shop owner is determined to stay afloat
Eckhard Baum's video rental shop, the oldest in the world and located in Kassel, Germany, may have to shut down soon.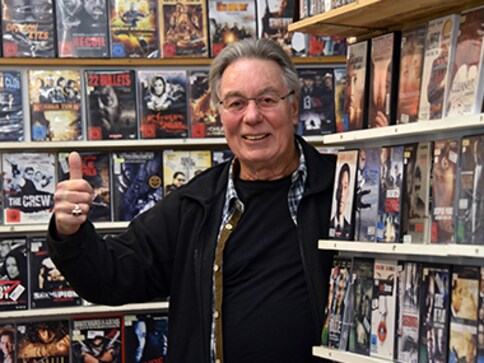 By Timo Lindemann/ DPA
Kassel: When the bell rings and the door, bedecked with film posters, opens, it's almost like stepping back into time.
In the first room of the video-rental shop in Kassel, central Germany, there's an old counter, with index cards on it instead of a computer.
A collection of children's DVDs is stored on homemade shelves reaching head-height. Rubber bands are used to show which ones have been lent out.
Eckhard Baum says his video shop is the oldest in the world - and that it has hardly changed in 40 years.
"I was the first and want to be the last, at least in Kassel," says the 77-year-old.
In 1998, Guinness World Records confirmed his claim to have the oldest video shop in Germany, and he has also been recognised by the industry association Video and Media Specialist Shops in Germany (IVD).
"It's the oldest in the world even, the first in the United States didn't open until 1977," adds Baum, who has that claim in his window. Confirming that claim with absolute scientific proof might require months of global research, so it seems reasonable to believe him.
He began lending out films in 1975 in Super 8 — a film format that was available until the 1980s — with the shop name "Videothek," meaning video library or videotheque.
"I was a film fan and often lent my friends films, so then I thought 'Why not make a business out of it?'" he explains.
He's seen all kinds of formats come and go: VHS, Video 2000, Beta Max and VCR Longplay. Now he has around 13,000 films for rent, mostly on DVD and Blu-ray.
Stefanie Tiggemann and her 11-year-old son Tizian often come in to rent out films.
Today they're getting Star Wars, parts one and two, in preparation for going to see the latest instalment, The Force Awakens, at the cinema.
"Whenever we want to rent out an old film we come here. You can hardly find them elsewhere now. For me, [online] streaming isn't an alternative," says Tiggemann.
"We have rarities that you can't get anywhere else," adds Baum. "Everyone has the new films. Only we have the old films."
But he knows his shop belongs to a dying species.
"In five or six years, nobody will be talking about video rental shops," he says.
Already his shop has become more of a hobby for him and a meeting place for film buffs.
The rental of DVDs only just covers his costs. "I do it so I don't have to sit around the house," says Baum. "I want to talk to people, young people as well."
According to IVD, there were 1,544 video shops in Germany in 2014, fewer than half as many as in 2007, when they numbered around 4,200.
"The number of video shops is dropping significantly, because people are watching films illegally on the internet," charges IVD managing director Joerg Weinrich.
And when a shop closes, customers turn to online video-on-demand offers like Netflix or postal video rental services, leading to further closures.
Baum has also suffered from price wars with other shops.
"When people can rent a film for just 50 cents, the business can't function economically," he says.
Winfried Heinemann has been coming to his shop since the 1980s.
"If he closed, I'd have to wait longer for a film to come up on the television," he says.
The 57-year-old also likes to come to the shop just to chat.
But Baum has already given up the hunt for a successor to continue his work.
"In Kassel we used to have 75 video shops, now it's only about five. Nobody dares to get into this any more," he says.
He stands behind his counter for around seven hours a day, six days a week – how long that will continue he doesn't know. But he wants to be the last to go.
DPA
World
The walkouts by airport staff come amid difficult pay talks for employees of Germany's federal and municipal governments
World
An initial proposal by European Union member countries on new carbon dioxide emission standards for cars had been postponed amid opposition from Germany. The EU had wanted to ban the sale of all new cars with combustion engines from 2035.
World
A large number of officers had been deployed to the site starting from around 4:30 pm local time, a police spokesperson said, but he declined to disclose for tactical reasons how many hostages were taken or how many police were on the ground.