In a first, Russia claims to have downed Ukraine's US-supplied GLSDB guided missile
GLSDB guided rocket have a range of up to 150 kilometres, which would threaten Russian positions and supply depots far behind the front lines
Moscow: Russia said Tuesday it had downed in Ukraine a long-distance rocket-propelled bomb recently supplied to Kyiv by the United States — a weapon seen as vital for a planned Ukrainian counter-offensive.
"Air defence (forces) downed… a GLSDB guided rocket," the defence ministry said in a statement, referring to ground launched small diameter bombs produced by Boeing and the Saab Group.
These devices have a range of up to 150 kilometres (93 miles), which would threaten Russian positions and supply depots far behind the front lines.
The Pentagon in February announced it was providing Ukraine with GLSDBs as part of a $2.2 billion arms package.
"This gives them a longer-range capability… that will enable them to conduct operations in defense of their country and to take back their sovereign territory," Pentagon spokesman Pat Ryder said at the time.
Ukraine had been asking the United States for munitions that can fly farther than the HIMARS rockets, which have an 80-kilometre range.
The GLSDB potentially gives Ukraine forces an ability to strike anywhere in the Russian-held parts of Ukraine.
That could threaten key Russian supply lines, arms depots and air bases.
Ukraine President Volodymyr Zelenskyy at the time tweeted his thanks to President Joe Biden for the new aid.
"The more long-range our weapons are and the more mobile our troops are the sooner Russia's brutal aggression will end," he said.
Read all the Latest News, Trending News, Cricket News, Bollywood News,
India News and Entertainment News here. Follow us on Facebook, Twitter and Instagram.
also read
Politics
Whoever takes the reins will do so at a critical time, facing the twin challenges of keeping allies together in supporting Ukraine while guarding against any escalation that would draw NATO directly into a war with Russia
World
Germany said that it wants China to refrain from supporting Russia with weapons and to help prevent a nuclear escalation of the conflict, the spokesman said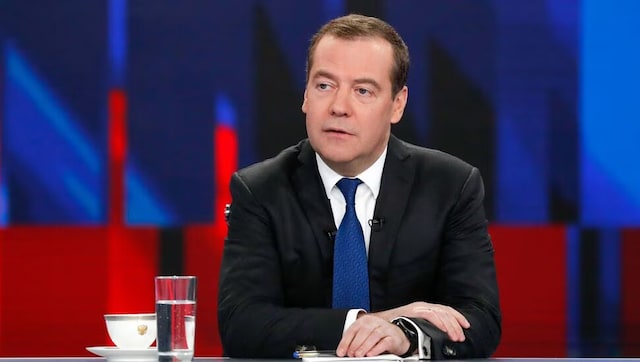 World
Dmitry Medvedev said Ukraine-Russia war will last for a very long time with lengthy periods of fighting interspersed by truces