Imran Khan mocks Nawaz Sharif, says he is campaigning for PTI through 'love fest' with Narendra Modi
Taking a jibe at Nawaz Sharif, PTI chairman Imran Khan has said that he 'appreciates' the PML-N leader for 'campaigning' for the PTI through his 'love fest' with Indian Narendra Modi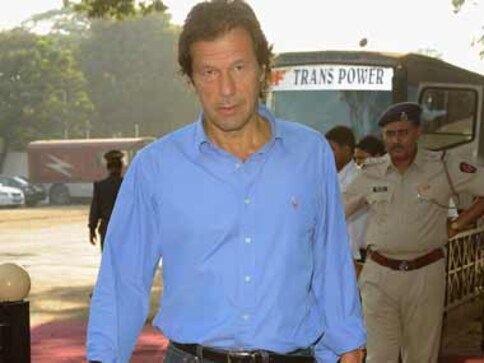 Islamabad: Taking a jibe at former Pakistani prime minister Nawaz Sharif, Pakistan Tehreek-i-Insaf (PTI) chairman Imran Khan has said that he "appreciates" the PML-N leader for "campaigning" for the PTI through his "love fest" with Prime Minister Narendra Modi.
The cricketer-turned-politician said on Wednesday that he was "alarmed at the rate Sharif was speaking Modi's language".
"Much as I appreciate Nawaz campaigning for the PTI through his now-obvious love fest with Modi to save his corruption and business interests, I am alarmed that at the rate he is speaking Modi's language... the PTI may not be able to take in the massive exodus from the PML-N," Khan tweeted.
Sharif is facing flak in Pakistan following his controversial statement on the Mumbai attack in which he admitted that Pakistani terrorists were behind the 2008 carnage in which 166 Indians and foreigners were killed.
His statement was unanimously rejected by Pakistan's top civil-military body which termed it "incorrect and misleading".
However, Prime Minister Shahid Khaqan Abbasi later put a spin on the statement, saying that Sharif was misquoted in the media.
Politics
Imran Khan, the chief of the Pakistan Tehreek-e-Insaf party was granted bail by an Islamabad-based banking court in a prohibited funding case
Opinion
Imran's speeches, like any cult leader, are filled with narcissism, grandeur and promises to change Pakistan into a Medina state
World
Pakistan Tehreek-e-Insaf (PTI) chairman Imran Khan stressed that what is most crucial to his party is whether elections will take place according to the Constitution's provisions or not