Immigrants' advocates struggle to confirm U.S. met deadline on families
By Tom Hals (Reuters) - Rights activists said on Friday they were struggling to find immigrant families to confirm the U.S. government had met a court deadline to reunite 'eligible' parents and children who had been separated after illegally crossing the U.S.-Mexico border in recent months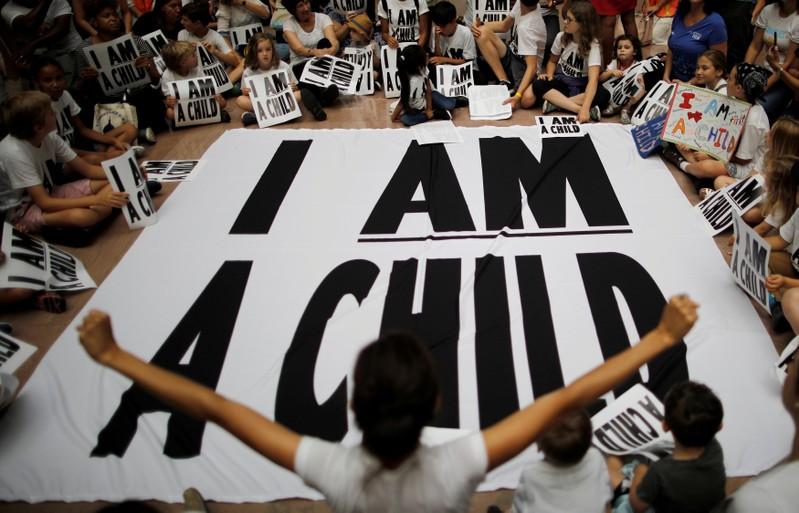 By Tom Hals
(Reuters) - Rights activists said on Friday they were struggling to find immigrant families to confirm the U.S. government had met a court deadline to reunite "eligible" parents and children who had been separated after illegally crossing the U.S.-Mexico border in recent months.
Some children arrived at remote immigration detention centres this week only to spend the night in a car in the parking lot awaiting the parent's eventual release, immigration advocates and lawyers said.
Other children were sent to detention centres to meet their parents but were returned "in tears" to government shelters because of scheduling problems, said Michelle Brané of the Women's Refugee Commission on call with reporters on Thursday.
The parents and children were separated as part of U.S. President Donald Trump's "zero tolerance" policy on illegal immigration. By the time Trump ordered a halt to separations in June following weeks of outrage at home and abroad, about 2,500 children had been separated.
The government said in a court filing on Thursday that it had reunited 1,442 children with their parents, meeting a July 26 deadline imposed by a federal judge in San Diego.
"The deadline is not the finish line," said Efrén Olivares of the Texas Civil Rights Project. "The work is only beginning and it will take many months."
He said his group represented 382 families, and only 110 were reunited with their children. Seven were deported without their child and the group was trying to determine the fate of 200 parents who were either released into the United States or deported, Olivares said.
The remaining 65 parents were still detained, without their child, Olivares said.
Not all parents, however, were deemed eligible for reunification, the U.S. government has said.
"As of Friday morning, the administration can confirm that we have reunified all eligible parents in ICE custody with children," the Department of Homeland Security said in a statement.
The government said 711 children remained separated because the parent waived reunification, was no longer in the country, or in some cases could not be found, which the government said excluded them from reunification.
Attorneys will likely address in a court hearing on Friday how to reunite children still separated from parents. More than half of the parents of those children are no longer in the United States, according to the government. Rights groups said they appear to have been deported without their children.
Non-profit groups were providing cash and transportation to help families get on their feet, Texas advocate Olivares said.
"The government has literally left these people to fend for themselves," Olivares said on a call with reporters. "It confirms that when the government started separating families earlier this summer they didn't have a plan to reunite them."
(Reporting by Tom Hals in Wilmington, Del.,; Editing by Noeleen Walder and Grant McCool)
This story has not been edited by Firstpost staff and is generated by auto-feed.
Find latest and upcoming tech gadgets online on Tech2 Gadgets. Get technology news, gadgets reviews & ratings. Popular gadgets including laptop, tablet and mobile specifications, features, prices, comparison.
World
MOSCOW (Reuters) - Russian President Vladimir Putin said on Wednesday he had noted what he called "sharp anti-Russian rhetoric" from U.S. Democratic presidential candidate Joe Biden, but that he had been encouraged by Biden's comments on arms control. Putin, in comments on state television ahead of the U.S.
World
By John Irish and Robin Emmott PARIS/BRUSSELS (Reuters) - France and Germany said on Wednesday they would propose European Union sanctions against Russian individuals after receiving no credible answers from Moscow over the poisoning of Kremlin critic Alexei Navalny with a nerve agent. Several Western governments have said Russia, which has denied accusations by Navalny that it was involved in the poisoning, must help in investigations or face consequences. The decision and speed with which Europe's two main powers agreed to push ahead with sanctions suggests a hardening of the bloc's diplomacy towards Moscow.
World
By Steve Holland WASHINGTON (Reuters) - U.S. President Donald Trump, under coronavirus quarantine in the White House and restricted from traveling, is seeking ways to put a spark back in his struggling re-election bid and get behind his desk in the Oval Office with four weeks left until Election Day.