US tweaks policy to open doors to immigrant startups
US immigration authorities have introduced new initiatives to make sure foreign entrepreneurs set up shop in America. Experts believe it could create thousands of startups and tens of thousands of job in the US.
Through a series of initiatives announced on Tuesday, the US government hopes to give the economy a boost while also addressing the reverse brain drain to India and China.
The announcement by the US Citizenship and Immigration Services (USCIS) was made on the same day that the federal government agreed to lift the debt ceiling and make cuts to the ballooning federal deficit. Government officials argued that while coincidental, there is a connection between the two events.
"We announced today by coincidence this at the same time as important developments with respect to the debt ceiling are unfolding. … The fact is that our current immigration laws support foreign talent who will invest their capital, their abilities to create new jobs for American workers, and who will dedicate their talents to the growth of our economy so therefore it is very relevant to the developments that are unfolding," USCIS Director Alejandro Mayorkas said during a press conference. "The president continues emphatically to express unwavering commitment to comprehensive immigration reform directed at improving the underlying laws to create greater opportunity and potential for the introduction for the best and brightest."
The agency said that there's ample economic incentive to encouraging more entrepreneurs to set up shop in the US. According to a report by the National Venture Capital Association, the market capitalization of publicly traded, venture-backed companies started by immigrant entrepreneurs is $500 billion, and currently, these companies employ 200,000 Americans.
"The United States must continue to attract the best and brightest from around the world to invest their talents, skills, and ideas to grow our economy and create American jobs," Secretary Janet Napolitano said in a statement.
Entrepreneurs qualify for EB-2 and H-1Bs
The new initiatives announced by immigration authorities involve clarifications on existing immigration law as they apply to entrepreneurs, as well as implementing new processes and training to facilitate visa applications related to startups. They do not, however, reflect a change in any immigration laws.
"As an agency, we have policies to achieve what the legislature intended, and what we are doing here is making sure that those policies are understood, that our operations are designed to achieve the policy objectives. It is something independent of immigration reform," Mayorkas said. "This is not legislative action; this is operational efficiency and good policy."
More specifically, the immigration service has now published or updated "Frequently Asked Questions" documents on its web site to make it clear that entrepreneurs can qualify for an H1-B visa for high-skilled workers and EB-2 immigrant visa for foreign workers with advanced degrees or individuals with exceptional abilities in arts, science, or business.
EB-2 visas, for example, typically require that the applicant have a US job offer and certification from the US Department of Labour, which precludes immigrants who want to start their own companies in America. However, immigration authorities clarified Tuesday that waivers are available for those who can illustrate that their presence in the US is in the national interest—and creating jobs through starting a company stateside would qualify.
Furthermore, the intake and review process for the EB-5 immigrant investor program, which provides visas for those who are willing to invest $1 million in a US-based enterprise that would create at least 10 stateside jobs, is also being streamlined. The agency will begin to roll out improvements in the next month.
The agency is also beefing up its outreach efforts with entrepreneurs and startup companies. Through public meetings, immigration authorities will seek input on "how USCIS can address the unique circumstances of entrepreneurs, new businesses and startup companies through its policies and regulations in the employment-based arena," according to USCIS.
For India and China, the wait continues
These new initiatives and policy clarifications make it clear that there are more existing avenues for foreign entrepreneurs to obtain residency in the US than was perhaps previously thought. But these provisions don't resolve the most significant challenge that Indian and Chinese immigrants and entrepreneurs face, which is the per-country visa quota. (For example, India receives 2,800 EB-2 visas per year, but there are 20,000 Indians applicants waiting for one.)
Tuesday's announcements does not address the quotas at all. This issue would have to be taken up through legislative changes, likely through immigration reform.
This is something that President Barack Obama supports. "The president has spoken to this quite strongly and consistently that an evaluation of visa laws is something that should be undertaken under comprehensive immigration reform to make sure that we are paving the way for the best and brightest from wherever they might come from around the world," Mayorkas said during a press conference.
But it's clear that comprehensive immigration reform that would include a change to the per-country visa quota system isn't likely to happen anytime soon, which is why the USCIS initiatives were announced in the first place.
By way of context, US Chief Technology Officer Aneesh Chopra and USCIS' Mayorkas visited Silicon Valley in March to discuss this topic. UC Berkeley visiting scholar and entrepreneur Vivek Wadhwa was in attendance and he noted that "Chopra and Mayorkas acknowledged that in the current political climate, it is unlikely that any significant immigration legislation will get enacted," he wrote in an email to Firstpost. "But they said that there may be simple tweaks to policy that don't require Congressional approval that could make a difference. That is what we discussed, and that is what Secretary of Homeland Security Janet Napolitano and Alejandro Mayorkas announced today."
Though Tuesday's initiatives don't solve the visa backlog problem, Wadhwa is bullish about them, and he believes that thousands of startups and tens of thousands of jobs could be created with these changes.
"This is a well-intentioned effort and is a good first step, but we need to fix the bigger problems," he wrote. "There are more than one million skilled workers—doctors, scientists, and engineers legally in the U.S. waiting for permanent resident visas. We can give our economy a much bigger boost if we allow these people to make the U.S. their permanent home and buy houses and give back to their communities as Americans do."
Subscribe to Moneycontrol Pro at ₹499 for the first year. Use code PRO499. Limited period offer. *T&C apply
Entertainment
Wanting to find a balance between a memory piece and melodrama, Chung imaged something that combined the neo-realism of Roberto Rossellini's Stromboli with the earthy, wide-screen American epics like East of Eden and Giant that his father raised him on.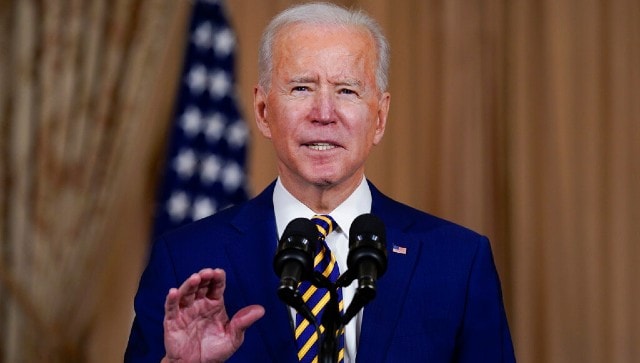 World
The former US president had halted the issuance of green cards until the end of 2020 and deemed immigrants a 'risk to the US labor market' due to the coronavirus pandemic