IMF outlines three-pronged approach to avert recession risks
Terms of trade developments have led to a narrowing of global imbalances,
Washington: The IMF on Thursday called for the adoption of a three-pronged approach with monetary, fiscal and structural actions to avert recession risks and enhance global financial stability even as it singled out India as a "bright spot" in the world.
"The global recovery continues but has weakened. Globally, the impact of lower commodity prices on commodity importers is less positive than expected. Commodity exporters have to adjust their economies in a more difficult
environment," International Monetary Fund (IMF) Managing Director Christine Lagarde said in her spring global policy agenda.
Nonetheless, terms of trade developments have led to a narrowing of global imbalances, even as net creditor and
debtor positions continue to expand, she said, adding that the global economy is expanding moderately but the outlook has weakened further since October and risks have increased.
"The global economy has been impaired from growth that has been too slow for too long and at this rate, a sustained
recovery - with the expected higher living standards, lower unemployment and declining debt levels - may not be
delivered," Lagarde said.
"However, some recent improvement in data releases, somewhat firmer oil prices, reduced pressures on outflows from
China and actions by major central banks have all contributed to improving sentiment," she said.
Lagarde said activity in emerging economies, which have contributed the bulk of global growth since the crisis,
continues to cool as a result of deep recessions in Brazil and Russia, modest recoveries in advanced economies, exposure to China's rebalancing, and tightening financial conditions.
"Ongoing transitions will continue to slow China's growth, particularly in the manufacturing sector, but make it
more sustainable. India remains a particular bright spot, with rising real incomes and confidence boosting domestic demand," the IMF Managing Director said.
According to her, each country should commit to a set of policy actions - as determined by available policy space -
that contributes to a global package of reforms to lift both national and global growth.
Global cooperation is also needed. Examples include enhancing mechanisms for adjustment and liquidity provision,
shoring up global trade, tackling corruption, and furthering the regulatory reform agenda, Lagarde said.
Building on these recent positive developments, the global economy can get back on a stronger and safer track, but
the current policy response will need to go further, she said.
"Countries must reinforce their commitment to durable global growth and employ a more potent policy mix. A three-
pronged approach with monetary, fiscal, and structural actions can work as a virtuous trinity, lifting actual and potential growth, averting recession risks, and enhancing financial stability," she said.
PTI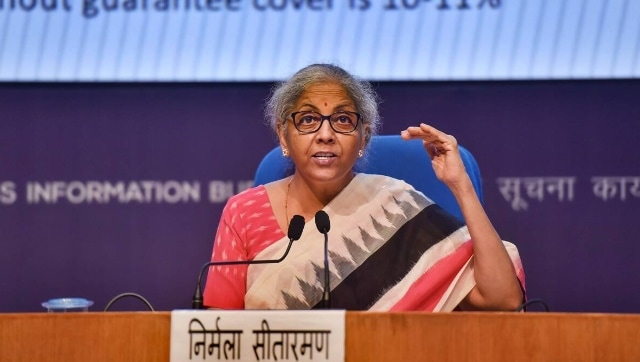 Business
In an exclusive interview to political editor Marya Shakil of CNN-News18, she also addresses the Infosys controversy by saying that the "anti-national statement" made by RSS-backed magazine Panchajanya was not right at all.
World
Japan has extended the ongoing state of emergency in Tokyo and 18 other areas until 30 September
World
Federal Reserve Chair Jerome Powell has signaled that the start of the taper process could begin before the end of the year, but an increase in the key borrowing rate would not come until later