"I was weak link" for Macron's enemies to exploit, ex-bodyguard says
By Leigh Thomas PARIS (Reuters) - French President Emmanuel Macron's former senior bodyguard, fired for beating May Day protesters, said in a newspaper interview on Thursday that he had made a 'big mistake' that had been exploited by his boss's enemies. Alexandre Benalla was dismissed last week after video footage showed him hitting a male protester and dragging away a woman while he was off duty and wearing a riot helmet and police tags. Critics say Macron's office failed to properly punish Benalla, or refer him promptly to judicial authorities over an incident which has triggered the biggest political crisis of his tenure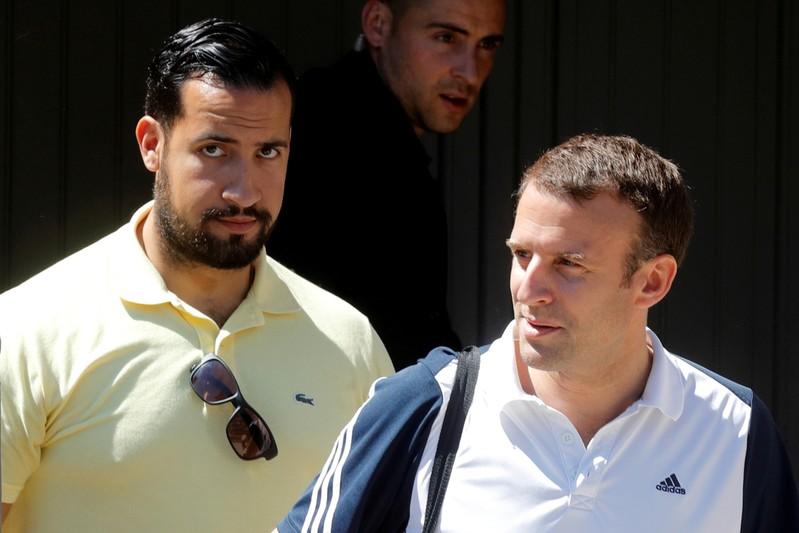 By Leigh Thomas
PARIS (Reuters) - French President Emmanuel Macron's former senior bodyguard, fired for beating May Day protesters, said in a newspaper interview on Thursday that he had made a "big mistake" that had been exploited by his boss's enemies.
Alexandre Benalla was dismissed last week after video footage showed him hitting a male protester and dragging away a woman while he was off duty and wearing a riot helmet and police tags.
Critics say Macron's office failed to properly punish Benalla, or refer him promptly to judicial authorities over an incident which has triggered the biggest political crisis of his tenure.
Benalla told Le Monde in his first interview since the crisis erupted that "politicians and police" whom he did not name, had used the incident for their own ends.
"I was the weak link ... my case has been used to settle scores, it's taken on proportions... I won't say I was the fall-guy, I'm just saying it served various interests, an interest to get at the president of the republic," Benalla said.
Opposition lawmakers have launched a united offensive against Macron saying his handling of the case shows he has lost touch with ordinary people since taking office 14 months ago.
Benalla is now the target of a judicial investigation and there are also probes under way in the upper and lower houses of parliament into how Macron's office dealt with the incident.
Outraged by the refusal of Macron's party to allow key members of his office to be questioned in the lower house, all opposition parties withdrew their participation from the investigation.
Macron remained unapologetic and defiant on Thursday.
"I think this a storm in a teacup," he said during a visit to the Pyrenees in southwestern France. "It's not affecting me, don't worry. I'm here with my fellow citizens."
Benalla, who said he did not feel betrayed by the president, gave an insight into life at the Elysee.
Macron's top-down leadership, in sharp contrast to his predecessor Francois Hollande's much-mocked "Mr Normal" style, has increasingly grated with his opponents.
"Everything at the Elysee is based on how close people think you are to the president. Did he smile at you, call you by your name, etcetera. It's a court phenomenon," Benalla told Le Monde.
(Additional reporting by Michel Rose and John Irish; Editing by Stephen Powell and Andrew Heavens)
This story has not been edited by Firstpost staff and is generated by auto-feed.
Find latest and upcoming tech gadgets online on Tech2 Gadgets. Get technology news, gadgets reviews & ratings. Popular gadgets including laptop, tablet and mobile specifications, features, prices, comparison.
World
KHARTOUM (Reuters) - An International Criminal Court delegation is to visit Sudan to discuss the cases of ousted president Omar al-Bashir and other former officials, the government said on Saturday. The delegation, led by prosecutor Fatou Bensouda, will discuss "cooperation" with Sudan over the wanted men, the government said in a statement.
World
HONG KONG (Reuters) - A Hong Kong protester dubbed "Grandma Wong" said on Saturday that Chinese authorities kept her in custody for a month and a half across the border in Shenzhen, where she allegedly suffered mental abuse, and then prevented from coming back for over a year. Grey-haired and bespectacled Alexandra Wong, 64, had been a familiar face at anti-government protests in Hong Kong last year, often waving a large British flag, but she disappeared from the streets around August last year
World
WARSAW (Reuters) - Polish prosecutors said on Saturday they had brought fraud charges against a prominent lawyer and former deputy prime minister who is a vocal critic of the government, and prohibited him from leaving Poland or practising law. Prosecutors also denied mistreating Roman Giertych, who fainted during his detention on Thursday and is currently defending billionaire bank owner Leszek Czarnecki, a thorn in the government's side who is suspected of cheating clients of his Idea Bank.