Hurricane Willa lashes Mexico's Pacific coast
By David Alire Garcia MAZATLAN, Mexico (Reuters) - The centre of Hurricane Willa moved over Mexico's Pacific coastline on Tuesday evening with winds of more than 100 miles per hour (160 kph), buffeting buildings and dumping rain on tourist resorts where thousands of people had moved to safety. Willa, a Category 3 hurricane on the five-step Saffir-Simpson scale, veered inland near the town of Teacapan, about 60 miles (100 km) south of the coastal resort of Mazatlan in the state of Sinaloa, satellite images showed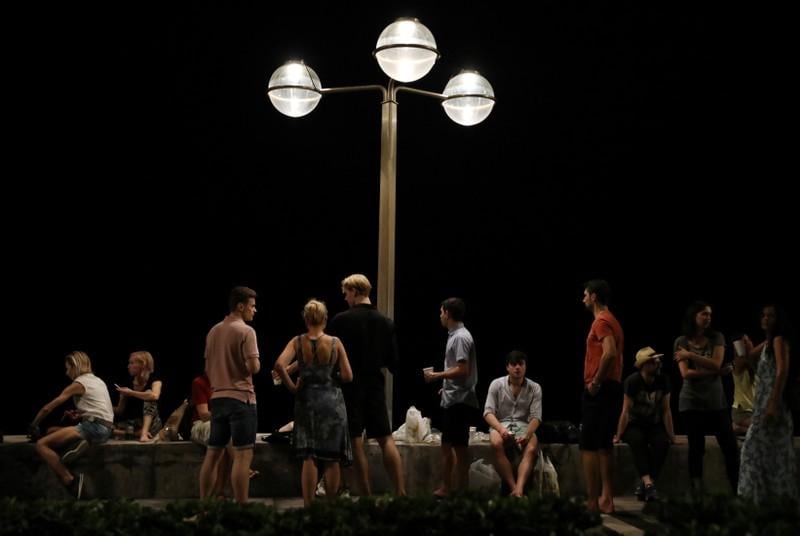 By David Alire Garcia
MAZATLAN, Mexico (Reuters) - The centre of Hurricane Willa moved over Mexico's Pacific coastline on Tuesday evening with winds of more than 100 miles per hour (160 kph), buffeting buildings and dumping rain on tourist resorts where thousands of people had moved to safety.
Willa, a Category 3 hurricane on the five-step Saffir-Simpson scale, veered inland near the town of Teacapan, about 60 miles (100 km) south of the coastal resort of Mazatlan in the state of Sinaloa, satellite images showed.
Dousing the Pacific coast with heavy rain, Willa by early evening had maximum sustained winds of about 120 miles per hour (193 kph) with higher gusts, the Miami-based National Hurricane Center (NHC) said.
Forecast to be one of the most powerful hurricanes to enter Mexico from the Pacific in recent years, Willa was due to weaken fast as it moved inland.
The storm was about 50 miles (80 km) south of Mazatlan, the centre said. It was heading north-northeast at 10 miles per hour (16 kph).
The hurricane centre warned that locals should not venture into the "relative calm" of the hurricane's eye, where winds could suddenly increase.
The storm had reached rare Category 5 status on Monday with winds near 160 mph (260 kph) before it weakened.
Roads near Mazatlan's historic city centre were nearly deserted as rains grew stronger, bending palm trees. The city's main convention centre, designated a shelter, filled with 182 people looking for safety.
"My house is made of sheet metal, wood and cardboard, and I'm scared it would fall on top of me," said Rosa Maria Carrillo, 36, at the shelter with her five children, aged 8 to 15. "Hopefully this is just a bit of water, nothing more."
A fleet of trucks owned by state electricity company CFE stood in the parking lot, ready to repair fallen powerlines.
Several other tourist getaways in the state of Nayarit as well as the beach resort of Puerto Vallarta in Jalisco state lie in Willa's path, which is forecast to bring a life-threatening storm surge of ocean water, wind and rainfall.
(Reporting by David Alire Garcia, Dave Graham and Brendan O'Brien; Writing by Daina Beth Solomon; Editing by Sandra Maler and Cynthia Osterman)
This story has not been edited by Firstpost staff and is generated by auto-feed.
Find latest and upcoming tech gadgets online on Tech2 Gadgets. Get technology news, gadgets reviews & ratings. Popular gadgets including laptop, tablet and mobile specifications, features, prices, comparison.
Business
By James Davey LONDON (Reuters) - Distribution of several British newspapers was disrupted on Saturday after climate change activists blockaded printworks used by Rupert Murdoch's News UK, publisher of The Times and The Sun, drawing condemnation from Prime Minister Boris Johnson.
Business
PARIS (Reuters) - France denied the European Union's Brexit negotiator Michel Barnier was about to be sidelined by EU leaders in a bid to break the deadlock in trade talks, as reported by British newspaper the Daily Telegraph. Twisting a famous British war slogan, European affairs minister Clement Beaune tweeted on Saturday: "Keep calm and support Michel Barnier".
World
MEXICO CITY (Reuters) - Mexico's National Electoral Institute (INE) has denied former President Felipe Calderon's bid to register his Free Mexico movement as a new political party, saying some of its funding was questionable.