Hurricane Maria destroys homes, triggers floods in Puerto Rico; island left without power
Hurricane Maria, the strongest storm to strike Puerto Rico in nearly 90 years, carved a path of destruction through the US territory on Wednesday
San Jaun, Puerto Rico: Hurricane Maria, the strongest storm to strike Puerto Rico in nearly 90 years, carved a path of destruction through the US territory on Wednesday, causing severe flooding and plunging the island into darkness as the storm's death toll in the Caribbean rose to at least 10.
Maria, the second major hurricane to rage through the region this month, was left weakened by its encounter with Puerto Rico and on a course projected to pass north of the Dominican Republic, the Miami-based US National Hurricane Center (NHC) said.
Hours earlier, Maria pummeled St Croix, the largest and southern-most of the US Virgin Islands, as a rare Category 5 hurricane on the five-step Saffir-Simpson scale, causing widespread heavy damage.
Moving on to Puerto Rico ranked a Category 4 storm, with sustained winds of up to 250 kilometer per hour, Maria ripped roofs from buildings and turned low-lying roadways into rushing debris-laden rivers as it cut a diagonal swath across the island.
The island's governor, Ricardo Rossello, said the only fatality immediately reported was a man struck by a piece of lumber hurled by high winds.
The streets of Puerto Rico's historic Old Town in the capital, San Juan, were strewn with broken balconies, air conditioning units, shattered lamp posts, fallen power lines and dead birds. Few trees escaped unscathed. Thick branches were torn down from most and others were simply uprooted.
"It's nothing short of a major disaster", Rossello said in a CNN interview, adding it may take months for the island's electricity to be completely restored. Earlier he imposed a dusk-to-dawn curfew for the island.
The Hurricane Center reported "catastrophic flash flooding" in portions of the island, and news pictures showed whole blocks under water in areas of the capital.
"When we are able to go outside, we are going to find our island destroyed", Abner Gomez, the director of the island's emergency management agency, was quoted as saying by El Nuevo Dia newspaper. "It's a system that has destroyed everything in its path."
Virtually the entire island was without electricity as night fell, said Pedro Cerame, a spokesman for the governor.
By 11 pm EDT (03.00 GMT), Maria's center was drifting away from Puerto Rico. The storm was packing maximum sustained winds of 110 mph (175 kph) and was 55 miles (90 km) off the eastern tip of the Dominican Republic, the NHC said.
As is typical for hurricanes passing over hilly or mountainous terrain, Maria was markedly diminished by the time it crossed Puerto Rico, though the NHC said the storm was likely to regain major hurricane status on Thursday.
Maria was expected to skirt past the northeastern coast of the Dominican Republic Wednesday night and Thursday before approaching the Turks and Caicos Islands and southeastern Bahamas on Thursday night and Friday, the NHC said. So far, it looked unlikely to threaten the US mainland.
Storm-related rainfall was expected to range from 20 to 30 inches on much of Puerto Rico through Friday, according to NHC.
Maria was classified a Category 5 storm when it struck the eastern Caribbean island nation of Dominica on Monday night with devastating force, killing at least seven people there, government officials.
Based on an aerial survey, about 95 percent of roofs in Dominica, one of the poorest countries in the Caribbean with a population of about 73,000, were damaged or destroyed by Maria, the UN Office for the Coordination of Humanitarian Affairs said. It added damage to the island could be in the billions of dollars.
Two people died in the French territory of Guadeloupe before Maria raked St Croix.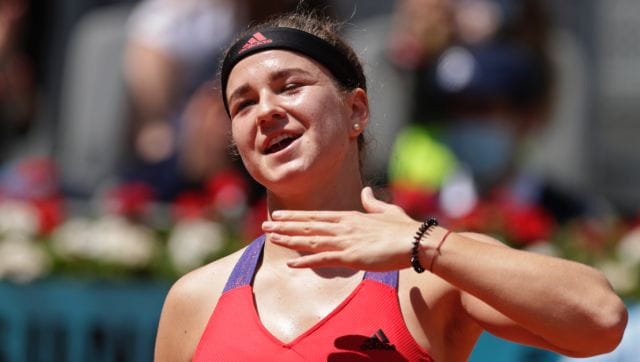 Sports
Osaka, the reigning US and Australian Open champion, has seven career hard-court titles, but has never managed to lift a clay- court trophy.
Sports
A leg injury meant Osaka missed last season's clay-court swing, and her last individual tournament on the surface was at Roland Garros in 2019.