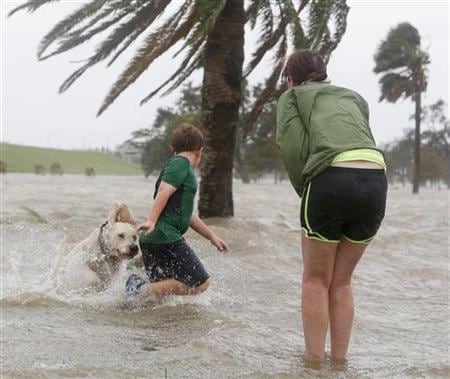 Hurricane Isaac made landfall in southern Louisiana on Tuesday, bringing high winds, soaking rains and storm surges that will pose the first major test for New Orleans' multibillion-dollar flood protections put in place after Katrina devastated the US Gulf Coast seven years ago.
Isaac's storm surge poses a major test of the so-called Crescent City's new flood-control systems and reinforced levees that failed in 2005, leaving parts of the city underwater. Forecasts from the U.S. National Hurricane Center showed the storm coming ashore in the Mississippi Delta late on Tuesday, possibly taking direct aim at New Orleans.
"Many parts of the state could see 24 to 38 hours of tropical storm-force winds," Louisiana Governor Bobby Jindal told a news conference earlier. "We're going to see a lot of downed trees and power lines," he said. "We need people to stay safe."
Storm surge flooding is already occurring in coastal areas of southeastern Louisiana, the National Hurricane Center said in an advisory.
Earlier, the Army Corps of Engineers closed for the first time the massive new floodgate on the largest storm-surge barrier in the world, at Lake Borgne, east of New Orleans.
In other preparations, oil production in the U.S. Gulf of Mexico nearly ground to a halt, and ports and coastal refineries curtailed operations as Isaac approached.
At 6 p.m. CDT (2300 GMT), the Hurricane Center said Isaac was centered about 95 miles (150 km) southeast of New Orleans with top sustained winds of 80 miles per hour (130 kph).
The storm was traveling at a relatively slow 8 mph (13 kph). That pace is a concern for people in its path since slow-moving cyclones can bring higher rainfall totals.
Isaac was about 370 miles (595 km) wide. Hurricane-force winds extend outward up to 60 miles (97 km) from the center of the storm.
Heavy rains and big storm surges were also forecast for parts of Mississippi, Alabama and the Florida Panhandle.
After Katrina, the Corps of Engineers built a $14.5 billion flood defense system of walls, floodgates, levees and pumps designed to protect the city against a massive tidal surge like the one that swamped New Orleans in Katrina's wake.
Isaac had New Orleans in its sights as the city is still recovering from Katrina, which swept across it on August 29, 2005, killing more than 1,800 people and causing billions of dollars of damage.
Reuters
Updated Date: Aug 29, 2012 09:20 AM