HRW asks Argentina to probe Saudi Crown Prince over Yemen, Khashoggi
By Cassandra Garrison and Jorge Otaola BUENOS AIRES (Reuters) - Human Rights Watch has asked Argentina to use a war crimes clause in its constitution to investigate the role of Saudi Crown Prince Mohammed bin Salman in possible crimes against humanity in Yemen and the murder of journalist Jamal Khashoggi. Argentina's constitution recognizes universal jurisdiction for war crimes and torture, meaning judicial authorities can investigate and prosecute those crimes no matter where they were committed. Human Rights Watch said its submission was sent to federal judge Ariel Lijo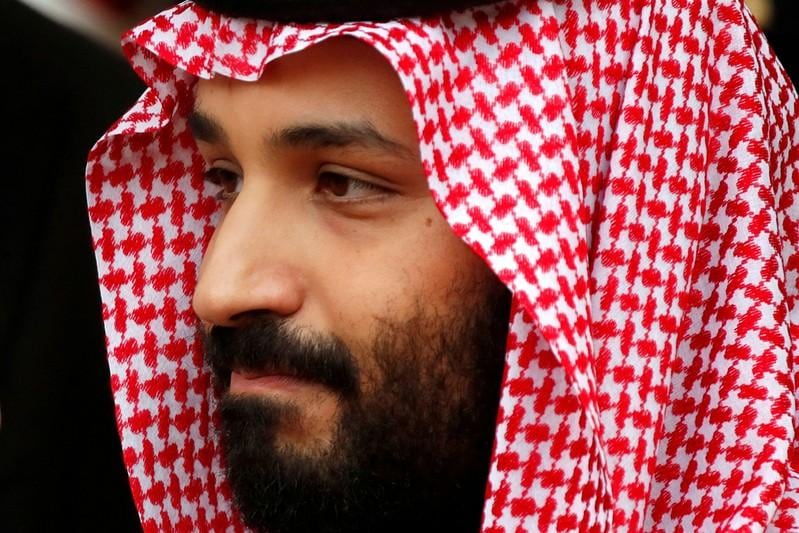 By Cassandra Garrison and Jorge Otaola
BUENOS AIRES (Reuters) - Human Rights Watch has asked Argentina to use a war crimes clause in its constitution to investigate the role of Saudi Crown Prince Mohammed bin Salman in possible crimes against humanity in Yemen and the murder of journalist Jamal Khashoggi.
Argentina's constitution recognizes universal jurisdiction for war crimes and torture, meaning judicial authorities can investigate and prosecute those crimes no matter where they were committed.
Human Rights Watch said its submission was sent to federal judge Ariel Lijo. Neither Lijo's office nor the office of Argentina's public prosecutor responded to requests for comment.
HRW's Middle East and North Africa director Sarah Leah Whitson said the international rights group took the case to Argentina because Prince Mohammed, also known as MbS, will attend the opening of the G20 summit this week in Buenos Aires.
"We submitted this info to Argentine prosecutors with the hopes they will investigate MbS's complicity and responsibility for possible war crimes in Yemen, as well as the torture of civilians, including Jamal Khashoggi," Whitson told Reuters.
Argentine media cited judicial sources as saying it was extremely unlikely that the authorities would take up the case against the crown prince, Saudi Arabia's de facto ruler.
The killing of Khashoggi, a Washington Post columnist and a critic of the crown prince, at Riyadh's consulate in Istanbul six weeks ago has strained Saudi Arabia's ties with the West and battered Prince Mohammed's image abroad.
Western nations are also calling for an end to the Saudi-led military campaign in neighboring Yemen, which was launched by Prince Mohammed, as a humanitarian crisis there worsens.
Cases taking advantage of universal jurisdiction have had success in the past, most notably in 1998 when Spanish Judge Baltasar Garzon was able to order the arrest in London of former Chilean dictator Augusto Pinochet.
(Editing by Daniel Flynn and Sonya Hepinstall)
This story has not been edited by Firstpost staff and is generated by auto-feed.
Find latest and upcoming tech gadgets online on Tech2 Gadgets. Get technology news, gadgets reviews & ratings. Popular gadgets including laptop, tablet and mobile specifications, features, prices, comparison.
World
WASHINGTON (Reuters) - China's Houston consulate, which is due to be closed on Friday, has been one of the worst offenders in terms of Chinese espionage activity in the United States and its actions went well over the line of what was acceptable, senior U.S.
World
MADRID (Reuters) - A U.N.
World
DUBAI (Reuters) - Iran said on Friday a U.S. fighter jet "harassed" an Iranian civilian airliner in an act of terrorism that injured and panicked passengers, dismissing a U.S