How Sri Lanka's Sinhala supremacists are helping ISI's war against India
The recent arrest of Arun Selvarajan, a Lankan Tamil and an ex-LTTE operative, who has been spying in India on behalf of ISI, has exposed a new domain for breeding future militants.
Velupillai Prabhakaran was killed on May 19, 2009, and it was believed that with him, his outfit the Liberation Tigers of Tamil Eelam (LTTE) and its cadre were finished too.
However, evidence on the ground suggests that the surviving, trained yet jobless cadres of what was once the world's deadliest terrorist group are out hunting for jobs and in them terrorist recruiters like the Pakistan's Inter-Services Intelligence (ISI) have discovered a rich catchment area for mercenaries for hire.
The recent arrest of Arun Selvarajan, a Lankan Tamil and an ex-LTTE operative, who has been spying in India on behalf of ISI, has exposed a new domain for breeding future militants.
According to intelligence sources, the arrest of Selvarajan has again proved how Sri Lanka has become a new recruitment hub for the ISI. And the recruits can be anyone - a Muslim or a Hindu - like in the case of Selvarajan, who despite being a Hindu Tamil, was spying for the organisation.
He is the third Lankan ISI agent to be arrested in India, while the other two - Mohammed Sakir Hussain and Suleman Hussain, both Muslims - were arrested in 2013.
"But, there is another side to this recruitment story of ISI. There is massive radicalization of Muslims taking place in north and eastern Sri Lanka. It's now becoming easier for the ISI and other Islamic terror groups like Lashkar-e-Taiba (LeT) to woo Muslim youths due to the rise of Sinhala Buddhist extremism and alienation of Muslims from the Sri Lankan mainstream," an intelligence source said.
The rise of extremism in a religion like Buddhism, globally associated with peace, is a worrying trend for the subcontinent which is already in a deep-seated cauldron of terror. Radicalization in eastern Sri Lanka began way back in the 1980s when during the civil war, a section of Tamil-speaking Muslims gravitated towards fundamentalist forces. Post the war, this radicalization is now being fuelled by increasing attacks of Sinhala Buddhist groups on the Muslims.
"ISI has an international agenda of recruiting, systematically brainwashing and indoctrinating youth to a new fold. Same is with the other international terror outfits, who're looking for such fertile grounds like Sri Lanka, from where they pick up their future cadre. Often, religious cause is the easiest way to bring them to their fold," said former chief of the Research & Analysis Wing (R&AW), CD Sahay. "And it's the monetary gain that led the ex-LTTE operative Selvarajan to work for the ISI, as he was at a loose end after the LTTE got decimated and was looking for an opportunity," addded Sahay.
Sri Lanka's Justice minister Rauf Hakeem had warned of the exact same outcome in a comment on the increasing attacks on Muslims by radicalized Buddhist mobs: "A community pushed against the wall like this will suddenly become a fertile ground for outside forces and lead to radicalisation"
The southern Sri Lankan town Aluthgama witnessed burning of shops and houses owned by Muslims by a Sinhala-Buddhist mob mobilised by the extremist BBS that led to the death of two people and left dozens injured. Consequently, a number of Sinhala Buddhists stood up against the violence initiated by BBS.
And, once religious cause comes to the fore, ideological brainwashing becomes easier for terror groups.
"There is a growing antipathy between Sinhala Buddhists and Lankan Muslims. The military victory against the LTTE has induced a false feeling of supremacy amongst the Sinhalese and instead of integrating the ethnic minorities in the mainstream, they have been alienated. And, there the problem arises," says strategic analyst and former military secretary, Lt Gen (Retd) SA Hasnain.
According to analysts, the rise in Sinhala Buddhist extremist groups like the Bodu Bala Sena (BBS) and others, the persecution of minority Muslims resulting in massive radicalization and a strong recruitment drive by the ISI and other terror outfits will have a cascading effect on neighbouring India.
"It's not good news for India. Because if there is turbulence in the neighbouring countries of Sri Lanka, Nepal, Pakistan, Bangladesh and Myanmar, India will face the heat. Especially, when India is already battling with Left-Wing Extremism on the Red Corridor and Muslim terror organisations," says Hasnain.
There are many potential Selvarajans and Hussains waiting to step into ISI's trap in India's backyard to give shape to evil designs of their foreign handlers operating from outside India.
The ISI uses its recruits for espionage and covert operations against India. Though Sinhala Buddhist extremism might not have any direct repercussion on India, strategic analysts feel that indirectly it has acted as a catalyst in giving birth to radicalized Muslims, who at the behest of their 'masters' like ISI, LeT or in coming days may be al-Qaeda would establish links with Indian terror groups in giving shape to attacks like Mumbai 26/11.
During his interrogation by the National Investigative Agency (NIA), Selvarajan revealed that he had helped the ISI in carrying out reconnaissance of Kalapakkam nuclear plant site, NSG Hub in Chennai, Coast Guard installations on the eastern coast, Officers' Training Academy (OTA) in Chennai and, Vizag and Kochi ports, to allegedly carry out a terror attack in Chennai like Mumbai 26/11.
"The possible link-ups between terror outfits in India with Sri Lankan groups, and covert operations by ISI spies would be devastating and immensely dangerous in future," adds Hasnain.
World
'It will be difficult, if not impossible, for Pakistan to control the Taliban and other militant groups in Afghanistan as the country spirals into a civil war'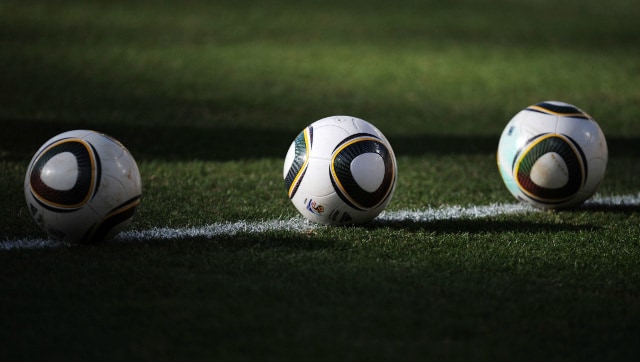 Sports
The positive cases were reported during BFC's training camp which began in Panaji on 5 April.
First Cricket News
Shoriful, a member of Bangladesh's Under-19 World Cup-winning squad, made his limited-overs debut during the recent tour in New Zealand but has yet to play any Test.