How Donald Trump sparred with Pope on Christianity, and still came out with evangelical base intact
When US president Donald Trump met Pope Francis at the Vatican this week, it marked the culmination of an often stormy relationship, where the two aimed barbs and jibes at each other
When US president Donald Trump met Pope Francis at the Vatican this week, it marked the culmination of an often stormy relationship. The two have often aimed barbs and jibes at each other and have made their positions clear. From the US president's controversial plan of building a wall on the US-Mexico border to climate change and even terrorism, the two have sparred over a variety of topics.
It started with the Pope's criticism of the Mexico border wall, and over the proposed deportation of undocumented immigrants. "A person who thinks only about building walls, wherever they may be, and not building bridges, is not Christian. This is not the gospel," the Pope said in February, a month after Trump took the oath as the President of the United States, while responding to questions about Trump's plans.
Trump wasted no time in hitting back at the Pope, and calling the religious leader's comments "disgraceful".
"For a religious leader to question a person's faith is disgraceful. I am proud to be a Christian and as president, I will not allow Christianity to be consistently attacked and weakened. No leader, especially a religious leader, should have the right to question another man's religion or faith," he said.
Trump further lamented the Pope's disapproval of illegal immigration arising from Mexico, saying the Mexicans are using the pontiff as a "pawn". "They are using the Pope as a pawn and they should be ashamed of themselves for doing so, especially when so many lives are involved and when illegal immigration is so rampant," he said.
"The Mexican government and its leadership has made many disparaging remarks about me to the Pope, because they want to continue to rip off the US, both on trade and at the border, and they understand I am totally wise to them. The Pope only heard one side of the story — he didn't see the crime, the drug trafficking and the negative economic impact the policies have on the US," he added.
But Trump's sparring with the Pope notwithstanding, the US president has a deeply Christian following, and even has an "evangelical advisory board" in place. According to Politico, the board will "convene on a regular basis," with some of them responsible for organising Trump's meeting with Christian leaders in New York City.
Over 81 percent of Trump's voters in the November presidential election were said to be white evangelicals, and many were said to be gleeful, with some even saying "God had handed Trump the presidency".
A report on Alternet has written how Trump nominated ultra-conservative Christians for key posts, and even followed through on several campaign promises tailored to appeal to the Far Right evangelicals. Trump had already picked Mike Pence for vice-president; he nominated Betsy DeVos, who was raised in a Calvinist community in Michigan, for secretary of education; and Seventh-Day Adventist Ben Carson for housing and urban development secretary. He also appointed several other conservative Christians to additional top positions in the administration.
And it has by and large got them what they want. A report in The Washington Post said Colorado federal appeals court judge Neil Gorsuch's appointment to the Supreme Court would be a huge win among his support base, since the Supreme Court, after all, was responsible for issuing cases such as Roe vs Wade on abortion and Obergefell vs Hodges upholding gay marriage.
Russell Moore, who heads the advocacy arm of the Southern Baptist Convention, was quoted in the report as saying he expects Trump to work with Congress on more abortion legislation, including extending protections to people who don't want to provide abortions or contraception based on their conscience. Many evangelicals, Moore said, are divided over Trump's executive order related to refugees. But so far, they are generally happy with the administration, especially Trump's reinstatement of a policy prohibiting funds for abortions overseas. "Most people are just waiting to see what the first 100 days will look like. People are wanting to assume the best and to pray for success," he said.
Given how the evangelical support base is solidly behind him, it's not hard to see why Donald Trump is readily taking the Pope on, even in matters of Christianity and religion.
Find latest and upcoming tech gadgets online on Tech2 Gadgets. Get technology news, gadgets reviews & ratings. Popular gadgets including laptop, tablet and mobile specifications, features, prices, comparison.
World
News of the call came even as some Catholic bishops in the US decline to acknowledge Biden's victory and argue that the faithful should not back him because of his support for abortion rights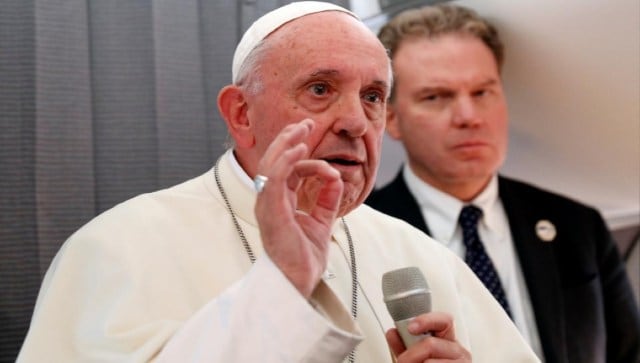 Sports
The five players — Marco Belinelli, Sterling Brown, Jonathan Isaac, Kyle Korver and Anthony Tolliver — were joined in the delegation by NBA players' union executive director Michele Roberts and two other union executives, Sherrie Deans and Matteo Zuretti.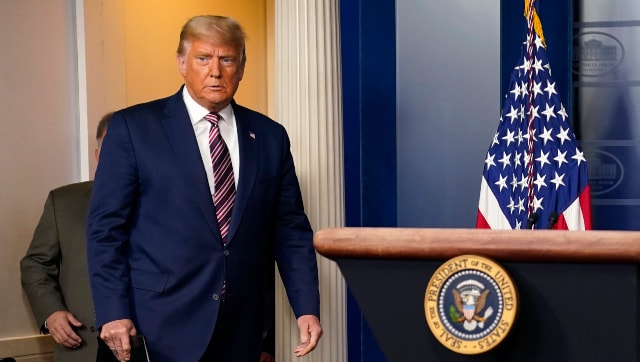 World
Trump has so far defied tradition by refusing to concede defeat, instead launching legal attempts to challenge the outcomes in several states such Pennsylvania and Michigan