'How does it feel?' - Bob Dylan wins Nobel literature prize | Reuters
By Alistair Scrutton and Scott Malone | STOCKHOLM/BOSTON STOCKHOLM/BOSTON Bob Dylan, a powerful voice of social turmoil in the United States from the 1960s onward, was awarded the Nobel Prize for Literature on Thursday in a surprise decision that made him the first singer-songwriter to win the honour.The 75-year-old Dylan, who won the prize for 'having created new poetic expressions within the great American song tradition,' joins a long line of novelists, poets and playwrights including Octavio Paz, Albert Camus and Ernest Hemingway.The decision angered some writers who complained that by highlighting one of the world's most celebrated musicians the Swedish Academy missed an opportunity to bring attention to lesser-known artists.'I'm a Dylan fan, but this is an ill-conceived nostalgia award wrenched from the rancid prostates of senile, gibbering hippies,' wrote Scottish novelist Irvine Welsh, best known for his 1993 novel 'Trainspotting,' on Twitter.Awarding the 8 million Swedish crown ($928,000) prize, the Swedish Academy said: 'Dylan has the status of an icon. His influence on contemporary music is profound.' The announcement of the award was met with gasps in Stockholm's stately Royal Academy hall, followed by some laughter
By Alistair Scrutton and Scott Malone
| STOCKHOLM/BOSTON
STOCKHOLM/BOSTON Bob Dylan, a powerful voice of social turmoil in the United States from the 1960s onward, was awarded the Nobel Prize for Literature on Thursday in a surprise decision that made him the first singer-songwriter to win the honour.The 75-year-old Dylan, who won the prize for "having created new poetic expressions within the great American song tradition," joins a long line of novelists, poets and playwrights including Octavio Paz, Albert Camus and Ernest Hemingway.The decision angered some writers who complained that by highlighting one of the world's most celebrated musicians the Swedish Academy missed an opportunity to bring attention to lesser-known artists."I'm a Dylan fan, but this is an ill-conceived nostalgia award wrenched from the rancid prostates of senile, gibbering hippies," wrote Scottish novelist Irvine Welsh, best known for his 1993 novel "Trainspotting," on Twitter.Awarding the 8 million Swedish crown ($928,000) prize, the Swedish Academy said: "Dylan has the status of an icon. His influence on contemporary music is profound." The announcement of the award was met with gasps in Stockholm's stately Royal Academy hall, followed by some laughter. Swedish Academy member Per Wastberg said: "He is probably the greatest living poet." The late novelist Norman Mailer once commented, "If Dylan's a poet, I'm a basketball player."Other well-known authors praised the decision.Salman Rushdie, the author of novels including "The Satanic Verses" and "Shalimar the Clown," praised the decision, saying it followed centuries of literary tradition stretching from classical Greece to modern India.
"From Orpheus to Faiz, song & poetry have been closely linked. Dylan is the brilliant inheritor of the bardic tradition. Great choice," Rushdie said on Twitter.Dylan's songs, such as "Blowin' in the Wind", "The Times They Are A-Changin'", "Subterranean Homesick Blues" and "Like a Rolling Stone" captured the spirit of a generation's rebellion, dissent and independence. LONG STRING OF HONOURS
The prize is the latest of many accolades for the native of Duluth, Minnesota, who first rose to fame performing in New York's Greenwich Village in the 1960s. His albums have won a dozen Grammy Awards, and in 1988 Dylan was inducted into the Rock and Roll Hall of Fame in Cleveland, Ohio.
Singer Bruce Springsteen, whose long career drew inspiration from Dylan's work, recalled on Facebook on Thursday crossing paths with his idol at a performance at Washington's Kennedy Center Honors almost two decades ago."We were alone together for a brief moment walking down a back stairwell when he thanked me for being there and said, 'If there's anything I can ever do for you...' I thought, 'Are you kidding me?' and answered, 'It's already been done,'" Springsteen wrote.Dylan remained silent on Thursday, making no public comment ahead of a Thursday evening concert in Las Vegas. A Dylan spokesman declined to comment.For many, his lyrics have resonated for decades.
"Blowin' in the Wind", written in 1962, was considered one of the most eloquent folk songs of all time. "The Times They Are A-Changin'", in which Dylan told Americans "your sons and your daughters are beyond your command," was an anthem of the civil rights movement and Vietnam War protests.Asked if he thought Dylan's Nobel lecture, traditionally given by the laureate in Stockholm later in the year, would be a concert, Wastberg replied: "Let's hope so."Dylan was born into a Jewish family but in the late 1970s converted to Christianity and later said he followed no organised religion. At another point in his life, he took up boxing.Dylan is the first American to win the award since novelist Toni Morrison in 1993.Dylan has toured almost continuously since 1988, remaining true to the credo he expressed in "Forever Young," a hit track from his 1974 album, "Planet Waves."Literature was the last of this year's Nobel prizes to be awarded. The prizes are named after dynamite inventor Alfred Nobel and has been awarded since 1901 for achievements in science, literature and peace in accordance with his will. (Additional reporting by Amy Tennery, Johan Sennero, Mia Shanley, Daniel Dickson and Simon Johnson; Editing by Louise Ireland and Tom Brown)
This story has not been edited by Firstpost staff and is generated by auto-feed.
Business
Maruti Suzuki, Power Grid, ITC, NTPC and SBI have been the top Sensex gainers
Business
While India VIX fell by 6.79 percent to end at 16.16 levels, BSE Smallcap rose by 1.38 percent to end at 29,088.57 and BSE Midcap registered a rise of 1.68 percent to 25,799.72.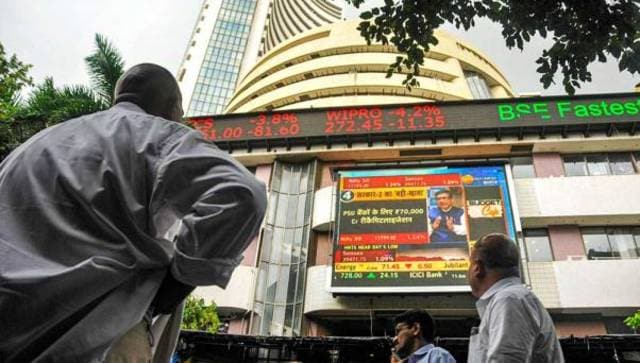 Business
Sectors like FMCG, PSU Bank, auto, and metal indices witnessed a hike of 1-3 percent while the IT index saw a decrease of nearly one percent