Pope Benedict XVI announced his retirement on 11 February citing deteriorating health and his inability to carry on his mission.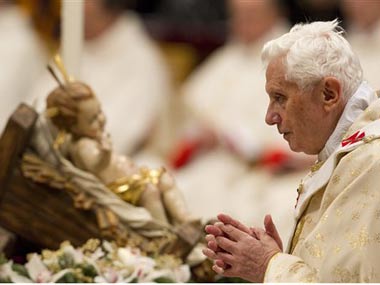 In a statement released by Vatican, the pope said, "In today's world, subject to so many rapid changes and shaken by questions of deep relevance for the life of faith, in order to govern the bark of Saint Peter and proclaim the Gospel, both strength of mind and body are necessary, strength which in the last few months, has deteriorated in me to the extent that I have had to recognize my incapacity to adequately fulfill the ministry entrusted to me."
"For this reason, and well aware of the seriousness of this act, with full freedom I declare that I renounce the ministry of Bishop of Rome, Successor of Saint Peter, entrusted to me by the Cardinals on 19 April 2005," the statement said.
While a Pope is ideally elected to serve for life, there is a provision, which has been rarely exercised, that allows a pontiff to resign.
So how does a pope resign?
According to Canon 332.2 of the 1983 Code of Canon Law, "If it should happen that the Roman Pontiff resigns his office, it is required for validity that he make the resignation freely and that it be duly manifested, but not that it be accepted by anyone."
Essentially what the code states is that when the Pontiff decides to resign, his resignation should not be influenced by outside pressures such as fraud. Ideally, the resignation is given to the college of cardinals, who elected the Pontiff.
However, there is no authority who needs to accept it. Once the Pontiff decides to resigns, it's final.
Will a pope who resigns be able to elect a new pope?
The pope is elected by a college of cardinals below the age of 80. For a pope to be elected pope, he needs to be a cardinal too. So if a pope resigns before he completes 80 years of age, he can be a part of the electoral college.
In this case, however, Pope Benedict XVI is 85-year-old and therefore would not be eligible to partake in the election of a new pope.
What would a pope who resigns be called?
According to a report in the American Magazine,  there are no guidelines on what title a pope who has resigned would assume. However, what seems likely is the title of 'Pope Emeritus', much like Bishop Emeritus, a title a bishop is conferred upon when he retires from office.
Previous Popes who have resigned
While such papal resignations are extremely rare, there are precedents in the two millennia history of the Catholic Church.
Marcellinus:  This early church pope abdicated or was deposed in 304 after complying with the Roman emperor's order to offer sacrifice to the pagan gods.
Benedict IX:  Sold the papacy to his godfather Gregory VI and resigned in 1045.
Celestine V: Overwhelmed by the demands of the office, this hermetic pontiff stepped down after five months as pope in 1294. Pope Benedict XVI prayed at his tomb in the central Italian city of L'Aquila in 2009.
Gregory XII: The last pope to resign, Gregory XII stepped down in 1415 to help end a church schism.
(With inputs from AP)
Updated Date: Feb 12, 2013 10:47 AM