'How can they commit such a crime?': Ayatollah Khamenei slams Donald Trump's immigration policy on Twitter
While Khamenei's tweet was one among 24,000 replies on Trump's tweet, it was also a reminder how countries now interact with each other online in full public glare, perhaps seeking to please their most vocal political bases domestically.
Iran's supreme leader Ayatollah Ali Khamenei on Wednesday  slammed Donald Trump for the United States' 'cruel' anti-immigration policy on Twitter.
"Separating thousands of children from their mothers is a big concern. One cannot watch with a sound state of mind these children crying on TV. How can they commit such a crime, separating children from mothers for a cruel policy? Now, that's who they are," Khameini wrote on Twitter even as Trump lambasted the 'fake news media' for "not mentioning the safety and security of our Country when talking about illegal immigration".
This isn't the first time Khamenei seemed to be mocking Trump on social media. On 12 May, a picture of Khamenei reading a Persian-language edition of Michael Wolff's book Fire and Fury, which claims that life in Donald Trump's White House is chaotic, was posted on his Instagram feed, leading to raised eyebrows. This occurred days after ties between the US and Iran took a significant turn for the worse, the BBC reported.
Trump, that week, pulled the US out of a multi-country deal that suspended sanctions on Iran while limiting its nuclear activities, calling it "defective at its core", and placed more sanctions on Tehran. Iran responded with frustration, but it appeared to be engaging in a more off-the-cuff manner, the BBC reported.
Trump described the book as "fiction" and Wolff as a "fraud" when it was released in January. The book, which raised doubts over Trump's mental health, was described as a "bombshell" by commentators. The book claimed Trump pursued his friends' wives and that his daughter Ivanka would mock his hairstyle behind his back.
Other countries have also got in on the act. On 3 June, the Israel embassy responded to a scathing tweet from Khamenei describing it as 'cancerous tumour' with a Mean Girls meme:
Our stance against Israel is the same stance we have always taken. #Israel is a malignant cancerous tumor in the West Asian region that has to be removed and eradicated: it is possible and it will happen. 7/31/91#GreatReturnMarch — Khamenei.ir (@khamenei_ir) June 3, 2018
Russia Embassy in UK too, stepped onto the Gif diplomacy bandwagon in wake of a bitter diplomatic war between the two countries.
The right time to recall the full title of Stanley Kubrick's "Dr Strangelove": How I learned to stop worrying and love the bomb? pic.twitter.com/HIrtuYl2HE — Russian Embassy, UK (@RussianEmbassy) April 18, 2017
In 2013, when president Hassan Rouhani was keen on negotiating the Iran nuclear deal soon after being elected, Israel hit out at its rival country by creating a parody LinkedIn account for Rouhani. Israel's US embassy officials described Rouhani as follows: "I'm a career politician, expert public relations professional, leading international salesman and longtime advocate of nuclear proliferation."
The fake message also said: "Since my election as president of Iran in 2013, I developed and have executed an unprecedented PR campaign for the government of Iran. Through a series of statements, tweets, op-eds and smiles I have rebranded the human-rights suppressing, Ayatollah-led regime as moderate and a source of hope among the international community."
The aggressive posturing by countries on social media has brought foreign policy fights to Twitter. While it helps administrations cater to their base, it has appeared to skew public discourse on sensitive bilateral relationships and redefined how nations converse with each other, at least publicly.
However, such acidic tweets and social media trolling stands in complete contrast with the ancient form of letter-diplomacy which kept nations engaged even at the lowest points in their diplomatic ties. More recently, its use was witnessed ahead of the crucial US-North Korea summit. North Korean envoy Kim Yong Chol was spotted on 1 June bearing a letter for president Donald Trump from Kim Jong-un, The Associated Press reported.
Opportunities abound in the digital world for immediacy in communications, as everyone knows and Trump demonstrates with every tweet. Also, the telephone has been around for a very long time. But still there's a whiff of the Pony Express, Western Union and the flourish of quill pens in diplomacy.
"Some of it is the ceremony," said Princeton presidential historian Julian E. Zelizer. "There is a drama to delivering a letter that I think still serves the purpose of two countries slowly trying to work things out." And letters can be a useful medium for tempestuous leaders like these two, he said. "It's a way to contain emotions. Some of the coldness of the letter can be good in diplomacy."
Even in the past, then US president Barack Obama and Khamenei famously exchanged secret letters in 2014, in the run-up to the nuclear deal negotiations. There was a reason why nations kept back-channel diplomacy away from media attention and public view, once upon a time.
Major diplomatic actions are often communicated on paper, even now, for the sake of formality and posterity. That's especially true for messages between countries that do not have close ties and thus aren't used to communicating with each other regularly through more informal means.
With inputs from agencies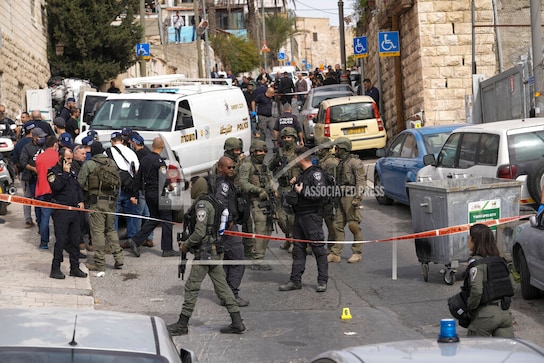 World
Russia's foreign ministry on Saturday also called for "maximum restraint" following violence in Israel and the West Bank that marked another dramatic escalation in the Israeli-Palestinian conflict.
World
William Burns and US National Security Advisor Jake Sullivan want to quickly wrap up the Ukraine war to concentrate on China
World
Trump and his allies hope the events will offer a show of force behind the former president after a sluggish start to his campaign that left many questioning his commitment to running again