House Speaker Pelosi says she spoke to top U.S. general about restraining Trump
WASHINGTON (Reuters) - House Speaker Nancy Pelosi spoke to the top U.S. military commander on Friday about taking precautions to ensure that Republican President Donald Trump cannot initiate hostilities or order a nuclear strike in his remaining 12 days in office. Pelosi said in a letter to Democratic lawmakers that she spoke to Army General Mark Milley, chairman of the Joint Chiefs of Staff, about what measures are available to rein in the president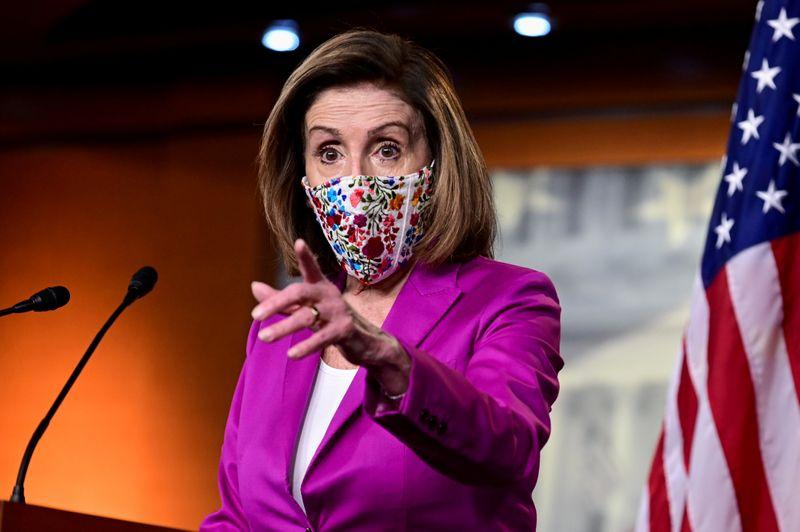 WASHINGTON (Reuters) - House Speaker Nancy Pelosi spoke to the top U.S. military commander on Friday about taking precautions to ensure that Republican President Donald Trump cannot initiate hostilities or order a nuclear strike in his remaining 12 days in office.
Pelosi said in a letter to Democratic lawmakers that she spoke to Army General Mark Milley, chairman of the Joint Chiefs of Staff, about what measures are available to rein in the president. Trump, angry about his election loss, incited supporters in the days before an invasion of the U.S. Capitol on Wednesday.
"The situation of this unhinged president could not be more dangerous, and we must do everything that we can to protect the American people from his unbalanced assault on our country and our democracy," Pelosi said in a letter to colleagues.
The Joint Staff did not immediately respond to a request for comment.
Democratic President-elect Joe Biden takes office on Jan. 20. Trump said earlier on Friday he would not attend the inauguration, breaking with long-standing tradition in American presidential transitions.
Pelosi, the top Democrat in Congress, also said she had not heard back from Vice President Mike Pence about whether he would agree to invoke the 25th Amendment to remove Trump from office "for his incitement of insurrection and the danger he still poses."
She said "we still hope to hear from him as soon as possible with a positive answer."
(Reporting by Doina Chiacu; Editing by Tim Ahmann and Jonathan Oatis)
This story has not been edited by Firstpost staff and is generated by auto-feed.
Find latest and upcoming tech gadgets online on Tech2 Gadgets. Get technology news, gadgets reviews & ratings. Popular gadgets including laptop, tablet and mobile specifications, features, prices, comparison.
World
WASHINGTON (Reuters) - Washington police banned the leader of a far-right group from the city and made two arrests on Tuesday as protesters supporting President Donald Trump's attempts to overturn the election gathered in the city. Enrique Tarrio, the leader of the Proud Boys, who was arrested on Monday for destruction of property and possession of a firearm magazine, was released on bail Tuesday and ordered to stay away from the city, according to a police affidavit. Protests against President-elect Joe Biden's November election win, which Congress will certify on Wednesday, started across the U.S.
World
By Renju Jose SYDNEY (Reuters) - Australia will bring forward its COVID-19 vaccine rollout plans by two weeks to early March, health authorities said on Wednesday as the country seeks to contain fresh cases in its two largest cities. Australia has repeatedly resisted pressure to expedite its vaccination distribution timetable, citing low coronavirus cases in the country though new clusters in Sydney and Melbourne have sparked fears of a wider outbreak
World
By Alexandra Alper and David Shepardson WASHINGTON (Reuters) - U.S. President Donald Trump on Tuesday signed an executive order banning transactions with eight Chinese software applications, including Ant Group's Alipay, the White House said, escalating tensions with Beijing before President-elect Joe Biden takes office this month. The order, first reported by Reuters, tasks the Commerce Department with defining which transactions will be banned under the directive and targets Tencent Holdings Ltd's QQ Wallet and WeChat Pay as well.