House of Representatives approves $1.6bn to begin construction of US-Mexico border wall
White House to begin the construction of a wall along the US-Mexico border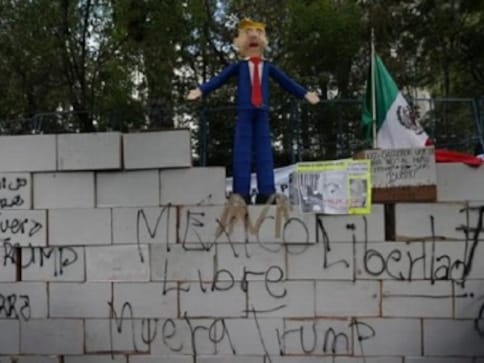 Washington: The House of Representatives has voted to approve a budget bill which includes $1.6 billion requested by the White House to begin the construction of a wall along the US-Mexico border, the media reported.
In a 235-192 vote on Thursday, the lower house gave the green light to a $788 billion defence, veterans and energy budget bill for fiscal year 2018 - which runs from 1 October, 2017, through 30 September, 2018, reports Efe news.
"Every single dime the President requested to start building a wall on our southern border he's going to get. Most importantly, we're sending more to the VA (Veterans Affairs) to fix veterans' health care and reform outdated VA systems," said House Majority Leader Kevin McCarthy, a California Republican.
Republican lawmakers included the wall budget proposal in the defence budget bill with the aim of forcing House Democrats to vote in favour of the wall, one of the key campaign promises made by Donald Trump during his presidential campaign but a measure that has been opposed head-on by Democrats.
Lawmakers could not agree on a comprehensive budget to finance the government as a whole and, therefore, they have been dividing the total funds into smaller bills for different departments.
Not included in the bill approved on Thursday are funds for the Department of Homeland Security, which is in charge of the wall project and financing for which will be considered in a separate bill.
In May, the White House, via the, asked Congress for $1.6 billion to build 51.5 km of the wall along a sector of the Rio Grande River Valley in South Texas and another 45 km along another stretch in the region.
Yet another 22.5 km of wall is to be built in the San Diego sector to replace existing border fencing there.
These are some of the zones in which Border Patrol agents have been making an increased number of arrests.
It comes as no surprise that the bill passed the House because Republicans hold a 240-192 majority there over Democrats, and it does give Trump and his congressional supporters something of a mini-victory before lawmakers leave for their summer recess.
But greater resistance is anticipated in the Senate, where Republicans hold just 52 of the 100 seats, and 60 votes are needed to pass the corresponding budget bill.
It is considered to be virtually impossible that eight Senate Democrats will join with the Republicans to pass the budget bill including the wall funds.
Congress needs to approve a government budget for fiscal 2018 before the end of September and, if lawmakers cannot do so, at least a partial government shutdown could result, as occurred in 2013.
World
AOC had shared information on her Instagram stories about safe self-managing medication-induced abortions according to the World Health Organization's guidelines
World
However, party officials say donors are giving much of that money to national campaigns and causes instead of races for state office, where abortion policy will now be shaped as a result of the court's decision
World
The resolution, introduced by Ilhan Omar, urges the Biden Administration to implement the recommendations of the US Commission on International Religious Freedom, which has called for designating India as a country of particular concern for three consecutive years