Hopes rise for US immigration deal on DACA while legal immigrants remain on edge in midterm election year
A leader of US House moderates said Thursday that a tentative deal with conservatives has emerged to help young 'Dreamer' immigrants brought illegally to the US as children and later given temporary protections by the Obama government now stay in the U.S. legally. But where does all this leave those who are legally in America and waiting in line?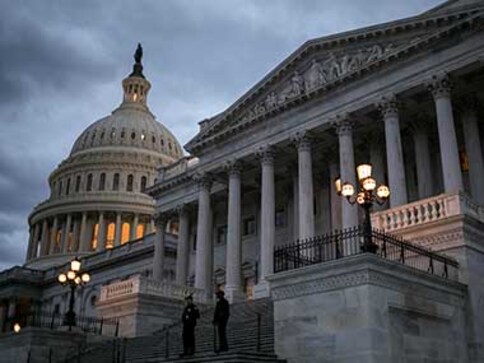 A leader of US House moderates said Thursday that a tentative deal with conservatives has emerged to help young "Dreamer" immigrants brought illegally to the US as children and later given temporary protections by the Obama government now stay in the U.S. legally. Details remain unclear and nothing has been finalized, the lawmaker said in an interview with The Associated Press.
'Dreamers', though are not the only ones hoping for a breakthrough. Multiple cohorts are in the crosshairs of the political war over the scope and boundaries of the US immigration system. Immigrants who have completed all due diligence paperwork and waiting in line for permanent residency are also on edge. Family based and employment based immigration are categories that are up for reboot but sharp differences between bitterly opposed political camps have kept closure far away until now.
In exchange for providing possible citizenship for Dreamers, Trump has demanded full financing for his wall with Mexico. He's also wanted to end a lottery that distributes about 50,000 visas annually to countries with few U.S. immigrants and to limit the relatives legal immigrants can bring to this country.
Democrats and many moderate Republicans have opposed curbs in legal immigration.
Rep. Jeff Denham, R-Calif., said that under the offer from the hard-right House Freedom Caucus, young immigrants brought illegally to the U.S. as children could get a new visa that would let them stay in the country for eight years. He said he was unclear what the pathway to remaining legally after that would be.
It was uncertain if the proposal represented a breakthrough in the long-running GOP divide between moderates and conservatives on immigration, or would devolve into the latest failed attempt to bridge that gap. It came the same day that House Speaker Paul Ryan, R-Wis., said party leaders would craft an attempt at compromise on the issue that Republicans could embrace.
Rep. Mark Meadows, R-N.C., leader of the Freedom Caucus, declined to confirm that his group had made an offer and said no overall immigration agreement among Republicans has been reached. Another member of that group, Rep. Dave Brat, R-Va., said the idea has been discussed but cautioned that there are "tons of moving pieces to it."
Denham said the moderates' threat to force House votes on immigration — which GOP leaders have fought — remains in effect. The group needs two more GOP signatures on a petition that could force those votes, assuming all Democrats sign, and if they get them by next Tuesday, the House would be on track to have those votes June 25.
"We have a firm deadline of next Tuesday," Denham said. "We're prepared to have the final signatures if there's no agreement between now and then."
Denham said moderates had agreed to accept border security measures as part of the accord, including backing the full $25 billion President Donald Trump wants to construct his proposed wall with Mexico.
He said the conservatives' proposal involves a merit system, but said he was unfamiliar with its details.
He also said the plan would apply to more than the nearly 700,000 people who have been protected by the Obama-era Deferred Action for Childhood Arrivals program, or DACA, that Trump has halted. Around another 1 million immigrants are thought to have qualified for that program but not applied, by some estimates.
"This was their offer to us and it's something we can agree to but not until we see it on paper," Denham said.
Ryan described leaders' effort to find a compromise after he and other GOP leaders left a private meeting that didn't resolve divisions between conservatives and moderates that threaten the party's prospects in November's elections.
He said leaders would work toward a draft that resembles Trump's demands on the issue. GOP leaders' goal is to head off the drive led by Denham and Rep. Carlos Curbelo, R-Fla., to force House votes. The moderates have wanted to provide a way for Dreamers to have a chance for citizenship.
Party leaders and conservatives oppose the moderates' drive. They say it would likely result in liberal-leaning legislation that would never clear the Senate or get Trump's signature, and would antagonize conservative voters, jeopardizing GOP turnout in November elections in which control of the House is at stake.
"This effort to get our members to come to a common ground is the best chance at law," Ryan said.
Participants in Thursday's meetings said Ryan used a Power Point presentation to lay out similarities and differences among Republicans, but no specific proposal for bridging that divide.
After meetings on Wednesday, Republicans expressed optimism that the gap between moderates and conservatives could be resolved, but offered no details of how.
The major hang-up in GOP talks has been how, as the moderates have demanded, to offer a chance for citizenship to young "Dreamer" immigrants. Conservatives have opposed creating a special pathway for them to become citizens, calling it amnesty.
Rep. Mark Walker, R-N.C., said Wednesday that a large group of conservatives he leads has discussed providing a pathway to citizenship to "Dreamers" in exchange for funding for the proposed border wall, ending the visa lottery and limiting the relatives immigrants can bring into the country. Walker said the more "Dreamers" who'd be given an opportunity for citizenship, the tighter curbs on family-based migration would be.
Democrats would likely oppose such measures, giving it little chance of surviving in the more centrist Senate.
The moderates' petition would force House votes on four immigration bills, ranging from a liberal one helping "Dreamers" win citizenship to a conservative version curbing legal immigration.
(With reporting by Nikhila Natarajan in US; Agencies)
World
Israel has not claimed responsibility for the attack. However, Israeli media reported that the country had orchestrated a devastating cyberattack that caused the blackout
World
Iranian officials say they can return to compliance fairly quickly, but insist they want the US to lift sanctions first. Washington wants Iran to return to compliance first.
World
Foreign Minister Javad Zarif said the attack, allegedly carried out by Israel, could hurt ongoing negotiations over Iran's nuclear deal with world powers