Hong Kong govt may resume on Monday, but protests go on
HONG KONG (Reuters) - Hong Kong pro-democracy protest leaders said they would unblock access to government buildings to allow civil servants to go back to work next week, but defied calls from the Chinese-controlled city's leaders to end their demonstrations. Tens of thousands of protesters have staged sit-ins across Hong Kong over the past week, demanding the city's pro-Beijing leader Leung Chun-ying step down and calling on China to reverse its decision to select the candidates for the city's 2017 leadership election. Leung has warned that the situation - which has seen the worst unrest in Hong Kong since the former British colony was handed back to Chinese rule in 1997 - could get 'out of control, causing serious consequence to public safety and social order'
HONG KONG (Reuters) - Hong Kong pro-democracy protest leaders said they would unblock access to government buildings to allow civil servants to go back to work next week, but defied calls from the Chinese-controlled city's leaders to end their demonstrations.
Tens of thousands of protesters have staged sit-ins across Hong Kong over the past week, demanding the city's pro-Beijing leader Leung Chun-ying step down and calling on China to reverse its decision to select the candidates for the city's 2017 leadership election.
Leung has warned that the situation - which has seen the worst unrest in Hong Kong since the former British colony was handed back to Chinese rule in 1997 - could get "out of control, causing serious consequence to public safety and social order".
In a statement on local television on Saturday, he said "the most urgent thing" was to clear access to the government headquarters on Monday "so 3,000 government staff can go to work normally and serve citizens".
Addressing a mass rally late on Saturday, Benny Tai, a leader of the "Occupy Central" movement, said protesters who have blocked off key parts of the city would allow government officials to return to work.
"We only target CY (Leung), not other government officials. By opening a route, CY will have no reason or excuse to clear our occupation and spread foul rumours," he told thousands of mainly young protesters holding smartphone torchlights aloft.
Some were critical of the clashes that erupted late on Friday with supporters of the city's pro-Beijing government the crowded, working class neighbourhood of Mong Kok, and vowed to keep up their demands for democracy.
"How long will we stay? Until we win this war," Jericho Li, a 19-year-old student, told Reuters. "I don't think we will leave. All the people here are ready (for the consequences)."
Others at the rally at Admiralty, at the heart of Hong Kong's government district, agreed. Dunhill Lam, a 22-year-old TV production assistant and filmmaker, said the crowd was too big for the police to clear.
"Our freedom to vote, to choose who we want to be our leader, to live our lifestyle, is worth it. We're all afraid of tear gas or that the Chinese army will come out, but we're like slaves of China. That's why we fight for our freedom," he said.
BACKLASH
The protests brought much of Hong Kong to a standstill during what is traditionally a busy week-long shopping holiday. Many residents now want the protests to end or to move elsewhere so that workers, schools and civil servants can return to normal.
"I'd like to support the students because their initiative, their motives are good. But I think some of them are off track now," said Grant Yip, a 36-year-old corporate trainer.
"We should have retreated three or four days ago when the government pulled the riot police back; we would have gained more public support. The government is trying to split the people," he said.
Student activists, established protest groups and ordinary Hong Kongers have joined forces to present Beijing with one of its biggest political challenges since it violently crushed pro-democracy protests in and around Tiananmen Square in 1989.
China's ruling Communist Party's official People's Daily, in a front page editorial on Saturday, said the Hong Kong protests would never spill over into the rest of China.
"For the minority of people who want to foment a 'colour revolution' on the mainland by way of Hong Kong, this is but a daydream," the newspaper said.
Facing separatist unrest in far-flung and resource-rich Tibet and Xinjiang, Beijing is standing firm on Hong Kong, fearful that calls for democracy there could spread to the mainland.
POLICE CRITICISED
After police fired tear gas at protesters last weekend, the demonstrations have been largely peaceful, but turned ugly late on Friday, with police struggling to control rival groups of pro-democracy and pro-Beijing supporters in Mong Kok.
Eighteen people were injured, including six police officers, according to local broadcaster RTHK, and there were 19 arrests, including eight suspected members of Hong Kong's powerful organised crime gangs which are known in the city as "Triads".
Many residents expressed anger and frustration at the police handling of the unrest, with some accusing the security forces of co-operating with the Triads, failing to make arrests and helping some attackers to exit the scene quickly.
Police defended their handling of the fighting, saying they exercised "dignity and restraint." Secretary for Security Lai Tung-kwok said allegations of any cooperation with Triads were false.
Amnesty International issued a statement criticising the police for "(failing) in their duty to protect hundreds of peaceful pro-democracy protesters from attacks by counter demonstrators."
One of the main student groups behind the "Occupy Central" movement said it would pull out of planned talks with the government because it believed authorities had colluded in the attacks on demonstrators.
On Saturday, some pro-democracy supporters holding umbrellas and wearing bike helmets braced for more trouble in Mong Kok as Caring Hong Kong Power, a pro-Beijing group, called its own rally and said it supported the use of guns by police, if necessary, and the deployment of the People's Liberation Army.
There were some minor scuffles, but in the early hours of Sunday an uneasy truce prevailed with police announcing a partial withdrawal.
(Additional reporting by Clare Jim, Elzio Barreto, Charlie Zhu, Clare Baldwin, Joseph Campbell, Donny Kwok, James Pomfret, Bobby Yip, Irene Jay Liu, John Ruwitch, Farah Master, Diana Chan, Kinling Lo, Venus Wu and Anne Marie Roantree in HONG KONG, and Ben Blanchard in BEIJING; Writing by Jeremy Laurence and Ian Geoghegan; Editing by Raissa Kasolowsky)
This story has not been edited by Firstpost staff and is generated by auto-feed.
Find latest and upcoming tech gadgets online on Tech2 Gadgets. Get technology news, gadgets reviews & ratings. Popular gadgets including laptop, tablet and mobile specifications, features, prices, comparison.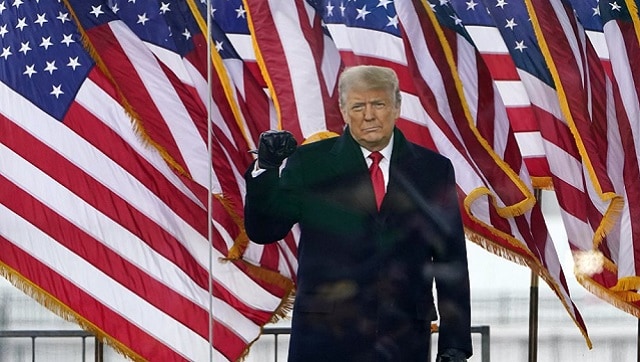 World
Indian author Avirook Sen writes a piece of satire describing the recent developments in the United States in the wake of Donald Trump's defeat in the presidential elections
World
'I do not believe that such a course of action is in the best interest of our nation or consistent with our Constitution,' Pence said
World
'In protecting our Constitution and our democracy, we will act with urgency, because this president represents an imminent threat to both,' Pelosi said