Purely from a design point of view, there is very little that is wrong with Dabiq — Islamic State's magazine. It's a thorough magazine with a cover story, rich picture quality and in depth analysis of the Brussels attacks — 'The Knights of Shahadah in Belgium' — that is how the suicide bombers are celebrated through the written word. "These two brothers gathered the weapons and the explosives. After the blessed raid in Paris, he saw another dream, which motivated him to carry out an istishhadi (martyrdom) operation," said the magazine.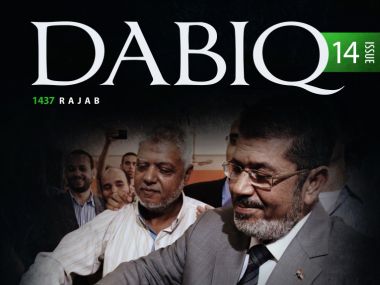 In their April 2016 issue, Dabiq interviews Shaykh Abu Ibrahim al-Hanif, whom they hail as the "Kilafah's s soldiers in Bengal" (Caliphate's soldiers in Bangladesh), where Dabiq asks, "What is the role of India and the Hindus in the war against Islam and the Khilafah in general and in Bengal in particular?" — to this, the soldier claims that the Hindus of both Bengal (Bangladesh) and India have always been waging war against Islam and Muslims. The only difference, he says,"Is that the Hindus in India show their animosity towards Islam and the Muslims openly, whereas the Hindus in Bengal do it in a more deceptive and covert manner due to them being a minority sect." al-Hanif claimed that to achieve the Sharia rule in Bengal, local Hindus need to be targeted in mass numbers and "a state of polarisation" needs to be created, "dividing between the believes and the disbelievers."
This is not the only instance, where the Islamic State has made threats against India. In an e-book released online in December 2015, the Islamic State aimed their statements at PM Narendra Modi calling him a  'right-wing Hindu nationalist' who 'worships weapons' and is 'preparing his people for a future war against their number one enemy - Muslims'. The Islamic State in the e-book also cited the Dadri lynching incident, alleging that a "movement of Hindus who kill Muslims who eat beef" is growing in India. April issue of Dabiq, again makes a reference to Prime Minister Narendra Modi as "rubaiwedayah" (degenerate) who is "known for congratulating the masses of cow-worshiping, pagan Hindus on their religious occasions of shirk on a regular basis." and called the Hindus residing in "Bengal" (Bangladesh) as "anti-Islamic propagandists" who "adhered to this filthy, cow-worshiping religion initially before becoming full-fledged atheists and denying 'religion' entirely."
Last year in July, according to a PTI report, the Islamic State was preparing to attack India to provoke an Armageddon-like confrontation with the US, according to an internal recruitment document of the feared group which also seeks to unite the Pakistani and Afghan Taliban into a single army of terror. A Harvard scholar who translated the undated document titled, 'A Brief History of the Islamic State Caliphate, The Caliphate According to the Prophet' said, "attacking in India is the Holy Grail of South Asian jihadists."
With inputs from Agencies
Updated Date: Apr 14, 2016 16:04 PM