Hindi should be an official language in the UN: Nepal Vice President
Nepal's Vice President Parmananda Jha on Monday suggested that Hindi be added to the list of six official languages.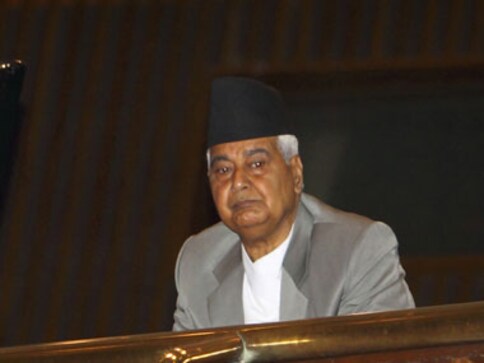 Kathmandu: Nepal's Vice President Parmananda Jha, who had got into trouble for taking oath of office in Hindi, on Monday suggested that the language be added to the list of six official languages in the United Nations.
"Hindi has not only become a world language, but it has also become eligible to be registered in the United Nations," Jha said at a seminar on Hindi language in Kathmandu to mark the World Hindi Day.
Jha was incidentally suspended for six months shortly after being elected to the post for taking the oath of office and secrecy in Hindi in 2009.
To promote Hindi language in Nepal, it should be linked with day-to-day life, he said in the context of the use of Hindi as a link language in the southern belt of the country.
"There is a close link between Hindi and Nepali languages as Sanskrit is the mother of both the languages," he pointed out.
There is an open border between the two south Asian neighbours and the people living in both sides of the border are very much familiar about Hindi, he said.
Hindi television channels and Hindi serials have become very much popular in Nepal, Jha said, adding people residing in the Terai speak Hindi as if it is their own language.
"I have not formally learnt Hindi language, but it is in my blood as my grandfather, father and my son also speak Hindi language," said Jha.
Indian Ambassador to Nepal Ranjit Rae said at the seminar Hindi language is taught in 170 universities across the globe. The popularity of Hindi is growing day by day and now there are millions of people using google search in Hindi, he pointed out.
World Hindi Day is observed to make people aware about the importance of Hindi language and to promote the language globally, he said.
The one-day seminar was organised at the initiative of Embassy of India, Kathmandu. The official languages used at the United Nations are Arabic, Chinese, English, French, Russian and Spanish.
PTI
World
North Korea's anti-virus headquarters said 62 people have died and more than 1.7 million have fallen ill amid a rapid spread of 'fever' since late April. More than a million people recovered but at least 691,170 remain in quarantine
World
Modi on Monday said that in the ongoing situation in the world, the friendship between India and Nepal is set to benefit the entire humanity
World
The Indian Educational and Cultural Foundation will sign one MoU each with Lumbini Buddhist University and Tribhuvan University and three MoUs with Kathmandu University on Monday