Hillary Clinton vs Donald Trump - your one-stop guide to presidential debates
Your one-stop guide to the US election presidential debates. The first one's on September 26, the next on October 4 and the last on October 19, the gaffes here will decide the winner, not so much the earnest soundbites on foreign policy and terror.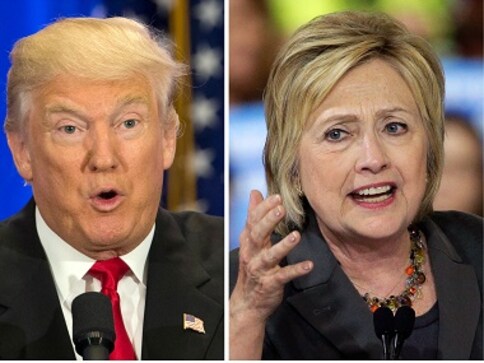 Bring on the popcorn.
Hillary Clinton and Donald Trump face off September 26 in New York, the first of the three presidential debates. Their howlers here will decide who wins this spectacle.
Sit back for more brazen lies, half truths and ghosts from the 1990s scandals.
Trump, 70, and Clinton, 68, will disagree without coming to blows — their supporters will take care of that piece online.
Debate dates
September 26, Hofstra University, NYC
October 4, Washington Univ, St Louis, Missouri
October 19, Univ of Nevada, Las Vegas
Live TV
The debates will be broadcast live on C-SPAN, ABC (2), CBS (6), Fox (12) and NBC (8), CNN, Fox News and MSNBC.
Debate moderators
September 26: NBC's Lester Holt
October 4: CNN's Anderson Cooper and ABC's Martha Raddatz
October 19: Fox News Sunday host Chris Wallace.
Time
9:00-10:30 p.m. EST, 6-7:30 pm PT, without commercial breaks.
That's 7 am, September 27, IST
Format
Total time 90 minutes without commercials.
Debate 1 & 3: Six blocks of 15 minutes each
Topics to be chosen by moderators and announced a week in advance
Trump is an accident waiting to happen; for him there's no crossover between lies and gaffes. The garbage truck has not stopped him, he could come up with anything. Stranger things have not happened in US politics, his unstoppable rise makes the Obama phenomenon in 2008 look like some political stereotype.
What ails Clinton
Clinton is recovering from pneumonia but she's ailing from a lot more - 25 years in politics and her reticence to come clean with whatever. With polls running close, it's Clinton's best chance to slam Trump's nonsense without middlemen involved. Trump is already barking that the debates will be rigged, just like he said Obama was born in Africa or that he'll build a 2000 mile long wall on the border with Mexico.
Hillary Clinton will overprepare, wear a pant-suit and try extra hard to prove her health scare was an aberration, Donald Trump would rather be inaugurating another gold-ish looking hotel somewhere but will find it impossible to avoid this "rigged" debate.
Former Clinton adviser Paul Begala is quoted as saying it'll be an event "bigger than the moon landing, the World Cup, the Super Bowl, the Olympics, and the latest royal wedding."
If you've watched any of the primary debates, this will be diffferent. Primary debates - before the party nominees are crowned - are sponsored and run by the parties and by media organizations that broadcast and profit from them but the Presidential debates are governed by the nonpartisan, nonprofit Commission on Presidential Debates. They make the schedule, choose the venue, rules and moderators with a hawk eye on decorum and dignity of high office.
Given that Clinton has been a public figure for 30 years and has developed relationships with certain journalists, the commission's job to choose moderators was complicated. Also, the last thing the Commission wanted was for the moderator to become part of the story leading up to a debate.
Trump's aggressive attacks on the media guaranteed that the moderators would come under right wing scrutiny.
Will this be a debate? Not really. The room will be hushed for 90 minutes, the name calling will be on Twitter, clips will be posted on youtube, some will go 'viral' and that thing we call argument - which for centuries has been the centerpiece of a liberal-arts education, may find flashes of resurgence.
Overall, the debate commission's efforts to get candidates to argue over the issues, have failed.
Despite the commission's efforts to rein in candidates, there' s a lot of last minute bargaining - sitting or standing, lectern or not — humanity's ceaseless grappling with the short man syndrome.
Trump's not the only one who's painting this to be a huge pain. George H W Bush was caught on camera looking at his watch during the debates and admitted to thinking -"Only ten more minutes of this crap."
"I want to debate very badly. But I have to see the conditions…, see who the moderators are," Trump has been whining for weeks.
NBC's Lester Holt will moderate the first debate. The second debate, moderated by Anderson Cooper and Martha Raddatz, will be a town hall where they will take audience questions.
Fox News' Chris Wallace will moderate the third.
The first and third debates will see the closest approximation of the Oxford rules with the 90 minuter being chopped up into six blocks of 15 minutes each on topics to be selected by the moderator and announced at least one week before the debate.
If Trump's trainers do a fine job and he pulls off a fantastic performance, Hillary Clinton is in for big trouble. Never before in the history of presidential elections in the US has a candidate had to do so less ( keep shut ) as Trump is now finding out against Hillary to have a real shot at the White House. Trump's best chance to rile the white man some more and get out their vote is at the debates.
Polls are within the margin of error, 50 days to go before the champagne bottles pop, this is a show you don't want to miss. Mark the dates - September 26, October 4 and 19. Election day is November 8.
Stay tuned to our Facebook page for live updates on the US Elections. We're using the hashtag #FPAmerica.
World
Masks weren't required inside Radio City but proof of vaccination was.
Arts & Culture
The Philharmonic said on 15 June its season will open on 17 September with music director Jaap van Zweden conducting the orchestra and pianist Daniil Trifonov in Anna Clyne's 'Within Her Arms,' Copland's 'Quiet City,' George Walker's 'Antifonys for Chamber Orchestra' and Beethoven's piano concerto No. 4.
Business
The 90-year-old business magnate did not give a reason for the resignation, which comes about seven weeks after Bill and Melinda Gates announced their divorce