All eyes were on Washington University in St Louis where Sunday's second presidential debate between Hillary Clinton and Donald Trump took place. As a student at the university, I had a ringside view of the evening's events.
The release of a tape in which Trump is seen bragging about his exploits with women (a 2005 conversation) had given this debate a very different twist, to add to the chaos already surrounding the race to the White House. At the outset, the bipartisan Commission on Presidential Debates (CPD) — that hosts the debates — said half of the questions this time around would be posed directly by citizen participants and the other half would be "based on topics of broad public interest as reflected on social media and other sources".
A bit of background: This is the fifth time the university is playing host to a major political debate. Most recently, in 2008, the school hosted the vice-presidential debate between Joe Biden and Sarah Palin — the famous 'May I call you Joe?' debate.
On Sunday evening, the campus was temporarily transformed into a military zone replete with police, armed guards, helicopters, and fences to cordon the area from any possible threats. Students were instructed to carry their ID cards and journalists were put through thorough searches, with their camera equipment, laptops, and bags being checked.
But it wasn't just security that was beefed-up. So too was the marketing. Budweiser, one of the most prominent supporters of the 2016 debates showed off the famous Clydesdales — the horses most notable for their appearances in Super Bowl commercials. Plus, free food and drinks were available all over the campus along with other giveaways like t-shirts, pens, magnets and the like. There was no shortage of student-made posters either. While, some were inspired by HBO presenter John Oliver's 'Make Donald Drumpf again' campaign, others put signs how Trump doesn't treat women as equals. And others still, took a slightly more creative approach:
Across campus, there were many television screens that telecast the debate for those unfortunate enough not to be in the audience for the real thing, and two auditoriums also screened the debate live.
Not long after the debate began, a university freshman noted with exasperation, "It's only been 10 minutes and this is like watching a stand-up comedy. According to Trump, no one has more respect for women than he does, and he'll take care of the Islamic State." Another freshman — a Hillary supporter — said, "Trump sounds very fake when he is apologising. I am glad that Hillary didn't shake his hand at the beginning of the debate."
And before the impression is given that the students were firmly behind Hillary, there was a number of Trump supporters too
However, as the debate wore on, things got more exciting.
A senior student observed, "Someone is coaching Trump to talk softly and be less aggressive. He performed better than I thought he would — which is scary."
One notable factor that probably didn't make it to television screens was the resounding chorus of boos when Trump went up and stood right behind Clinton. But then, in this town hall-style debate, candidates don't stand behind a podium but sit on stools and are allowed to move around the stage.
And before the impression is given that the students were firmly behind Hillary, there was a number of Trump supporters too — generally the more senior students. Missouri is a red state with Mitt Romney winning it in the 2012 presidential election. President Barack Obama was able to pick up only three counties and the City of St Louis. A 45-year-old Trump supporter from the St Louis area, praised her candidate's performance and said that he stuck to the issues. She also said, "The debate moderators did a bad job and gave more time to Hillary."
However, most of the students were full of admiration for ABC News correspondent Martha Raddatz, who kept Trump on track as she moderated the debate with CNN's Anderson Cooper.
Most students looked confused when Trump began the debate by saying: "When I watch the deals being made and watch what's happening with horrible things like Obamacare, where your health insurance and health care are going up by numbers that are astronomical. By 68 percent, 59 percent and 71 percent", there was an audience member who exclaimed, "Where does he get these numbers from? I wouldn't even hire him for my start-up!"
A wall of boos rang out for Trump when he spoke about the threat to the US caused by radical Islam, which turned into laughter when Trump said, "I know nothing about Russia," before quickly adding, "I know about Russia but I know nothing about the inner workings of Russia. I have no businesses. I have no loans from Russia." Shortly after, a section of the audience gasped in horror when Trump said he disagreed with his running mate Mike Pence's assertion that the US may need to implement a no-fly zone in Syria.
However, all the boos weren't reserved for Trump. There were plenty for Hillary, when she claimed that Russia was behind the hacking of systems related to the Democratic Party and then releasing thousands of emails in an attempt to influence the presidential election to favor Trump.
At the end though, a majority of students unanimously agreed that Hillary won the debate, but Trump did better than they had excepted of him especially at the very end, when he praised Hillary for being a fighter and never giving up. Outside the venue, protesters were disappointed that there were no questions on the Black Lives Matter movement. After all, St. Louis is less than 20 miles from Ferguson, where the Black Lives Matter movement was ignited after the police shooting death of unarmed black teenager Michael Brown.
Another supporter was fairly disappointed that the topic of climate change never came up.
This guy: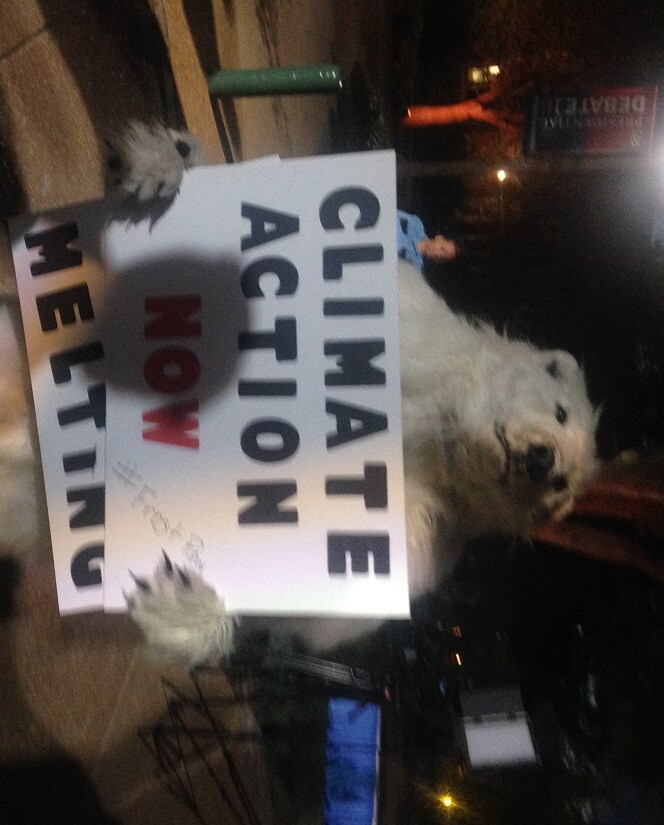 Updated Date: Oct 25, 2016 12:04 PM